Personally signed by Stephen King along with the illustrator Bernie Wrightson. This is Lettered "L"
This is the Signed Lettered Edition of only 52 copies, letter "L" protected in a hand-made hinged box. Consignment item.
For twenty years the officers in Pennsylvania State Police Barracks have kept a secret in SHED B. A vintage Buick which lures the troopers to come and take a look. Now young Ned Wilcox, son of Officer Curt Wilcox, has started hanging around the Barracks. One day he can't resist peeking through the windows... and it's finally time to share the secret. So the veteran troopers sit Ned down on the smoking bench and tell him the story -- every skin-curdling detail...
From a Buick 8 is classic Stephen King storytelling — a wondrous, thought-provoking, and chilling novel!
Illustrated by the legendary Bernie Wrightson (artist for The Stand and Cycle of the Werewolf), this Cemetery Dance special edition featured unique binding and end-papers, over-sized design, and amazing color artwork.The dust-jacket is now protected in a new Mylar archival sleeve.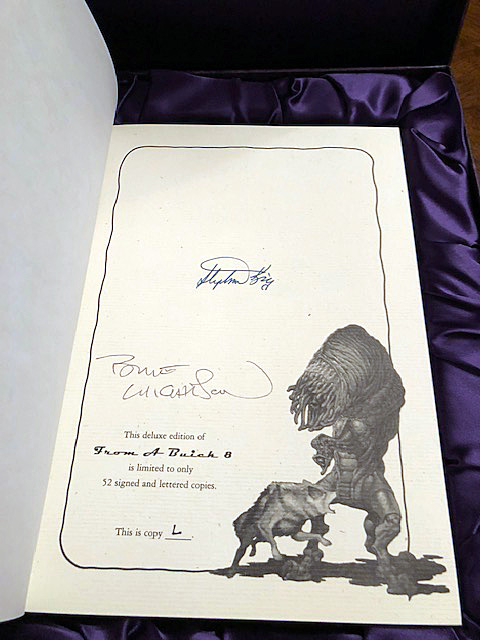 This Deluxe edition was limited to only 52 signed and lettered copies. The book's design included the following extra features:
completely unique Lettered Edition with completely unique dust-jacket
leather black goat kidskin spine
purple/black Corinthian paper for covers
French marbled end-sheets
silver gilding
imprinted spine
custom imprinted lightning bolts on cover
purple page marker ribbon

The Lettered Edition also features a handmade custom tray case:
lined with purple baroque satin
purple/black Corinthian paper wrap
silver curved hinge and button clasp
black ribbon to support lid
stamped embossing on box top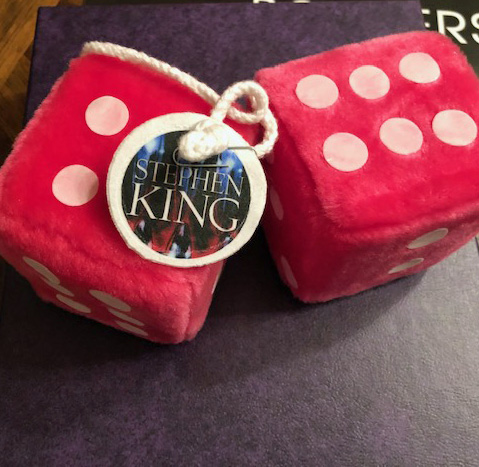 Author: Stephen King
Artist: Bernie Wrightson
Page Count: 408
Pub. Date: 2002
ISBN: 1-58767-061-5
Status: Out of Print
Illustrated by Bernie Wrightson
Book design by Bill Walker
Dust Jacket design by Gail Cross
From a Buick 8 is a novel by horror writer Stephen King (ISBN 0-7432-1137-5). Published on September 24, 2002, this is the second novel by Stephen King to feature a supernatural car (the first one being Christine, which like this novel is set in Pennsylvania); King's short story "Trucks" also involved paranormal events involving vehicles. According to the book sleeve: "From a Buick 8 is a novel about our fascination with deadly things, about our insistence on answers when there are none, about terror and courage in the face of the unknowable." The title comes from Bob Dylan's song "From a Buick 6". Award winning independent publisher Cemetery Dance Publications published a signed Limited Edition of the book in 2002.
Stephen King says that he was inspired to write this book on a car trip he took in 1999. During the trip he stopped at a gas station in western Pennsylvania. While looking around he slipped and almost fell into a stream of water. The thought that he might not have been discovered until a much later time, led him to the plot of the story. In the novel King describes a fatal automobile accident, and coincidentally King himself was the victim of a bad accident that almost killed him late in 1999. However, he said that he did not change any of the details in the novel to match his accident.
Major themes
The main theme of the book is that there will always be things in this world that we will never fully understand. The most obvious example of this is the Buick itself. We never learn where it came from, who the mysterious man that dropped it off was, or why it was even sent here in the first place. In the text, Sandy likens it to God - no one will ever know his plans, no one can ever make sense of them. Ned becomes frustrated as he learns the tale, as he wants explanations, and Sandy explains to him and to us in the narrative that there are no answers when it comes to the Buick. Even Curt Wilcox, Ned's Father who was so fascinated with the Buick, comes to give up on trying to pry the answers from it.
Another theme is the passage of legacy from Father to Son. Curt latches onto the Buick in a way that none of the other Troops do. He focuses on it, tries to learn from it. His son Ned feels the same, which is why he makes the attempt to destroy it. When Ned reveals that he believes that the Buick will one day fall apart, Sandy comments that Ned looks truly happy to him for the first time. What the Father started, the Son finished.
Film, TV or theatrical adaptations
There is talk of a movie adaptation of this book. At the helm is veteran director George A. Romero, who also directed another Stephen King adaptation, The Dark Half. The film has a possible 2007 release. The screenplay was written by Richard Chizmar, founder of Cemetery Dance Publications, and Johnathon Schaech, star of the Tom Hanks film, That Thing You Do.
Very Fine Guaranteed. A Very Fine book in Very Fine dust-jacket. As New as normally shipped from the publisher. Unread book that is free of any markings, writings, or stamps. The dust-jacket is now protected in a brand new plastic Mylar archival sleeve. New tray-case. The silver gilded page edges are free of any marks and blemishes.

Publisher:

Cemetery Dance 2002

Edition:

Signed Lettered Edition of only 52

Binding:

Leather Bound Hardcover with dust-jacket

Illustrator:

Bernie Wrightson

Dimensions:

12" x 10" x 3" Overall