Signed Lettered Edition "J" of only 52 Produced

Personally signed by Neil Gaiman, F. Paul Wilson, Eric Van Lustbader, Tim Powers, Thomas Ligotti and all the other contributors (with the exception of Stephen King and Joyce Carol Oates, who did not signed any of the copies).

Hill House Publishers and Cemetery Dance Publications, 1999. Limited Edition. Hardcover edition in a matching custom case. One of only 52 signed lettered copies, presented in faux maroon leather, with matching box. This is lettered "J" as stated on the limitation page. Gilt work to upper and lower boards and spine. Book designed by Marysarah Quinn. Winner of the 1999 Bram Stoker award. For a little background, the 999 of the title is nothing more than an abbreviation of the publication year, with the added benefit that it reads 666 upside down. 704 pp. Very Fine condition without any flaws.






About the Book:

Hill House Publishers & Cemetery Dance Publications are proud to bring you the publication of the greatest original horror anthology since Dark Forces...

999 is a massive original anthology containing over a quarter-of-a-million words of completely new fiction. In 999, the world's best writers of horror and suspense have created a literary landmark that defines the field at the close of the 20th century!

In 999 you'll find ...

• A short novel by William Peter Blatty
• Novellas by Joyce Carol Oates, Joe R. Lansdale, and David Morrell
• Novelettes by Stephen King, Ramsey Campbell, Thomas Ligotti, Thomas F. Monteleone, Kim Newman, Eric Van Lustbader, and Gene Wolfe
• Short fiction by Tim Powers, T.E.D. Klein, Neil Gaiman, Dennis McKiernan, Rick Hautala, Stephen Spruill, Chet Williamson, Peter Schneider, Nancy A. Collins, P.D. Cacek, Edward Bryant, Al Sarrantonio, Ed Gorman, Thomas Disch, Edward Lee, Bentley Little, and Michael Marshall Smith

Brown leather lettered and decorated in gold on the front panel, rear panel, and spine panel, red decorated endpapers, silk bookmark. A superb, fine copy in fine brown traycase lettered and decorated in gold. ; Quarto; Signed by Author. 1999.

Award-winning writer and editor Al Sarrantonio gathers together twenty-nine original stories from masters of the macabre. From dark fantasy and pure suspense to classic horror tales of vampires and zombies, 999 showcases the extraordinary scope of fantastical fright fiction. The stories in this anthology are a relentless tour de force of fear, which will haunt you, terrify you, and keep the adrenaline rushing all through the night.


About the Editor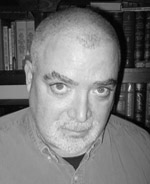 Al Sarrantonio is an acclaimed author of more than forty books, and the editor of anthologies such as 999: New Stories of Horror and Suspense and Flights: Extreme Visions of Fantasy. He is a winner of the Bram Stoker Award and has been a finalist for the World Fantasy Award, the British Fantasy Award, the International Horror Guild Award, the Locus Award and the Private Eye Writers of America Shamus Award.

His novels, spanning the horror, science fiction, fantasy, mystery and western genres, include Moonbane, Skeletons, House Haunted, The Five Worlds Trilogy, The Mars Trilogy, West Texas, Orangefield, and Hallows Eve, the last two part of his Halloween cycle of stories.

Hailed as "a master anthologist" by Booklist, he has edited numerous collections, including the highly acclaimed 999: New Stories of Horror and Suspense, Redshift: Extreme Visions of Speculative Fiction, Flights: Extreme Visions of Fantasy, and Halloween: New Poems.
His short stories have appeared in magazines such as Heavy Metal, Twilight Zone, Isaac Asimov's Science Fiction Magazine, Realms of Fantasy, Analog, and Amazing, as well as in anthologies such as The Year's Best Horror Stories, Visions of Fantasy: Tales from the Masters, Great Ghost Stories, and The Best of Shadows. His best horror stories have been collected in Toybox, Hornets and Others, and Halloween and Other Seasons.

He has had numerous book club sales, and his work has been translated into more than a dozen languages and appeared in comic book form. He currently lives in New York's historic Hudson Valley region with his family.

Editorial Reviews

"Here comes horror utopia...a surefire fan pleaser."--Booklist

"For horror fans, 999 is a romp in paradise."--Associated Press

"Chock full of excellent fiction...sure to please fans immensely."--Wicked Magazine

"Proof positive that the horror genre is alive and well."--Denver Post

"Anyone unable to find something to raise the hair on the nape of their neck in 999 is likely in need of resuscitation paddles."--SF Site

"This truly is one of the best collections of new fiction I've seen in about ten years."--Zealot.com
VERY FINE GUARANTEED - Very Fine book in a Very Fine Tray-case. The condition is of the highest quality without any discernible flaws. Sharp corners all around and a square spine. Unread book without any marks, writing, or stamps. Same condition as normally shipped by the publisher.
Publisher:

Hill House Publishers and Cemetery Dance Publications 1999

Edition:

Signed Lettered Edition

Binding:

Hardcover

Signature Authenticity:

Lifetime Guarantee of Signature Authenticity. Personally signed by Neil Gaiman, F. Paul Wilson, Eric Van Lustbader, Tim Powers, Thomas Ligotti and all the other contributors. The autographs are not facsimiles, stamps, or auto-pens.