This is the Immortal Story of Injustice, Revenge, and Redemption... The Historic 1887 Illustrated English Language Edition.
---
This breathtaking edition re-creates the oversized, extra-illustrated, 5-volume edition of this beloved literary masterpiece that was originally published in 1887.

Easton Press, Norwalk CT. Alexandre Dumas "The Count of Monte Cristo." A five volume matching leather bound collection. Limited to only 800 hand-numbered sets. This collection consists of five deluxe volumes that are luxuriously bound in full premium leather. Sealed.

This 5-volume collection in one shipment includes:
Full genuine leather.
Spines strengthened with the traditional raised "hubs" and embossed with true 22kt gold accents and title inlays.
Nearly 500 illustrations from designs by G Staal, J A Beauce, and other emminent French artists.
The generous layout, beautiful typography and embellishment of the deluxe Historic 1887 Illustrated English Language Edition.
Each volume measures approximately 7 1/2" x 11"
Over 1560 pages.

ABOUT THE COUNT OF MONTE CRISTO

Unjustly imprisoned for a crime he did not commit, Edmund Dantes escapes from jail, acquires a fortune, and sets out to take revenge on those responsible for his suffering.

The Count of Monte Cristo (French: Le Comte de Monte-Cristo) is an adventure novel by French author Alexandre Dumas (père) completed in 1844. It is one of the author's more popular works, along with The Three Musketeers. Like many of his novels, it was expanded from plot outlines suggested by his collaborating ghostwriter Auguste Maquet. Another important work by Dumas, written before his work with Maquet, was the short novel Georges; this novel is of particular interest to scholars because Dumas reused many of the ideas and plot devices later in The Count of Monte Cristo.
The story takes place in France, Italy, and islands in the Mediterranean during the historical events of 1815–1839: the era of the Bourbon Restoration through the reign of Louis-Philippe of France. It begins just before the Hundred Days period (when Napoleon returned to power after his exile). The historical setting is a fundamental element of the book, an adventure story primarily concerned with themes of hope, justice, vengeance, mercy, and forgiveness. It centres on a man who is wrongfully imprisoned, escapes from jail, acquires a fortune, and sets about exacting revenge on those responsible for his imprisonment. His plans have devastating consequences for both the innocent and the guilty.
The book is considered a literary classic today. According to Luc Sante, "The Count of Monte Cristo has become a fixture of Western civilization's literature, as inescapable and immediately identifiable as Mickey Mouse, Noah's flood, and the story of Little Red Riding Hood."



ABOUT THE AUTHOR
Alexandre Dumas ( born Dumas Davy de la Pailleterie 24 July 1802 – 5 December 1870), also known as Alexandre Dumas père (French for 'father'), was a French writer. His works have been translated into many languages, and he is one of the most widely read French authors. Many of his historical novels of high adventure were originally published as serials, including The Count of Monte Cristo, The Three Musketeers, Twenty Years After, and The Vicomte of Bragelonne: Ten Years Later. His novels have been adapted since the early twentieth century into nearly 200 films. Dumas's last novel, The Knight of Sainte-Hermine, unfinished at his death, was completed by scholar Claude Schopp and published in 2005. It was published in English in 2008 as The Last Cavalier.
Prolific in several genres, Dumas began his career by writing plays, which were successfully produced from the first. He also wrote numerous magazine articles and travel books; his published works totalled 100,000 pages. In the 1840s, Dumas founded the Théâtre Historique in Paris.
His father, General Thomas-Alexandre Dumas Davy de la Pailleterie, was born in the French colony of Saint-Domingue (present-day Haiti) to Alexandre Antoine Davy de la Pailleterie, a French nobleman, and Marie-Cessette Dumas, a black slave. At age 14 Thomas-Alexandre was taken by his father to France, where he was educated in a military academy and entered the military for what became an illustrious career.
Dumas's father's aristocratic rank helped young Alexandre acquire work with Louis-Philippe, Duke of Orléans, then as a writer, finding early success. Decades later, after the election of Louis-Napoléon Bonaparte in 1851, Dumas fell from favour and left France for Belgium, where he stayed for several years, then moved to Russia for a few years before going to Italy. In 1861, he founded and published the newspaper L'Indépendent, which supported Italian unification, before returning to Paris in 1864.
Though married, in the tradition of Frenchmen of higher social class, Dumas had numerous affairs (allegedly as many as forty). In his lifetime, he was known to have at least four illegitimate children, although twentieth-century scholars found that Dumas fathered three other children out of wedlock. He acknowledged and assisted his son, Alexandre Dumas, to become a successful novelist and playwright. They are known as Alexandre Dumas père ('father') and Alexandre Dumas fils ('son'). Among his affairs, in 1866, Dumas had one with Adah Isaacs Menken, an American actress then less than half his age and at the height of her career.
The English playwright Watts Phillips, who knew Dumas in his later life, described him as "the most generous, large-hearted being in the world. He also was the most delightfully amusing and egotistical creature on the face of the earth. His tongue was like a windmill – once set in motion, you never knew when he would stop, especially if the theme was himself."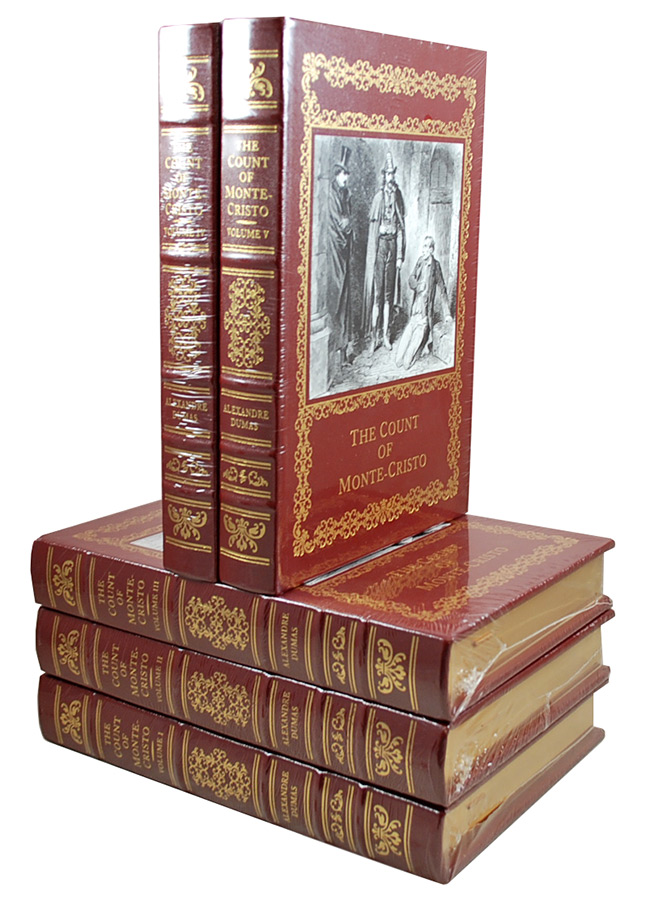 Features
Includes all the classic Easton Press qualities:

* Premium Leather
* Silk Moire Endleaves
* Distinctive Cover Design
* Hubbed Spine, Accented in Real 22KT Gold
* Satin Ribbon Page Marker
* Gilded Page Edges
* Long-lasting, High Quality Acid-neutral Paper
* Smyth-sewn Pages for Strength and Durability
* Beautiful Illustrations
VERY FINE GUARANTEED. Sealed. All five volumes are in mint condition without any discernible flaws. The condition is of the highest quality. Sharp corners that have not been bumped. Unread books.
Publisher:

Easton Press (2011)

Edition:

Limited Edition of 800

Binding:

Full Genuine Leather

Illustrator:

see product description

Dimensions:

Each volume 7 1/2" x 11"