From the publisher - "Kirk Douglas is a Hollywood legend, an actor whose intense and passionate performances in movies such as Lust for Life, Gunfight at the OK Corral, 20,00 Leagues Under the Sea, and The Fury made him one of the preeminent stars of the post World War II era. He was also a film-maker and businessman who transformed Hollywood by becoming one of the first stars to produce his own movies."
---
Personally signed by Kirk Douglas, one of Hollywood's greatest stars!

Easton Press, Norwalk CT. 1997. Kirk Douglas "Climbing The Mountain: My Search for Meaning" Signed First Edition. Personally signed by Kirk Douglas directly onto the limitation page of the book. Limited to only 1,250 signed copies.This is number 565. Includes COA (Certificate of Authenticity) and original collector's notes by the publisher. Full genuine leather with 22kt gold accents.



With the simple power and astonishing candor that made his 1988 autobiography, The Ragman's Son, a number one international bestseller, Kirk Douglas now shares his quest for spirituality and Jewish identity -- and his heroic fight to overcome crippling injuries and a devastating stroke.

On February 13, 1991, at the age of seventy-four, Kirk Douglas, star of such major motion-picture classics as Champion, Spartacus, and Paths of Glory, was in a helicopter crash, in which two people died and he himself sustained severe back injuries. As he lay in the hospital recovering, he kept wondering: Why had two younger men died while he, who had already lived his life fully, survived? The question drove this son of a Russian-Jewish ragman to a search for his roots and on a long journey of self-discovery -- a quest not only for the meaning of life and his own relationship with God, but for his own identity as a Jew. Through the study of the Bible, Kirk Douglas found a new spirituality and purpose. His newfound faith deeply enriched his relationship with his own children and taught him -- a man who had always been famously demanding and impatient -- to listen to others and, above all, to hear his own inner voice.

Told with warmth, wit, much humor, and deep passion, Climbing the Mountain is inspirational in the very best sense of the word.


Review

Sharon Waxman, The Washington Post: Corageous....Thoughtful in its questions....Engaging.

Barbara Fisher, The Boston Globe: The sincerity and simplicity of this memoir make it almost impossible to criticize.

Larry King, USA Today: Kirk Douglas' memoir, Climbing the Mountain, is one terrific book.

Former President Jimmy Carter: Kirk Douglas shares his very personal search for the meaning of life, and through his struggle, he helps us all discover our own spirituality.

About the Author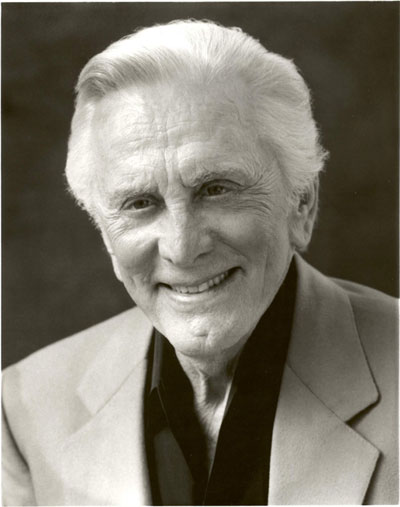 Kirk Douglas, born Issur Danielovitch, is one of Hollywood's greatest stars, with more than eighty films to his credit. He lives in Beverly Hills, California.
He is a retired American actor, filmmaker, and author. A centenarian, he is one of the last surviving stars of the film industry's Golden Age. After an impoverished childhood with immigrant parents and six sisters, he made his film debut in The Strange Love of Martha Ivers (1946) with Barbara Stanwyck and Lizabeth Scott. Douglas soon developed into a leading box-office star throughout the 1950s, known for serious dramas, including westerns and war movies. During his career, he appeared in more than 90 movies. Douglas is known for his explosive acting style, which he displayed as a criminal defense attorney in Town Without Pity (1961).
Douglas became an international star through positive reception for his leading role as an unscrupulous boxing hero in Champion (1949), which brought him his first nomination for the Academy Award for Best Actor. Other early films include Young Man with a Horn (1950), playing opposite Lauren Bacall and Doris Day, Ace in the Hole opposite Jan Sterling (1951), and Detective Story (1951), for which he received a Golden Globe nomination as Best Actor in a Drama. He received a second Oscar nomination for his dramatic role in The Bad and the Beautiful (1952), opposite Lana Turner, and his third nomination for portraying Vincent van Gogh in Lust for Life (1956), which landed him a second Golden Globe nomination.
In 1955, he established Bryna Productions, which began producing films as varied as Paths of Glory (1957) and Spartacus (1960). In those two films, he collaborated with the then-relatively-unknown director Stanley Kubrick taking lead roles in both films. Douglas has been praised for helping to break the Hollywood blacklist by having Dalton Trumbo write Spartacus with an official on-screen credit.[3] He produced and starred in Lonely Are the Brave (1962), considered a classic, and Seven Days in May (1964), opposite Burt Lancaster, with whom he made seven films. In 1963, he starred in the Broadway play One Flew Over the Cuckoo's Nest, a story that he purchased and later gave to his son Michael Douglas, who turned it into an Oscar-winning film.
As an actor and philanthropist, Douglas has received three Academy Award nominations, an Oscar for Lifetime Achievement, and the Presidential Medal of Freedom. As an author, he has written ten novels and memoirs. He is No. 17 on the American Film Institute's list of the greatest male screen legends of classic Hollywood cinema, the highest-ranked living person on the list. After barely surviving a helicopter crash in 1991 and then suffering a stroke in 1996, he has focused on renewing his spiritual and religious life. He lives with his second wife (of 65 years), Anne Buydens, a producer.

Wikipedia
Features
This item includes the classic Easton Press qualities:

* Premium Leather
* Silk Moire Endleaves
* Distinctive Cover Design
* Hubbed Spine, Accented in Real 22KT Gold
* Satin Ribbon Page Marker
* Gilded Page Edges
* Long-lasting, High Quality Acid-neutral Paper
* Smyth-sewn Pages for Strength and Durability
* Beautiful Illustrations


VERY FINE- with a few tiny scratches to the spine of the book as shown. A wonderful bright clean copy free of any other markings, writings, or stamps. Sharp corners that have not been bumped. Unread book with square and tight binding. No bookplates attached or indication of any removed. The gilded page edges are free of any marks, spots, scratches, or blemishes.
Publisher:

Easton Press

Edition:

Signed First Edition

Binding:

Full Genuine Leather

Author:

Kirk Douglas

Signature Authenticity:

Lifetime Guarantee of Signature Authenticity. Personally signed by the author Kirk Douglas directly into the book. The autograph is not a facsimile, stamp, or auto-pen.