Personally hand signed by Cory Doctorow on a special limitation page.
One of only 900 copies signed by the author. The limitation number is not known as this copy is sealed. The signature page and other inside page photos are from an opened volume. Luxuriously bound in full green leather with raised bands.
Easton Press. Norwalk, CT. 2007. 285 pages. SIGNED BY AUTHOR. Signed First Edition - Limited Collector's Edition. A great unique gift for yourself or for a loved one. A luxurious leather bound masterpiece from the Signed First Edition of Science Fiction collection by Easton Press. Beautifully illustrated and bound in full genuine leather. One of the most celebrated works of science fiction literature by a historical writer. A rare signed first edition for the discerning collector.
Condition
Sealed. Very fine without any flaws. A wonderful bright clean copy. Unread book with no bumped corners. Sharp corners. No marks, writings or stamps.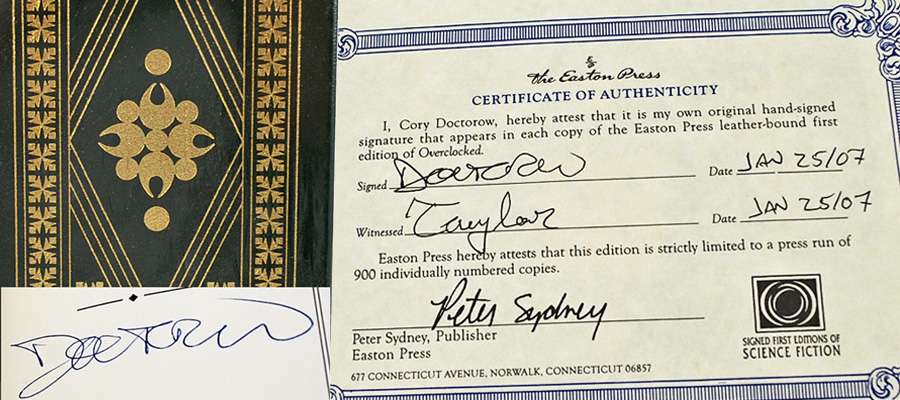 About
Have you ever wondered what it's like to get bitten by a zombie? To live through a bioweapon attack? To have every aspect of your life governed by invisible ants? In Cory Doctorow's collection of novellas, he wields his formidable experience in technology and computing to give us mindbending sci-fi tales that explore the possibilities of information technology and its various uses run amok. "Anda's Game" is a spin on the bizarre new phenomenon of "cyber sweatshops," in which people are paid very low wages to play online games all day in order to generate in-game wealth, which can be converted into actual money. Another tale tells of the heroic exploits of "sysadmins" systems administrators as they defend the cyber-world, and hence the world at large, from worms and bioweapons. And yes, there is a story about zombies, too.
Features
Contains all the classic Easton Press qualities:

* Premium Leather
* Silk Moire Endleaves
* Distinctive Cover Design
* Hubbed Spine, Accented in Real 22KT Gold
* Satin Ribbon Page Marker
* Gilded Page Edges
* Long-lasting, High Quality Acid-neutral Paper
* Smyth-sewn Pages for Strength and Durability
* Beautiful Illustrations
About The Author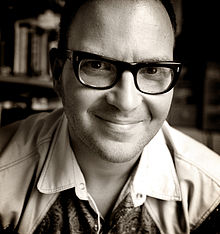 Canadian-born Cory Doctorow has held policy positions with Creative Commons and the Electronic Frontier Foundation and been a Fulbright Fellow at the University of Southern California. He is a co-editor of the popular weblog BoingBoing (boingboing.net), which receives over three million visitors a month. His science fiction has won numerous awards, and his YA novel LITTLE BROTHER spent seven weeks on the New York Times bestseller list.
VERY FINE GUARANTEED
. As New (Sealed). The condition is of the highest quality without any discernible flaws.
Publisher:

Easton Press (2007)

Edition:

Signed First Edition, First Printing

Binding:

Full Genuine Leather

Illustrator:

Maria E. Torres

Dimensions:

8.75" x 5.75" x 1"

Signature Authenticity:

Lifetime Guarantee of Signature Authenticity. Personally signed by Cory Doctorow directly onto a special limitation page of the book. The autograph in the book is not a facsimile, stamp, or auto-pen.