Personally signed by Thomas Berger on a special title page.
Enhance your collectible library with this luxurious leather bound heirloom from Easton Press. A high quality book that also makes the perfect unique gift. Includes COA to guarantee signature authenticity. A uniquely signed limited edition from Easton Press, accented with 22kt gold, and manufactured to last generations. Very Fine. Sealed without any flaws.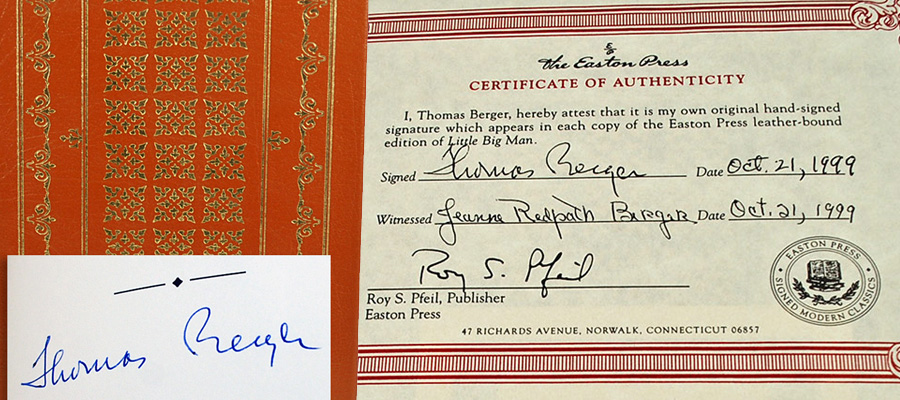 About the book
Little Big Man is a 1964 novel by American author Thomas Berger. Often described as a satire or parody of the western genre, the book is a modern example of picaresque fiction. Berger made use of a large volume of overlooked first-person primary materials, such as diaries, letters, and memoirs, to fashion a wide-ranging and entertaining tale that comments on alienation, identity, and perceptions of reality. Easily Berger's best known work, Little Big Man was made into a popular film by Arthur Penn. It has been called "Berger's response to the great American myth of the frontier, representing as it does most of the central traditions of American literature."
The story of Jack Crabbe, raised by both a white man and a Cheyenne chief. As a Cheyenne, Jack ate dog, had four wives and saw his people butchered by General Custer's soldiers. As a white man, he participated in the slaughter of the buffalo and tangled with Wyatt Earp.
Features
Includes all the classic Easton Press qualities:

* Premium Leather
* Silk Moire Endleaves
* Distinctive Cover Design
* Hubbed Spine, Accented in Real 22KT Gold
* Satin Ribbon Page Marker
* Gilded Page Edges
* Long-lasting, High Quality Acid-neutral Paper
* Smyth-sewn Pages for Strength and Durability
* Beautiful Illustrations
About The Author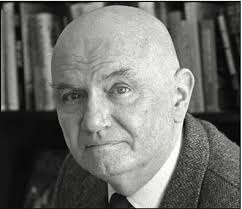 Thomas Louis Berger (July 20, 1924 – July 13, 2014) was an American novelist. Probably best known for his picaresque novel Little Big Man and the subsequent film by Arthur Penn, Berger explored and manipulated many genres of fiction throughout his career, including the crime novel, the hard-boiled detective story, science fiction, the utopian novel, plus re-workings of classical mythology, Arthurian legend, and the survival adventure. Berger's biting wit led many reviewers to refer to him as a satirist or "comic" novelist, descriptions he preferred to reject. His admirers often bemoaned that his talent and achievement were under-appreciated, in view of his versatility across many forms of fiction, his precise use of language, and his probing intelligence.
VERY FINE GUARANTEED. A wonderful bright clean copy free of any markings, writings, or stamps. Sharp corners that are not bumped. Tight and square spine. Unread book. No attached bookplates or indication of any removed.
Publisher:

Easton Press

Edition:

Signed Limited Edition

Binding:

Full Genuine Leather