Limited to only 400 hand-numbered sets.
Easton Press, Norwalk. CT. 2014. "Plutarch's Lives of the Noble Greeks and Romans". This deluxe 5-volume complete matching set is limited to only 400 hand-numbered copies. Deluxe Limited Edition. Full genuine leather. Sealed without any flaws.
This collection is now OUT OF PRINT.
The classic masterpiece of history and biography in the beautiful illustrated 5-volume edition of 1693. One of the most important period sources on such historic figures as Alexander the Great, this landmark work of biography and history, is offered in a stunning re-creation of the historic 1693 edition featuring a wealth of vintage illustrations -the illustrated edition originally published in 1693 by Jacob Tonson of London. For generations, Plutarch's Lives has stood as a vital component of any personal library.
Features include:
1. Rolland Opaque paper especially milled by Cascades Fine Papers, Saint-Jorome, Quebec.
2. Lithography by Pulp, Bristol, Tennessee.
3. Custom binding in genuine leather by Kingsport Book, Church Hill, Tennessee.
4. This remarkable edition is limited to only 400 hand-numbered sets.
5. Each volume measures 5" x 7 3/4"




Plutarch ( c. AD 46 – c. 120), later named, upon becoming a Roman citizen, Lucius Mestrius Plutarchus, [a] was a Greek biographer and essayist, known primarily for his Parallel Lives and Moralia. He is classified as a Middle Platonist. Plutarch's surviving works were written in Greek, but intended for both Greek and Roman readers.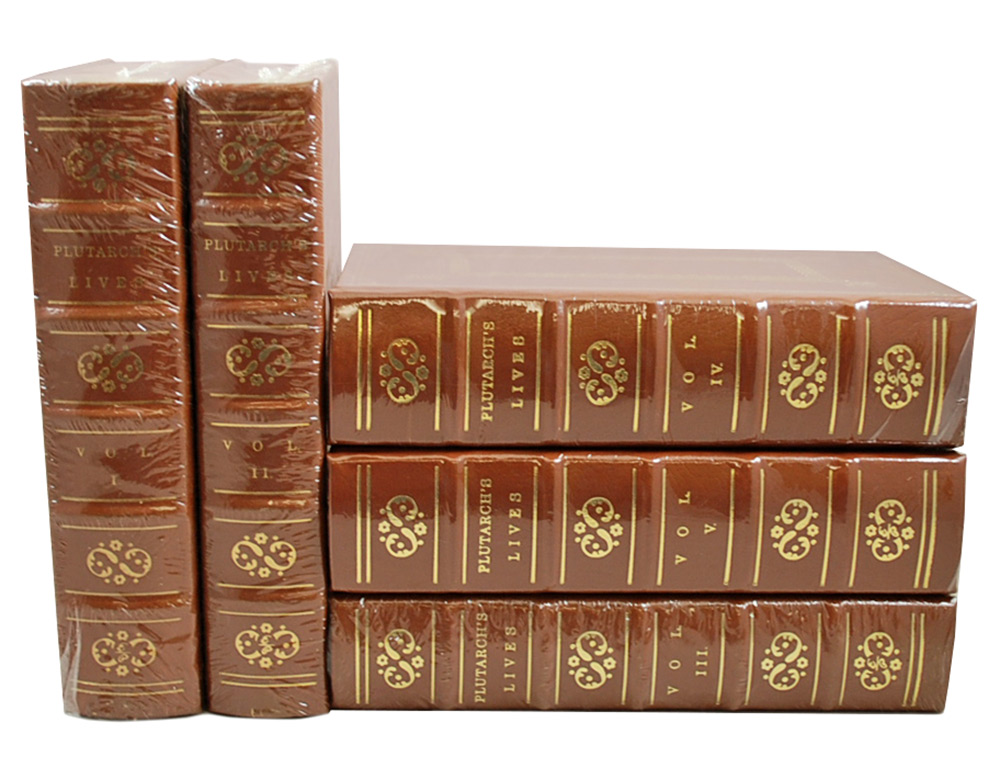 Features
Includes all the classic Easton Press qualities:

* Premium Leather
* Silk Moire Endleaves
* Distinctive Cover Design
* Hubbed Spine, Accented in Real 22KT Gold
* Satin Ribbon Page Marker
* Gilded Page Edges
* Long-lasting, High Quality Acid-neutral Paper
* Smyth-sewn Pages for Strength and Durability
* Beautiful Illustrations
VERY FINE GUARANTEED. Sealed. Very Fine for each one of the five volumes. Each book is unread and a wonderful bright clean copy with square and tight binding. No bumped corners and free of any marks, writings or stamps. No bookplates attached or indication of any removed. A beautiful set for the collector that would also make a unique gift idea.

Publisher:

Easton Press (2014)

Edition:

Deluxe Limited Edition of only 400

Binding:

Full Genuine Leather

Illustrator:

see product description

Dimensions:

Each volume 6"x 9.0"x 1.5"