The Complete Matching 5-Volume Limited Edition Set, Luxuriously Bound in Full Genuine Leather
Easton Press, Norwalk. CT. "The Complete Works of Aristotle" in five matching heirloom volumes. Very Fine without any flaws. The Revised Oxford Translation. Edited by Jonathan Barnes. Luxuriously bound in full genuine black leather. A limited edition set that has become increasingly scarce, more so in this very fine condition. Each volume is in mint condition and sealed without any discernible flaws.
This collection features uniform black leather bindings, and distinct cover designs with decorations. They are luxuriously bound in premium full leathers and include hubbed spines, distinctive cover designs, and beautiful illustrations.
The Oxford Translation of Aristotle was originally published in 12 volumes between 1912 and 1954. It is universally recognized as the standard English version of Aristotle. This revised edition contains the substance of the original Translation, slightly emended in light of recent scholarship; three of the original versions have been replaced by new translations; and a new and enlarged selection of Fragments has been added. The aim of the translation remains the same: to make the surviving works of Aristotle readily accessible to English speaking readers.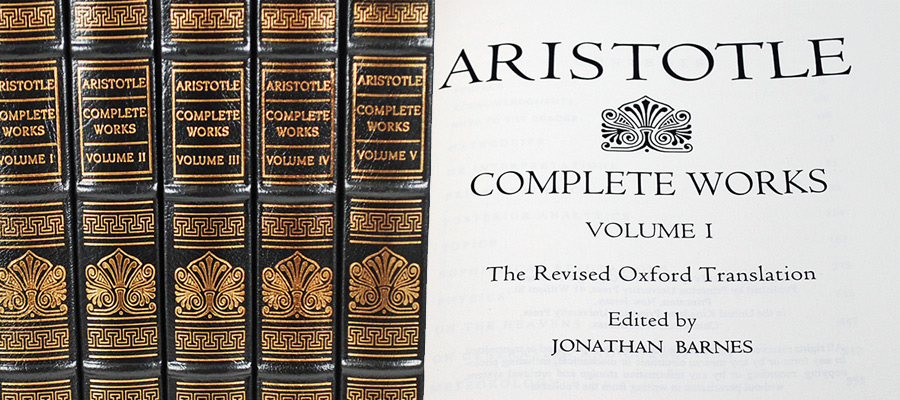 Aristotle was an ancient Greek philosopher and scientist born in the city of Stagira, Chalkidiki, in the north of Classical Greece. Along with Plato, Aristotle is considered the "Father of Western Philosophy", which inherited almost its entire lexicon from his teachings, including problems and methods of inquiry, so influencing almost all forms of knowledge.
Little is known for certain about his life. His father, Nicomachus, died when Aristotle was a child, and he was brought up by a guardian. At seventeen or eighteen years of age, he joined Plato's Academy in Athens and remained there until the age of thirty-seven (c. 347 BC). His writings cover many subjects – including physics, biology, zoology, metaphysics, logic, ethics, aesthetics, poetry, theatre, music, rhetoric, psychology, linguistics, economics, politics and government – and constitute the first comprehensive system of Western philosophy. Shortly after Plato died, Aristotle left Athens and, at the request of Philip II of Macedon, tutored Alexander the Great beginning in 343 BC.

Teaching Alexander gave Aristotle many opportunities. He established a library in the Lyceum which helped him to produce many of his hundreds of books, which were papyrus scrolls. The fact that Aristotle was a pupil of Plato contributed to his former views of Platonism, but, following Plato's death, Aristotle immersed himself in empirical studies and shifted from Platonism to empiricism. He believed all concepts and knowledge were ultimately based on perception. Aristotle's views on natural sciences represent the groundwork underlying many of his works.
Wikipedia
Features
Includes all the classic Easton Press qualities:

* Premium Leather
* Silk Moire Endleaves
* Distinctive Cover Design
* Hubbed Spine, Accented in Real 22KT Gold
* Satin Ribbon Page Marker
* Gilded Page Edges
* Long-lasting, High Quality Acid-neutral Paper
* Smyth-sewn Pages for Strength and Durability
* Beautiful Illustrations
VERY FINE GUARANTEED. Sealed for all five volumes. Each edition is a wonderful bright clean copy free of any markings, writings, or stamps. Sharp corners that are not bumped. Tight and square spines. Unread books. No attached bookplates or indication of any removed.
Publisher:

Easton Press

Edition:

Limited Edition

Binding:

Full Genuine Leather

Format:

Hardcover

Editor:

Jonathan Barnes