A Gorgeous Leather Bound Masterpiece for your Ray Bradbury Library
"Bradbury is an authentic original." -Time magazine
Limited Edition. Collector's Edition. Scarce, even more so in this
Very Fine
condition. Full genuine red leather with 22kt gold accents and ornament designs. This leather bound collector's edition is an heirloom that you can cherish with your family for generations to come.
Easton Press 1988. 175 pps. "By any measure this work is a major landmark, both in SF and as literature."
Ray Douglas Bradbury is an American mainstream, fantasy, horror, science fiction, and mystery writer. Best known for his dystopian novel Fahrenheit 451 and The Martian Chronicles, Bradbury is widely considered one of the greatest and most popular American writers of speculative fiction of the twentieth century. Ray Bradbury's popularity has been increased by more than 20 television shows and films using his writings.
Condition
As New. Very Fine. The condition is of the highest quality. Includes unattached bookplate for your own personalization. Not even a single scratch to the gilded page edges.
Includes the classic Easton Press qualities:
* Premium Leather
* Silk Moire Endleaves
* Distinctive Cover Design
* Hubbed Spine, Accented in Real 22KT Gold
* Satin Ribbon Page Marker
* Gilded Page Edges
* Long-lasting, High Quality Acid-neutral Paper
* Smyth-sewn Pages for Strength and Durability
PHOTOS OF ACTUAL VOLUME
Also signed by Ray Bradbury:
"Bloodlines" Richard Matheson, Ray Bradbury, Signed Limited Edition - Lettered SS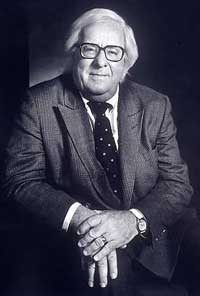 Book Description
Something Wicked This Way Comes is a 1962 novel by Ray Bradbury. It is about two 13-year-old boys, Jim Nightshade and William Halloway, who have a harrowing experience with a nightmarish traveling carnival that comes to their Midwestern town one October. The carnival's leader is the mysterious "Mr. Dark" who bears a tattoo for each person who, lured by the offer to live out his secret fantasies, has become bound in service to the carnival. Mr. Dark's malevolent presence is countered by that of Will's father, Charles Halloway, who harbors his own secret desire to regain his youth.
The novel combines elements of fantasy and horror, analyzing the conflicting natures of good and evil, and on how they come into play between the characters and the carnival. Unlike many of Bradbury's other works, including the tangentially related Dandelion Wine, which are collections of loosely related short stories, Something Wicked This Way Comes is a full-length novel.
Something Wicked This Way Comes can be interpreted as an allegory of the struggle between good and evil, with the human characters Will, Jim, and Charles on the side of morality, and Mr. Dark and his carnival on the side of sin and temptation. As in many other fictional works revolving around the same concept, good prevails in the end, not with supernatural or physical powers, but with purity of heart. Jim represents good that is always on the verge of giving into temptation, while Will is the part of us that relentlessly resists giving in.
As in Dandelion Wine, Bradbury infuses the novel with nostalgia for his childhood. However, Dandelion Wine better represents the idyllic days, whereas Something Wicked explores the darker nights, combining folk-tale characters with supernatural elements to relate otherwise fantastical and gothic-themed motifs to American daily life.
Publisher:

Easton Press

Edition:

Easton Press

Binding:

Full genuine leather

Illustrator:

Limited Edition

Dimensions: