Personally signed by Ray Bradbury and Ramsey Campbell
This is the traycased limited edition of only 100 with the deluxe binding, signed by Ray Bradbury and Ramsey Campbell.
PS Publishing 2010. Ray Bradbury "Long After Midnight" Signed Deluxe Edition, limited to only 100 copies. Signed limited edition. Hardcover book with dust-jacket in tray-case. This edition features a velvet lined cloth tray-case with color illustration affixed to the front panel and lettered label affixed to the spine pane.
Introduction by Ramsey Campbell.
Very Fine without any flaws.
Cover Artist: 'The Witches' Sabbath' by Francisco de Goya
This volume was originally issued in 800 copies in the following states:
500 trade hardcovers,
200 signed and numbered hardcover,
100 deluxe copies in a clamshell box
This is number 95 of only 100
About the book
Twenty-two stories from the master of the fantastic record the experiences of ordinary and extraordinary characters caught up in the mysteries and dooms of past, present, and future.
A crazy scheme to bring peace to the world with the aid of rust. A martian who could be Jesus. An author, plucked from his grave, is thwarted by one Melissa Toad, the mysterious witch of New York. This is a collection of tales which demolish the old saying: truth is stranger than fiction.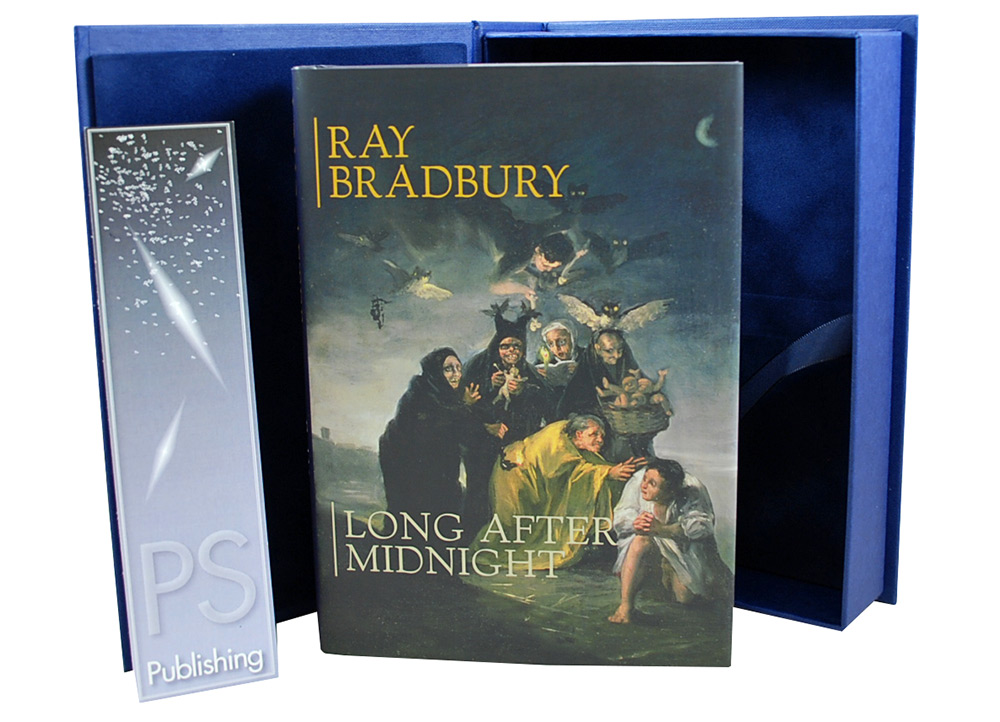 Review
After seven very long years, a new and generous (twenty-two stories) Bradbury collection. At least two Bradburys are in evidence here, of varying interest: the last explorer who showed us the poetry of space and the redundancy of technological gingerbread isn't as much of a revelation as it was a few decades ago. The Bradbury who pursues gentle astonishments just around the corner of our daily boredom is as rewarding as ever. Two of the best stories feature an old priest who casts out the demon of an agonized "chocolate junkie," and a young spaceman, holding long, treasured conversations with a robot replica of Mr. George Bernard Shaw. In the village of Dandelion Wine, twelve-year-old Doug Spaulding desperately resists the food which is "poisoning" his body into adulthood and the classroom learning which is erasing the clear imprint of his child-self. There's an unexpected jeu d'esprit when a Martian kidnapper swipes the Cuban parrot rumored to have committed Papa's (Hemingway) last unwritten novel to memory. In a startlingly bleak vein, a dreadful Mexican trip drives a bullied young wife the last hairsbreadth toward a madness which is the hopeless complement of her husband's. Bradbury has never been afraid of the obvious or sentimental. But it is from the same materials that he draws the more frequent moments which make you think of clean woods after thunderstorms--or a soul-destroying city summer and squandered happiness. -- Kirkus Reviews
About the Author
Ray Douglas Bradbury (August 22, 1920 - June 5, 2012) was an American fantasy, horror, science fiction, and mystery writer. Bradbury is credited with writing 27 novels and over 600 short stories. More than eight million copies of his works, published in over 36 languages, have been sold around the world.
Predominantly known for writing the iconic dystopian novel Fahrenheit 451 (1953), and his science-fiction and horror-story collections, The Martian Chronicles (1950), The Illustrated Man (1951), and I Sing the Body Electric (1969), Bradbury was one of the most celebrated 20th- and 21st-century American writers. While most of his best known work is in fantasy fiction, he also wrote in other genres, such as the coming-of-age novel Dandelion Wine (1957) and the fictionalized memoir Green Shadows, White Whale (1992).
Bradbury also wrote and consulted on screenplays and television scripts. He wrote the screen play for John Huston's classic film adaptation of Moby Dick, and was nominated for an Academy Award. He adapted sixty-five of his stories for television's The Ray Bradbury Theater, and won an Emmy for his teleplay of The Halloween Tree. He was the recipient of the 2000 National Book Foundation Medal for Distinguished Contribution to American Letters, the 2004 National Medal of Arts, and the 2007 Pulitzer Prize Special Citation, among many honors.
Upon his death in 2012, The New York Times called Bradbury "the writer most responsible for bringing modern science fiction into the literary mainstream." The Los Angeles Times credited Bradbury with the ability "to write lyrically and evocatively of lands an imagination away, worlds he anchored in the here and now with a sense of visual clarity and small-town familiarity." Bradbury's grandson, Danny Karapetian, said Bradbury's works had "influenced so many artists, writers, teachers, scientists, and it's always really touching and comforting to hear their stories". The Washington Post noted several modern day technologies that Bradbury had envisioned much earlier in his writing, such as the idea of banking ATMs and earbuds and Bluetooth headsets from Fahrenheit 451, and the concepts of artificial intelligence within I Sing the Body Electric.
Features
Numbered signed limited edition, 95 of 100, in tray-case.
VERY FINE GUARANTEED. A wonderful bright clean copy free of any markings, writings, or stamps. Sharp corners that have not been bumped. Unread book with square and tight binding. No bookplates attached or indication of any removed. Edges are free of any marks, spots, scratches, or blemishes.
Publisher:

PS Publishing 2010

Edition:

Signed Limited Edition of 100

Binding:

Specially bound deluxe edition with tray-case.

Illustrator:

See description for details

Dimensions:

9"x6"x1.5"

Signature Authenticity:

Lifetime Guarantee of Signature Authenticity. Personally signed by Ray Bradbury and Ramsey Campbell directly into the book. The autographs are not facsimiles, stamps, or auto-pens.

Author:

Ray Bradbury