Personally signed by the Robert B. Reich on a special limitation page.
Easton Press, Norwalk. CT., Robert B. Reich "Locked in the Cabinet" Signed First Edition. Leatherbound collector's edition. Hardcover with full genuine leather. No dust-jacket as issued. This magnificent leather-bound heirloom has been personally signed by Robert B. Reich on a special limitation page. This book is #723 of only 1000 signed and numbered copies.
Includes COA from Easton Press along with an unattached bookplate for your own personalization. No attached bookplates or signs of any removed. A well-cared for book, protected from any potential damage. This book stands out as having had exemplary care. Square and tight spine. Excellent original example. Collector's grade hardcover book worthy of your Easton Press library.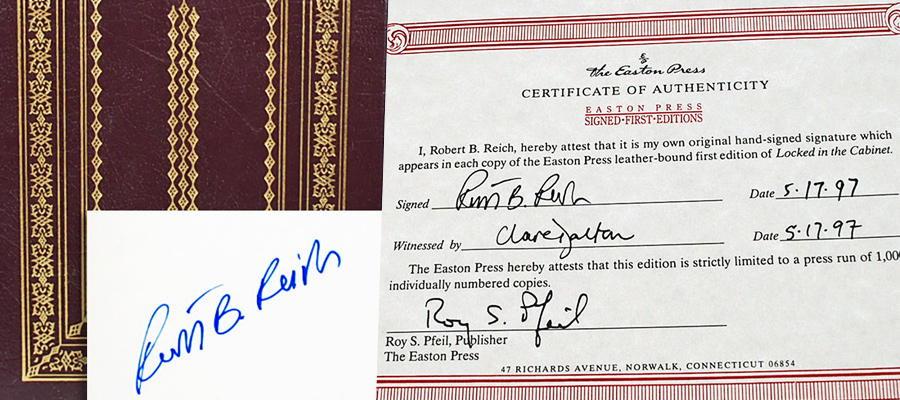 About
Locked in the Cabinet is a close-up view of the way things work, and often don't work, at the highest levels of government--and a uniquely personal account by the man whose ideas inspired and animated much of the Clinton campaign of 1992 and who became the cabinet officer in charge of helping ordinary Americans get better jobs. Robert B. Reich, writer, teacher, social critic--and a friend of the Clintons since they were all in their twenties--came to be known as the "conscience of the Clinton administration and one of the most successful Labor Secretaries in history. Here is his sometimes hilarious, sometimes poignant chronicle of trying to put ideas and ideals into practice.
With wit, passion, and dead-aim honesty, Reich writes of those in Washington who possess hard heads and soft hearts, and those with exactly the opposite attributes. He introduces us to the career bureaucrats who make Washington run and the politicians who, on occasion, make it stop; to business tycoons and labor leaders who clash by day and party together by night; to a president who wants to change America and his opponents (on both the left and the right) who want to keep it as it is or return it to where it used to be. Reich guides us to the pinnacles of power and pretension, as bills are passed or stalled, reputations built or destroyed, secrets leaked, numbers fudged, egos bruised, news stories spun, hypocrisies exposed, and good intentions occasionally derailed. And to the places across America where those who are the objects of this drama are simply trying to get by--assembly lines, sweatshops, union halls, the main streets of small towns and the tough streets of central cities.
Locked in the Cabinet is an intimate odyssey involving a memorable cast--a friend who is elected President of the United States, only to discover the limits of power; Alan Greenspan, who is the most powerful man in America; and Newt Gingrich, who tries to be. Plus a host of others: White House staffers and cabinet members who can't find "the loop; political consultant Dick Morris, who becomes "the loop; baseball players and owners who can't agree on how to divide up $2 billion a year; a union leader who accuses Reich of not knowing what a screwdriver looks like; a heretofore invisible civil servant deep in the Labor Department whose brainchild becomes the law of the land; and a wondrous collection of senators, foreign ministers, cabinet officers, and television celebrities. And it is also an odyssey for Reich's wife and two young sons, who learn to tolerate their own cabinet member but not to abide Washington.
Here is Reich--determined to work for a more just society, laboring in a capital obsessed with exorcising the deficit and keeping Wall Street happy--learning that Washington is not only altogether different from the world of ordinary citizens but ultimately, and more importantly, exactly like it: a world in which Murphy's Law reigns alongside the powerful and the privileged, but where hope amazingly persists. There are triumphs here to fill a lifetime, and frustrations to fill two more. Never has this world been revealed with such richness of evidence, humor, and warmhearted candor.
Features
Includes all the classic Easton Press qualities:

* Premium Leather
* Silk Moire Endleaves
* Distinctive Cover Design
* Hubbed Spine, Accented in Real 22KT Gold
* Satin Ribbon Page Marker
* Gilded Page Edges
* Long-lasting, High Quality Acid-neutral Paper
* Smyth-sewn Pages for Strength and Durability
* Beautiful Illustrations

About The Author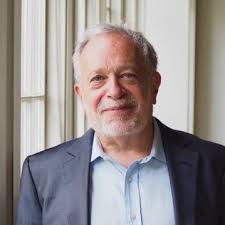 ROBERT B. REICH is the Chancellor's Professor of Public Policy at the Richard and Rhoda Goldman School of Public Policy at the University of California, Berkeley, and a senior fellow at the Blum Center for Developing Economies. He has served in three national administrations and has written over fifteen books, including Saving Capitalism: For the Many, Not the Few; Beyond Outrage: What Has Gone Wrong with Our Economy and Our Democracy, and How to Fix It; and The Work of Nations. He is also the author of the bestsellers Supercapitalism and Locked in the Cabinet. His articles have appeared in The New Yorker, The Atlantic, the New York Times, the Washington Post, and the Wall Street Journal. He is a co-creator of the award-winning 2013 film Inequality for All and the chair of the national governing board of Common Cause. He lives in Berkeley.
VERY FINE GUARANTEED. A wonderful bright clean copy free of any markings, writings, or stamps. Sharp corners that are not bumped. Tight and square spine. Unread book. No attached bookplates or indication of any removed.
Book Grading Definitions
Publisher:

Easton Press

Edition:

Signed First Edition

Binding:

Full genuine leather

Illustrator:

N/A

Dimensions:

9.5" x 6.25" x 1.25"

Signature Authenticity:

Lifetime Guarantee of Signature Authenticity. Personally signed by the author directly onto the special title page of the book. The autograph is not a facsimile, stamp, or auto-pen.