Personally signed by President Ronald Reagan, who served as the 40th president of the United States from 1981 to 1989.
A Wonderful Signed Presidential Volume for Your Library
New York. Simon & Schuster(1990), distributed by Easton Press leather bound books. Ronald Reagan "An American Life". Signed Limited Edition. Full genuine leather. A superior collectible for rare book collectors all over the world. Easton Press has procured the ultimate in value and collectability. A distinctive edition for your presidential library. Full number line as required on the copyright page. This is number 1,195 of only 2,000 produced, personally hand signed by President Ronald Reagan directly onto the limitation page.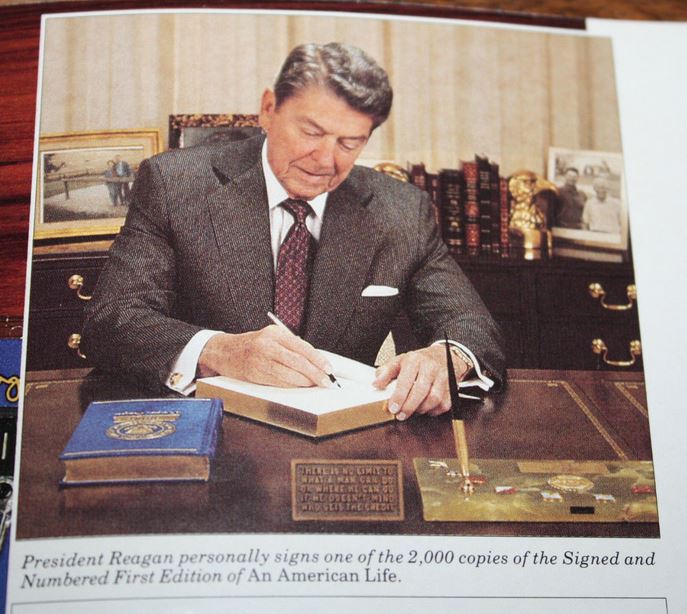 A beautiful collector's grade hardcover in original blue genuine leather with a gilt cover presidential illustration. This Deluxe Signed Limited First Edition is Ronald Reagan's autobiography and features marbled endpapers with all the edges gilt in the publisher's morocco-gilt binding.
For the advanced collector of signed presidential publications and historical documents. Signed First Edition. This collectible includes six audio cassette tapes of Ronald Reagan's addresses and speeches from his 1989 book "Speaking My Mind". Presented in a handsome publisher's oak wooden chest with a drawer containing the audio recordings of the speeches.
You do not need to be a supporter of Ronald Reagan to enjoy and treasure this stunning, hand-signed, Presidential heirloom. For the presidential historian or serious book collector, Ronald Reagan's personal signature on his own limited edition work will be a shining jewel in your collection.
Lifetime Guarantee of Signature Authenticity: You will receive a legitimate hand-signed edition. Personally signed by President Ronald Reagan directly onto the limitation page of the book. This book includes a lifetime guarantee of authenticity and will pass authentication by the PSADNA, AMA (Academy of Manuscript and Autograph ), or any company that specializes in autographs. The autograph is genuine and not an auto-pen, stamp, or facsimile copy.
About the speeches: The most important speeches of America's "Great Communicator". Here, in his own words, is the record of Ronald Reagan's remarkable political career and historic eight-year presidency. Chosen and annotated by the President himself, these speeches reflect his concerns, his political philosophy, and the triumphs, the tragedies, and the challenges of his years in office.
From one of his earliest speeches in 1951 to the speeches, great and small, that defined the "Reagan Revolution," the voice of Ronald Reagan comes across in these pages as strong, sure, warm, humorous, and deeply human, as he will always be remembered. Speaking My Mind is a unique and priceless invitation to share and treasure the important moments of an American president, as well as the daily business and concerns of the American presidency -- for these speeches recall the major decisions, the summit meetings, the high points of diplomacy and politics, as well as Ronald Reagan's deep involvement with the lives and cares of ordinary Americans.
Each speech is preceded by Ronald Reagan's candid and often moving comments on why it was given and under what circumstances, and a special section is included of "The Wit and Wisdom of Ronald Reagan," reminding us that this was a president who had plenty of both.
Includes all the classic Easton Press qualities:
* Premium Leather
* Silk Moire Endleaves
* Distinctive Cover Design
* Hubbed Spine, Accented in Real 22KT Gold
* Satin Ribbon Page Marker
* Gilded Page Edges
* Long-lasting, High Quality Acid-neutral Paper
* Smyth-sewn Pages for Strength and Durability
* Beautiful Illustrations
About "An American Life"
Ronald Reagan's autobiography is a work of major historical importance. Here, in his own words, is the story of his life, public and private, told in a book both frank and compellingly readable.
Few presidents have accomplished more, or been so effective in changing the direction of government in ways that are both fundamental and lasting, than Ronald Reagan. Certainly no president has more dramatically raised the American spirit, or done so much to restore national strength and self-confidence.
Here, then, is a truly American success story, a great and inspiring one. From modest beginnings as the son of a shoe salesman in Tampico, Illinois, Ronald Reagan achieved first a distinguished career in Hollywood and then, as governor of California and as president of the most powerful nation in the world, a career of public service unique in our history.
Ronald Reagan's account of that rise is told here with all the uncompromising candor, modesty, and wit that made him perhaps the most able communicator ever to occupy the White House, and also with the sense of drama of a gifted natural storyteller.
He tells us, with warmth and pride, of his early years and of the elements that made him, in later life, a leader of such stubborn integrity, courage, and clear-minded optimism. Reading the account of this childhood, we understand how his parents, struggling to make ends meet despite family problems and the rigors of the Depression, shaped his belief in the virtues of American life, the need to help others, the desire to get ahead and to get things done, the deep trust in the basic goodness, values, and sense of justice of the American people, virtues that few presidents have expressed more eloquently than Ronald Reagan.
With absolute authority and a keen eye for the details and the anecdotes that humanize history, Ronald Reagan takes the reader behind the scenes of his extraordinary career, from his first political experiences as president of the Screen Actors Guild (including his first meeting with a beautiful young actress who was later to become Nancy Reagan) to such high points of his presidency as the November 1985 Geneva meeting with Mikhail Gorbachev, during which Reagan invited the Soviet leader outside for a breath of fresh air and then took him off for a walk and a man-to-man chat, without aides, that set the course for arms reduction and charted the end of the Cold War.
Here he reveals what went on behind his decision to enter politics and run for the governorship of California, the speech nominating Barry Goldwater that first made Reagan a national political figure, his race for the presidency, his relations with the members of his own cabinet, and his frustrations with Congress.
He gives us the details of the great themes and dramatic crises of his eight years in office, from Lebanon to Grenada, from the struggle to achieve arms control to tax reform, from Iran-Contra to the visits abroad that did so much to reestablish the United States in the eyes of the world as a friendly and peaceful power. His narrative is full of insights, from the unseen dangers of Gorbachev's first visit to the United States to Reagan's own personal correspondence with major foreign leaders, as well as his innermost feelings about life in the White House, the assassination attempt, his family, and the enduring love between himself and Mrs. Reagan.
An American Life is a warm, richly detailed, and deeply human book, a brilliant self-portrait, a significant work of history.
About Ronald Reagan
Ronald Wilson Reagan (February 6, 1911 – June 5, 2004) was an American politician who served as the 40th president of the United States from 1981 to 1989 and became a highly influential voice of modern conservatism. Prior to his presidency, he was a Hollywood movie actor and union leader before serving as the 33rd governor of California from 1967 to 1975.
Raised in a low-income family in small towns of northern Illinois, Reagan graduated from Eureka College in 1932 and worked as a radio sports commentator. After moving to California in 1937, he found work as an actor and starred in a few major productions. As president of the Screen Actors Guild, Reagan worked to root out alleged communist influence. In the 1950s, he moved into television and was a motivational speaker at General Electric factories. In 1964, his speech "A Time for Choosing" earned him national attention as a new conservative spokesman. Building a network of supporters, Reagan was elected governor of California in 1966. As governor, he raised taxes, turned a state budget deficit to a surplus, challenged the protesters at UC Berkeley, and ordered in National Guard troops during a period of protest movements.
In 1980, Reagan won the Republican presidential nomination and defeated the incumbent president, Jimmy Carter. At 69 years, 349 days of age at the time of his first inauguration, Reagan was the oldest person to assume the U.S. presidency, a distinction he held until 2017, when Donald Trump was inaugurated at age 70 years, 220 days. Reagan faced former vice president Walter Mondale when he ran for re-election in 1984 and defeated him, winning the most electoral votes of any U.S. president, 525, or 97.6% of the 538 votes in the Electoral College. It was the second-most lopsided presidential election in modern U.S. history after Franklin D. Roosevelt's 1936 victory over Alfred M. Landon, in which he won 98.5%, or 523, of the (then-total) 531 electoral votes.
VERY FINE without any flaws. Unread book with square and tight spine. Clean & straight boards. The book is free of any writing and stamps. No attached bookplate or indication of any removed. A well-cared for book, protected from any potential damage. This book stands out as having had exemplary care. Excellent original example. Collector's grade hardcover book for your presidential library. As New wooden oak chest. The corners are sharp and not bumped.
The oak presentation chest is VERY FINE- with a small mark and scratch on the top surface.
Publisher:

Simon & Schuster(1990), distributed by Easton Press

Edition:

Signed Limited First Edition

Binding:

Full Genuine Leather

Author:

Ronald Reagan

Lifetime Guarantee of Signature Authenticity:

Personally signed by President Ronald Reagan directly onto the limitation page. The autograph is not a facsimile , stamp, or auto-pen.

Publication Date:

1990