A Very Fine Leather Bound Collection - The Complete Works of Ernest Hemingway.
Many of Hemingway's works are considered classics of American literature.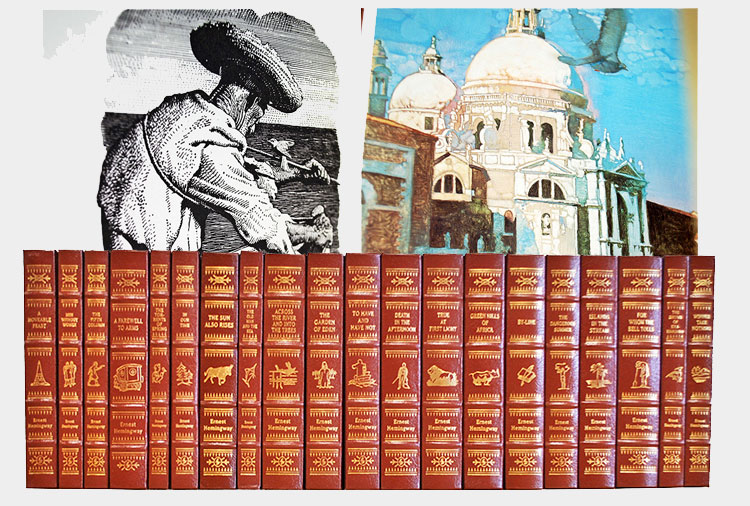 Easton Press, Norwalk CT. 2005. "The Complete Works of Ernest Hemingway" in 20 volumes. Limited Edition. A complete leather-bound matching collection of the Nobel Prize-winner's works. The 20 volume library includes all the legendary novels, Hemingway's incisive short stories, and the renowned journalism and non-fiction.
Each edition is luxuriously bound in full genuine leather. Each volume features red leather binding with illustration on the front board and comprehensive introductions along with exclusive illustrations.
This complete matching set includes the following volumes:
1. "Islands in the Stream", illustrated by Richard Powers
2. "Green Hills of Africa", introduction by Patrick Hemingway, decorations by Edward Shenton
3. "A Farewell to Arms", introduction by Ford Madox Ford, illustrations by Richard Powers
4. "True at First Light", edited with an introduction by Patrick Hemingway, illustrated by Richard Sparks
5. "A Moveable Feast", introduction by George Plimpton
6. "To Have and Have Not", illustrations by Richard Sparks
7. "The Garden of Eden", introduction by John Updike, illustrations by Alan Phillips
8. "Death in the Afternoon", introduction by William F Buckley Jr., illustrated by Richard Powers
9. "The Sun Also Rises", introduction by Matthew J. Bruccoli, illustrated by Richard Powers
10. "In Our Time: Stories by Hemingway", illustrated by Alan Phillips
11. "The Fifth Column, and Four Stories of the Spanish Civil War"
12. "The Snows of Kilimanjaro", introduction by A. E. Hotchner, illustrated by Richard Powers
13. "By Line: Selected Articles and Dispatches of Four Decades", edited by William White, illustrated by Alan Phillips
14. "Men Without Women"
15. "The Old Man and The Sea", illustrated by C. F. Tunnicliffe and Raymond Sheppard, introduction by Charles Scribner, Jr.
16. "Across the River and Into the Trees", illustrated by Alan Phillips
17. "The Torrents of Spring"
18. "For Whom the Bell Tolls", with an introduction by Sinclair Lewis, illustrated with lithographs by Lynd Ward
19. "The Dangerous Summer", introduction by James A Michener
20. "Winner Take Nothing", illustrated by Alan Phillips

About the author
Ernest Miller Hemingway was an American author and journalist. His economical and understated style had a strong influence on 20th-century fiction, while his life of adventure and his public image influenced later generations. Hemingway produced most of his work between the mid-1920s and the mid-1950s, winning the Nobel Prize in Literature in 1954. He published seven novels, six short story collections, and two non-fiction works. Three novels, four collections of short stories, and three non-fiction works were published posthumously.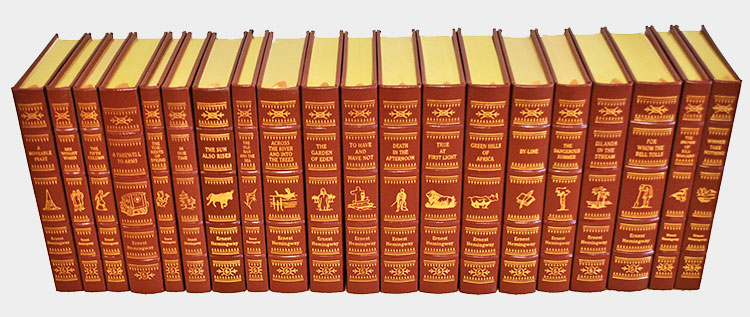 Features
Each volume Includes all the classic Easton Press qualities:

* Premium Leather
* Silk Moire Endleaves
* Distinctive Cover Design
* Hubbed Spine, Accented in Real 22KT Gold
* Satin Ribbon Page Marker
* Gilded Page Edges
* Long-lasting, High Quality Acid-neutral Paper
* Smyth-sewn Pages for Strength and Durability
* Beautiful Illustrations
VERY FINE GUARANTEED
Very Fine condition for all 20 volumes. The condition is of the highest quality without any discernible flaws. Free of marks, scratches and/or blemishes to the gilded page edges. Sharp corners. No bookplates attached or indication of any removed. Unread books with tight spines. The graphics and lettering are clear and not faded. Each edition is a wonderful bright clean copy.
Publisher:

Easton Press

Edition:

Easton Press (2005)

Binding:

Full Genuine Leather

Illustrator:

Limited Edition Complete 20 Vol. Set

Dimensions:

Very Fine