A Rare Signed Limited Edition For the Stephen King Collector. One of only 350 Printed
Stephen King's first-ever baseball card
personally hand signed by King
as his way of signing this special limited edition. This special collector's edition also includes a copy of the authentic William "Blockade Billy" Blakely baseball card that Cemetery Dance printed for their 1st edition.

Lonely Road Books 2010. Stephen King "Blockade Billy" Signed Limited of only 350 signed numbered copies. This is number 290 of 350. Printed on a high quality paper stock, this edition features a fine leather binding with blue traycase. Throughout the book you will find two color printings, a color frontispiece by Glen Orbik, and eleven interior illustrations by Alex McVey. Also included are a sewn-in ribbon page marker, a custom deluxe traycase with pullout ribbon, and the illustrated signature sheet signed by the artists. 229 pages.
Stephen King's signed baseball card shows him as "STEVE KING" with a New Jersey Titans Catcher uniform.
Condition: As New without any flaws.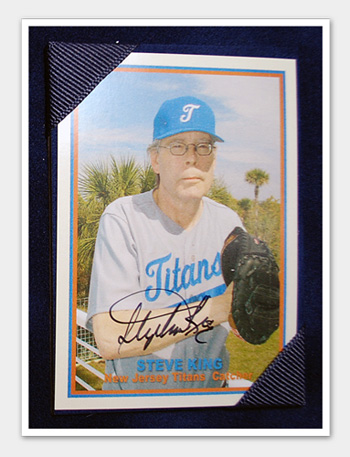 About Blockade Billy
Even the most diehard baseball fans don't know the true story of William "Blockade Billy" Blakely. He may have been the greatest player the game has ever seen, but today no one remembers his name. He was the first — and only — player to have his existence completely removed from the record books. Even his team is long forgotten, barely a footnote in the game's history.
Every effort was made to erase any evidence that William Blakely played professional baseball, and with good reason. Blockade Billy had a secret darker than any pill or injection that might cause a scandal in sports today. His secret was much, much worse... and only Stephen King, the most gifted storyteller of our age, can reveal the truth to the world, once and for all.
This original, never-before-published novella represents Stephen King at his very best, and this Lonely Road Books special edition is the only signed Limited Edition.
Publisher:

Lonely Road Books 2010

Edition:

10" x 7" x 1"

Binding:

Hardcover

Illustrator:

Signed Limited Edition

Dimensions:

As New