Personally signed by Ray Bradbury and Allois
Slipcased Limited Edition of only 50 produced!
The Fall of the House of Usher by Edgar Allan Poe
Usher II by Ray Bradbury

Gauntlet Publication 2010. Ray Bradbury, Edgar Allan Poe "The Fall Of The house of Usher" and "Usher II". Illustrated by Allois. Signed Limited Edition of only 50 produced. This slipcased edition is not numbered and is now OUT OF PRINT from the publisher. A beautiful book with fantastic color illustrations by Allois. The bright colorful dust-jacket is in new condition.

FIRST EDITION as stated on the copyright page and dust-jacket of the book..
This book is not numbered.
From the publisher
Gauntlet Press presents its first full-color illustrated collection, The Fall of the House of Usher/Usher II, illustrated by Allois. The publisher took on this project after Ray Bradbury (author of "Usher II") expressed his enthusiasm, and also agreed to sign a limited number of signature sheets for two editions of the book.

"The Fall of the House of Usher" by Edgar Allan Poe has become one of the most recognized psychological horror story of all times. The fable of tainted bloodline and madness is as disturbing today as it was at the time of "The Murders in the Rue Morgue." The pain of Roderick Usher was retold innumerous times, including musical and visual art forms. The Grand Master of Science Fiction, Ray Bradbury himself, has re-built and re-demolished the House of Usher in his Martian Chronicles with the Story "Usher II".

The Usher legend is given another life in this edition, combining the stories from our past and from our future, united through the art of the present-day artist Allois. As Ray Bradbury broke the barrier between Sci-Fi and mainstream literature, so Allois had made an attempt to combine two art forms into one. The reader is presented by the printed stories and their visual counterpart as found in the depths of the artist's imagination. The result, a Fine Art Novel, combines the strength of classic literature and the power of fine art.

As to who is Allois? Allois is an American painter and illustrator, best known for the striking and bizarre images of Aliens in her surrealist work. Says art critic Peter Frank "Allois paints presences. Her figures manifest conditions, sliding away from personality and into mood. A particular character may present itself as a child or adult, man or beast, but its identity gives way almost immediately to its nuance. Personages making their way through a landscape come to embody self-containment, self-absorption. This is real abstraction, a dissolution of the seen into the sensed."


Reviews

"Plenty can be said about two stories which many know well (or should) or how Allois' artwork stuns in its stark rendering of both authors' images, but it is how all three elements meld together in one of those few collector's packages that is worth the price." - Horrorworld

"Allois (intensifies) "Usher II" with astounding visuals that elevate the entire volume into an unsettling fine art experience that must be seen to be believed. THE FALL OF THE HOUSE OF USHER and USHER II is not merely a book, my friends; it is an event!" - Tomb of Dark Delights


About the Author

Ray Douglas Bradbury (August 22, 1920 - June 5, 2012) was an American fantasy, horror, science fiction, and mystery writer. Bradbury is credited with writing 27 novels and over 600 short stories. More than eight million copies of his works, published in over 36 languages, have been sold around the world.

Predominantly known for writing the iconic dystopian novel Fahrenheit 451 (1953), and his science-fiction and horror-story collections, The Martian Chronicles (1950), The Illustrated Man (1951), and I Sing the Body Electric (1969), Bradbury was one of the most celebrated 20th- and 21st-century American writers. While most of his best known work is in fantasy fiction, he also wrote in other genres, such as the coming-of-age novel Dandelion Wine (1957) and the fictionalized memoir Green Shadows, White Whale (1992).

Bradbury also wrote and consulted on screenplays and television scripts. He wrote the screen play for John Huston's classic film adaptation of Moby Dick, and was nominated for an Academy Award. He adapted sixty-five of his stories for television's The Ray Bradbury Theater, and won an Emmy for his teleplay of The Halloween Tree. He was the recipient of the 2000 National Book Foundation Medal for Distinguished Contribution to American Letters, the 2004 National Medal of Arts, and the 2007 Pulitzer Prize Special Citation, among many honors.

Upon his death in 2012, The New York Times called Bradbury "the writer most responsible for bringing modern science fiction into the literary mainstream." The Los Angeles Times credited Bradbury with the ability "to write lyrically and evocatively of lands an imagination away, worlds he anchored in the here and now with a sense of visual clarity and small-town familiarity." Bradbury's grandson, Danny Karapetian, said Bradbury's works had "influenced so many artists, writers, teachers, scientists, and it's always really touching and comforting to hear their stories". The Washington Post noted several modern day technologies that Bradbury had envisioned much earlier in his writing, such as the idea of banking ATMs and earbuds and Bluetooth headsets from Fahrenheit 451, and the concepts of artificial intelligence within I Sing the Body Electric.


ALLOIS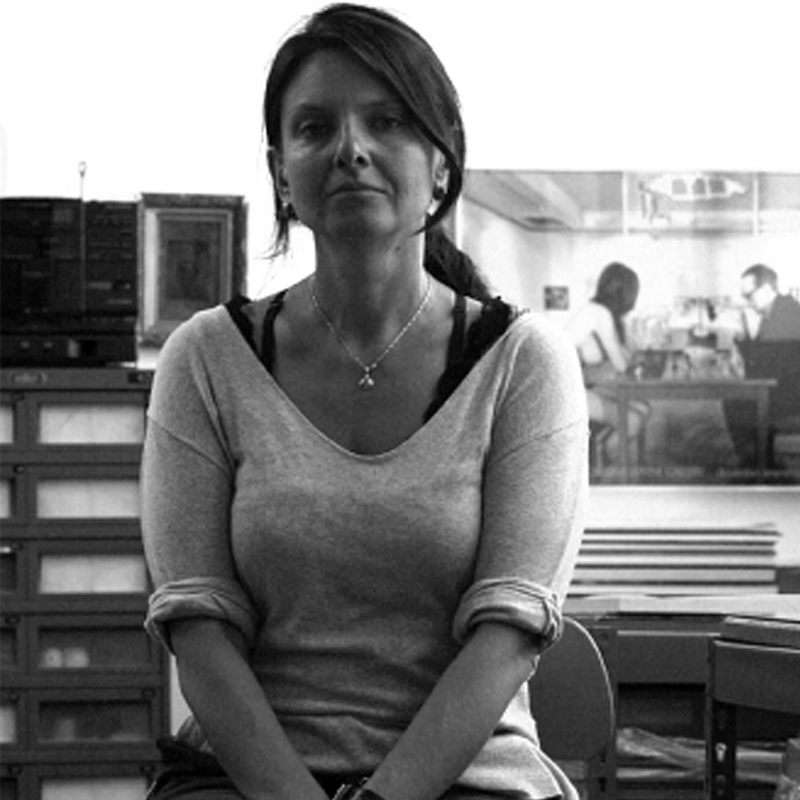 Allois work deals with dislocation and estrangement, at times employing decidedly cute characters in innocently grotesque or strange situations. Allois' paintings portray characters that visually embody states of mind, from the mischievous to the manic.
The occult and metaphysical themes recurring in the work call to mind the universally recognizable issue of the unknown origins of the soul, and the pre-linguistic mind. Disproportionate, malformed creatures inhabit barren landscapes, where our attention is refocused on the interrelations between characters. The figures seem alien or fantastical, but at the same time they are highly relate-able. The figures evoke raw emotions in the audience by being vague to the visual senses but obvious to the spirit.
Bleicher/Golightly Gallery
"Allois paints presences. Her figures manifest conditions, sliding away from personality and into mood. A particular character may present itself as a child or adult, man or beast, but its identity gives way almost immediately to its nuance. These figures, then, are others and at the same time are us. They don't simply constitute Allois' cast of characters; they stand in for any of us. The yogic construct of the soul is as a tiny homunculus seated or curled at the base of the heart. This must be the homunculus with whom, in many variations, Allois populates her canvases".
Peter Frank, American art critic, curator, and editor based in Los Angeles, where he serves as Associate Editor for Fabrik Magazine. Over his nearly 50-year career New York-born Frank has edited several art magazines, written for many more, and organized exhibitions all over the world.
"I think her phenomenal work is a unique combination of the future and the past," Jacqueline "Jac" Forbes, curator and owner of Malibu's Canvas Gallery, said, commenting about the intriguing and inspirational art work of Malibu artist Allois. "It blends the delicate beauty of the past and the uncertainty of what the future will bring and what people will look like. It's great work to get lost in."
Malibu Chronicle, "Malibu Artist Allois Paints Visionary Atavistic Intrigue and Mystique"/ Mar 29, 2017, Article by Barbara Burke
Signature Authenticity
Lifetime Guarantee of Signature Authenticity. Personally signed by Ray Bradbury and Allois directly into the book. The autographs are not facsimiles, stamps, or auto-pens.
VERY FINE GUARANTEED. A wonderful bright clean copy free of any markings, writings, or stamps. Sharp corners that have not been bumped. Unread book with square and tight binding. No bookplates attached or indication of any removed. Edges are free of any marks, spots, scratches, or blemishes.
Publisher:

Gauntlet Press 2010

Edition:

Signed Limited Edition of only 50

Binding:

Hardcover book in Full Black Slipcased

Illustrator:

Allois

Dimensions:

11.8"x8"x.75"