Personally signed by Ray Bradbury. Signed Lettered Edition of only 26.
Subterranean Press, June 1998. Ray Bradbury "I Sing The Body Electric and Other Short Stories". Signed Lettered Edition of only 26 traycased copies. Personally signed by Ray Bradbury directly onto the limitation page of the book. This is Lettered "G". This edition includes an extra section not in the limited edition. Published in two colors throughout with cover art by Vincent Chong. This edition is now OUT OF PRINT from the publisher.
From the publisher -
Welcome to I Sing the Body Electric!, one of Ray Bradbury's most beloved collections. The Subterranean Edition will be published in two colors throughout, with stunning cover art by Vincent Chong. Once again we're keeping the limitation on our edition down, both in deference to Mr. Bradbury's overworked signing hand, and to make ours among the more collectible Bradbury titles of recent years.
This edition was produced in the following two states:


Limited: 250 signed numbered copies, in slipcase
Lettered: 26 signed traycased copies, with an extra section not in the limited
This is one of the 26 lettered editions and it is letter "G".
The extra material exclusive to the Lettered Edition, 40 pages in all, will include a reproduction of an original proposed cover sketch by the author, an early version of the short story "The Kilimanjaro Device," then called "The Kilimanjaro Machine", complete with copious hand corrections, and a reproduction of an earlier version of the poem "Christus Apollo," again, heavily hand edited and corrected by Mr. Bradbury.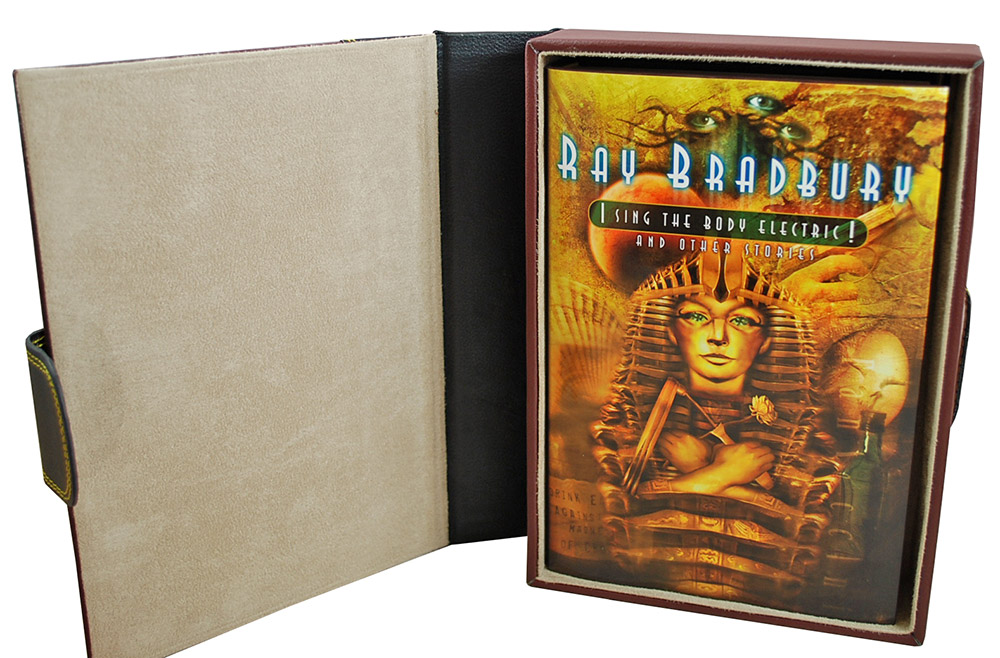 Table of Contents:
The Kilimanjaro Device
The Terrible Conflagration Up at the Place
Tomorrow's Child
The Women
The Inspired Chicken Motel
Downwind from Gettysburg
Yes, We'll Gather at the River
The Cold Wind and the Warm
Night Call, Collect
The Haunting of the New
I Sing the Body Electric!
The Tombling Day
Any Friend of Nicholas Nickleby's Is a Friend of Mine Heavy-Set
The Man in the Rorschach Shirt
Henry the Ninth
The Lost City of Mars
The Blue Bottle
One Timeless Spring
The Parrot Who Met Papa
The Burning Man
A Piece of Wood
The Messiah
G.B.S. -- Mark V
The Utterly Perfect Murder
Punishment without Crime
Getting Through Sunday Somehow
Drink Entire: Against the Madness of Crowds
Christus Apollo




The mind of Ray Bradbury is a wonder-filled carnival of delight and terror that stretches from the verdant Irish countryside to the coldest reaches of outer space. Yet all his work is united by one common thread: a vivid and profound understanding of the vast set of emotions that bring strength and mythic resonance to our frail species. Ray Bradbury characters may find themselves anywhere and anywhen. A horrified mother may give birth to a strange blue pyramid. A man may take Abraham Lincoln out of the grave--and meet another who puts him back. An amazing Electrical Grandmother may come to live with a grieving family. An old parrot may have learned over long evenings to imitate the voice of Ernest Hemingway, and became the last link to the great man. A priest on Mars may confront his fondest dream: to meet the Messiah. Each of these magnificent creations has something to tell us about our humanity--and all of their fates await you in this new trade edition of twenty-eight classic Bradbury stories and one luscious poem. Travel on an unpredictable and unforgettable literary journey--safe in the hands of one the centurys great men of imagination.
Review
Eighteen stories, Bradbury's first collection in five years. He's a sorcerer who stretches psychological infinities like no one else. Here you have a father and a mother coping With a child that has been born into another dimension; a guard dealing with the assassin of Lincoln's robot replica; tough Irish townsmen contemplating the return of modern day fairies to their land; a successful psychiatrist who realizes that he has literally been deaf to the real problems of his clients; a group of failures who find their wishes fatally fulfilled in the "Lost City of Mars"; a woman mortally terrified of her quiet, overgrown son and, in the title story, a loving look at a mechanical grandmother created to satisfy the needs of three motherless children. Ray Bradbury can be funny, sad, poetic and terrifying . . . sometimes simultaneously . . . he lights up the crackle of doom in the Rice Crispies. -- Kirkus Review
About the Author
Ray Douglas Bradbury (August 22, 1920 - June 5, 2012) was an American fantasy, horror, science fiction, and mystery writer. Bradbury is credited with writing 27 novels and over 600 short stories. More than eight million copies of his works, published in over 36 languages, have been sold around the world.
Predominantly known for writing the iconic dystopian novel Fahrenheit 451 (1953), and his science-fiction and horror-story collections, The Martian Chronicles (1950), The Illustrated Man (1951), and I Sing the Body Electric (1969), Bradbury was one of the most celebrated 20th- and 21st-century American writers. While most of his best known work is in fantasy fiction, he also wrote in other genres, such as the coming-of-age novel Dandelion Wine (1957) and the fictionalized memoir Green Shadows, White Whale (1992).
Bradbury also wrote and consulted on screenplays and television scripts. He wrote the screen play for John Huston's classic film adaptation of Moby Dick, and was nominated for an Academy Award. He adapted sixty-five of his stories for television's The Ray Bradbury Theater, and won an Emmy for his teleplay of The Halloween Tree. He was the recipient of the 2000 National Book Foundation Medal for Distinguished Contribution to American Letters, the 2004 National Medal of Arts, and the 2007 Pulitzer Prize Special Citation, among many honors.
Upon his death in 2012, The New York Times called Bradbury "the writer most responsible for bringing modern science fiction into the literary mainstream". The Los Angeles Times credited Bradbury with the ability "to write lyrically and evocatively of lands an imagination away, worlds he anchored in the here and now with a sense of visual clarity and small-town familiarity". Bradbury's grandson, Danny Karapetian, said Bradbury's works had "influenced so many artists, writers, teachers, scientists, and it's always really touching and comforting to hear their stories". The Washington Post noted several modern day technologies that Bradbury had envisioned much earlier in his writing, such as the idea of banking ATMs and earbuds and Bluetooth headsets from Fahrenheit 451, and the concepts of artificial intelligence within I Sing the Body Electric.
Features
Lettered signed limited edition, "G" of 26 signed traycased copies.
VERY FINE GUARANTEED. A wonderful bright clean copy free of any markings, writings, or stamps. Sharp corners that have not been bumped. Unread book with square and tight binding. No bookplates attached or indication of any removed. Edges are free of any marks, spots, scratches, or blemishes.
Publisher:

Subterranean Press

Edition:

Signed Lettered Edition of only 26

Binding:

Specially bound edition in Traycase

Illustrator:

Vincent Chong.

Dimensions:

9"x6"x1.5"

Signature Authenticity:

Lifetime Guarantee of Signature Authenticity. Personally signed by the author directly into the book. The autograph is not a facsimile, stamp, or auto-pen.