Personally signed by Stewart O'Nan directly onto the limitation page.

Books To Benefit, Harrisburg. 2014. Stewart O'Nan and Stephen King "Faithful: Two Diehard Boston Red Sox Fans Chronicle the Historic 2004 Season". Signed and Tray-cased Deluxe Hardcover Limited Edition. This is No. 146 of only 350 produced in this edition. "First Limited Edition Printing" as stated on the copyright page. Hardcover without dust-jacket as issued by the publisher.

A beautiful tray-cased signed limited edition for the Stephen King collector.


Signed by Steward O'Nan
Signed Limited Edition No. 165 of 350
"First Limited Edition Printing"
Tray-cased
Hardcover Edition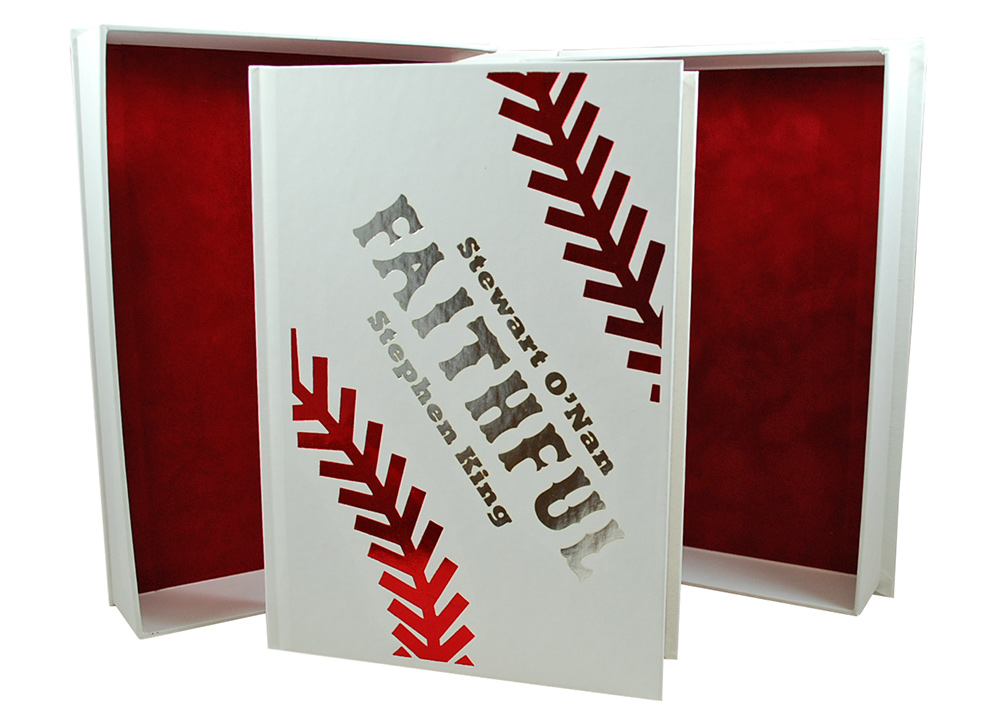 ---



About Faithful

A fan's notes for the ages, Faithful grew from an email exchange last summer. Filled with the heady mix of exhilaration and frustration familiar to all Boston Red Sox fans, Stewart O'Nan fired off a note to fellow Sox fan, Stephen King, who responded with his thoughts on Pedro, Nomar, Manny, Mueller, and Theo. From the supposed Curse of the Bambino to f###in' Bucky Dent to the recent off-season battle for Alex Rodriguez, Sox fans have seen it all since 1918...except for that elusive World Championship. Baseball history has transformed these fans into a "nation" -- not to mention the most dedicated, knowledgeable fanbase on the planet.

Stewart O'Nan and Stephen King, proud members of Red Sox Nation, will chronicle the 2004 baseball season from spring training to the last game of the season -- the important plays, the controversial managerial decisions, the significant front office moves, and the spectacular finish (whether heartbreaking or joyous). Attending games together, keeping a running diary of observations and arguments, and occasionally evoking great or tragic events in Red Sox history. King and O'Nan will cheer on their beloved team with the eternal hope that this just might be the year. If you don't have season ticket box seats right behind the firstbase dugout, you can't beat Faithful.


Review

"Faithful is ultimately a quasi-religious book about what all great religions should be founded upon: love -- in all its blindness and terror and euphoria and purity and, yes, addiction."

-- Dennis Lehane, Entertainment Weekly


About the Authors

Stewart O'Nan's novels include Snow Angels, The Speed Queen, A Prayer for the Dying, and The Night Country. Granta has named him one of the Twenty Best Young American Novelists. Stephen King is the author of more than fifty books, all of them worldwide bestsellers. Among his most recent are Full Dark No Stars, Blockade Billy, Under the Dome, Just After Sunset, the Dark Tower novels, Cell, From a Buick 8, Everything's Eventual, Hearts in Atlantis, The Girl Who Loved Tom Gordon, Lisey's Story and Bag of Bones. His acclaimed nonfiction book, On Writing, was recently re-released in a tenth anniversary edition. King was the recipient of the 2003 National Book Foundation Medal for Distinguished Contribution to American Letters, and in 2007 he was inducted as a Grand Master of the Mystery Writers of America. He lives in Maine with his wife, novelist Tabitha King.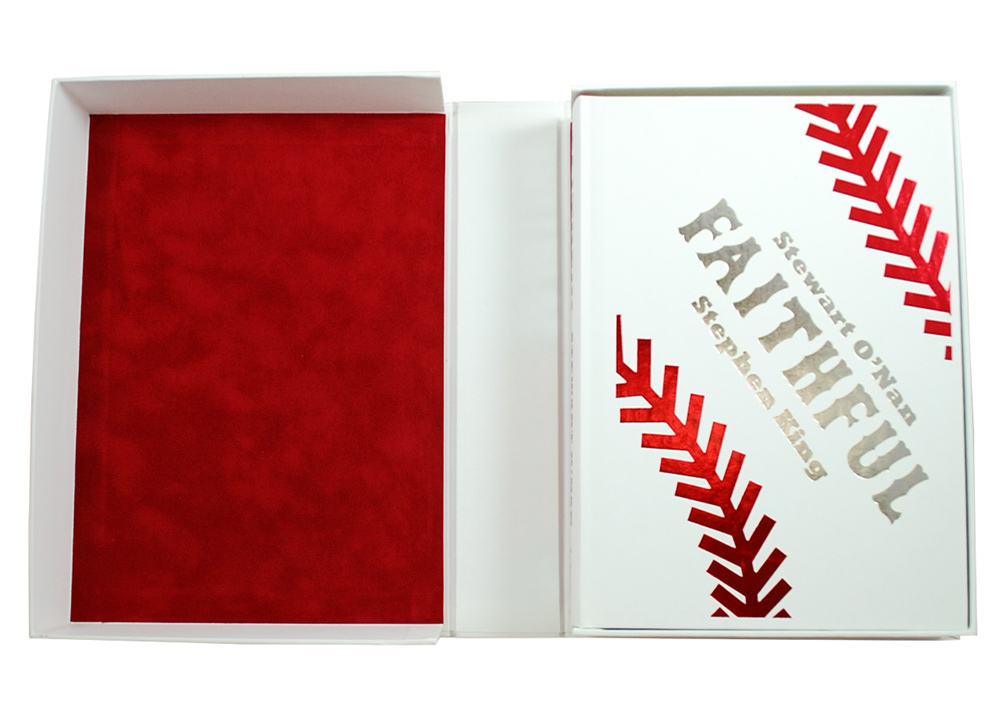 VERY FINE GUARANTEED. As New without any discernible flaws. A wonderful bright clean copy. Unread book with square and tight spine. Tray-case in new condition without any flaws.
Publisher:

Books To Benefit 2014

Edition:

Signed Limited Edition

Binding:

Hardcover in Tray-case

Illustrator:

See description for details

Dimensions:

12" x 9" x 3"

Signature Authenticity:

Lifetime Guarantee of Signature Authenticity. Personally signed by Stewart O'Nan directly onto the limitation page of the book. The autograph is not a facsimile, stamp, or auto-pen.
1 Review
Stephen King, Stewart O'Nan "Faithful"

This is a lovely volume, very attractive, and is exactly as pictured. It met every expectation indeed. Once again I have to say that my online purchasing experience was excellent...and I must say again how customer service from Emmanuel and Jennifer is at least seven star. They are very accommodating and clearly care about the customer's experience with VFB. As a customer for the past two years I have to say that my experience with VFB is the absolute best book-buying experience from any bookseller with whom I've done business. I look forward to my next purchase.