Personally signed by Henry Winkler and Lin Oliver directly onto the title page of the book
Harry N. Abrams Publisher (October 1, 2019). Henry Winkler and Lin Oliver "Alien Superstar". Personally signed by both Henry Winkler Lin Oliver directly onto the title page of the book. Hardcover. 240 pages.
From Emmy Award-winning actor Henry Winkler and Lin Oliver comes a new out-of-this-world middle-grade series.

No one is shocked by the six-eyed alien strolling around the Universal back lot. The tourists just think he's part of the show. It doesn't take long for Buddy to land a role on a popular TV show, playing (of course) an alien. He becomes an overnight heartthrob and is suddenly faced with legions of adoring fans, rides in glamorous limos, and appearances at "all-the-shrimp-you-can-eat" red carpet parties. But can Buddy maintain his secret identity while in the spotlight?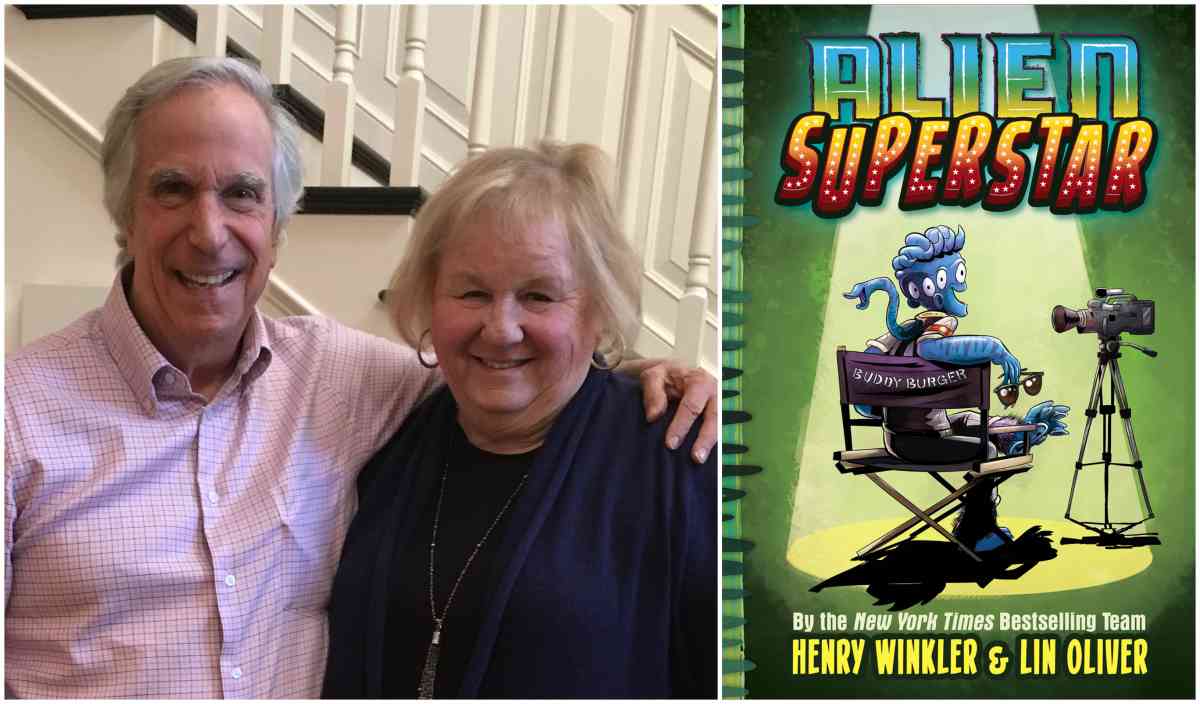 Reviews

"A Hollywood adventure that's truly out of this world! Alien Superstar has it all...action, suspense, and big laughs!" -- Jeff Kinney, author of the Diary of a Wimpy Kid series

"Henry Winkler and Lin Oliver keep us laughing while slipping in a lesson for kids - accept everyone as they are, even if they have suction cups for feet. Alien Superstar is a super fun read for middle grades on up." -- Jennifer Garner

"The creators of the Hank Zipzer books take full comedic advantage of an outlandish premise." -- Publishers Weekly

"Sci-fi lovers will find Winkler's new book completely out of this world...A funny interstellar adventure that will have readers watching the cosmos for the second book to arrive." -- SLJ Review

"A silly sci-fi series." -- Kirkus Reviews

"Winkler and Oliver bring their sharply honed sense of comedy and extensive experience in the television industry to Buddy's antics on the set...This results in an endearingly strange protagonist that will resonate with any kid who has felt like an outsider. A sense of humor and empathy are required for this zany adventure." -- Booklist

About the Author

Henry Franklin Winkler OBE (born October 30, 1945) is an American actor, comedian, director, producer, and author. He played the role of greaser Arthur "Fonzie" Fonzarelli, the breakout character of the 1970s American sitcom Happy Days. He also starred as Sy Mittleman on Adult Swim's Childrens Hospital, and as Eddie R. Lawson on USA Networks's Royal Pains. Winkler also had notable guest-starring roles on Arrested Development as Barry Zuckerkorn and Dr. Saperstein on Parks and Recreation. In 2018, he began appearing as Gene Cousineau on the HBO tragicomedy Barry.

For his role on Happy Days, Winkler won two Golden Globe Awards and earned three Primetime Emmy Award nominations for Outstanding Lead Actor in a Comedy Series. For Barry, Winkler won his first Primetime Emmy Award in the category Outstanding Supporting Actor in a Comedy Series. He also was nominated for a Primetime Emmy Award for Outstanding Guest Actor in a Drama Series for his role on The Practice and has won two Daytime Emmy Awards. He also earned a nomination for the Golden Globe Award for Best Actor in a Motion Picture - Drama for playing Jack Dunne in Heroes (1977), and was nominated for the Golden Globe Award for Best Actor - Motion Picture Musical or Comedy for his role as Chuck Lumley in the film Night Shift (1982).

In 1998, Winkler's agent at CAA, Alan Berger, suggested Winkler write a children's book about dyslexia, but Winkler didn't think that he would be able to write because of his struggles with the learning disability. Berger was persistent, and a few years later, in 2003, he again suggested Winkler write. Winkler said yes. Berger suggested he co-write with author Lin Oliver. Winkler has since written 19 books.

About Lin Oliver

Lin Oliver (born February 2, 1947 in Los Angeles CA) is an American writer and film producer.
Lin Oliver is currently (2013) Executive Director of SCBWI, the Society of Children's Book Writers and Illustrators.
With co-author Henry Winkler, she writes the New York Times best-selling book series, Hank Zipzer: The World's Greatest Underachiever, which have sold over three million copies.
Features
Signed first edition
VERY FINE GUARANTEED. A wonderful bright clean copy free of any markings, writings, or stamps. Sharp corners that have not been bumped. Unread book with square and tight binding. No bookplates attached or indication of any removed. Edges are free of any marks, spots, scratches, or blemishes.
Condition:

New

Edition:

Signed First Edition

Binding:

Hardcover binding

Illustrator:

N/A

Dimensions:

9"x6"x1.5"

Signature Authenticity:

Lifetime Guarantee of Signature Authenticity. Personally signed by Henry Winkler and Lin Oliver directly into the book. The autograph is not a facsimile, stamp, or auto-pen.

Author:

Henry Winkler, Lin Oliver