Personally signed by Dean Koontz on the special limitation page. Lettered "J" of only 26 produced.
New York, Charnel House 2003. Dean Koontz "The Book Of Counted Sorrows". This is lettered J of only 26 produced in this edition, which quickly sold out from the publisher. This luxurious edition is bound in full black Morocco (goat-skin leather), with an Art Deco geometric design in three colors of leather inlaid to front and one color to back cover of book. It is housed in a publisher's tray-case made from silk and glass. No dust-jacket as issued. Very Fine without any flaws. Mint condition as normally shipped by the publisher. Photos of actual item.
Dean Ray Koontz (born July 9, 1945) is an American author. His novels are billed as suspense thrillers, but frequently incorporate elements of horror, fantasy, science fiction, mystery, and satire. Many of his books have appeared on The New York Times Best Seller list, with 14 hardcovers and 14 paperbacks reaching the number-one position. Koontz wrote under a number of pen names earlier in his career, including "David Axton", "Deanna Dwyer" , "K.R. Dwyer" , "Leigh Nichols", and "Brian Coffey". He has published over 105 novels, a number of novellas and collections of short stories, and has sold over 450 million copies of his work.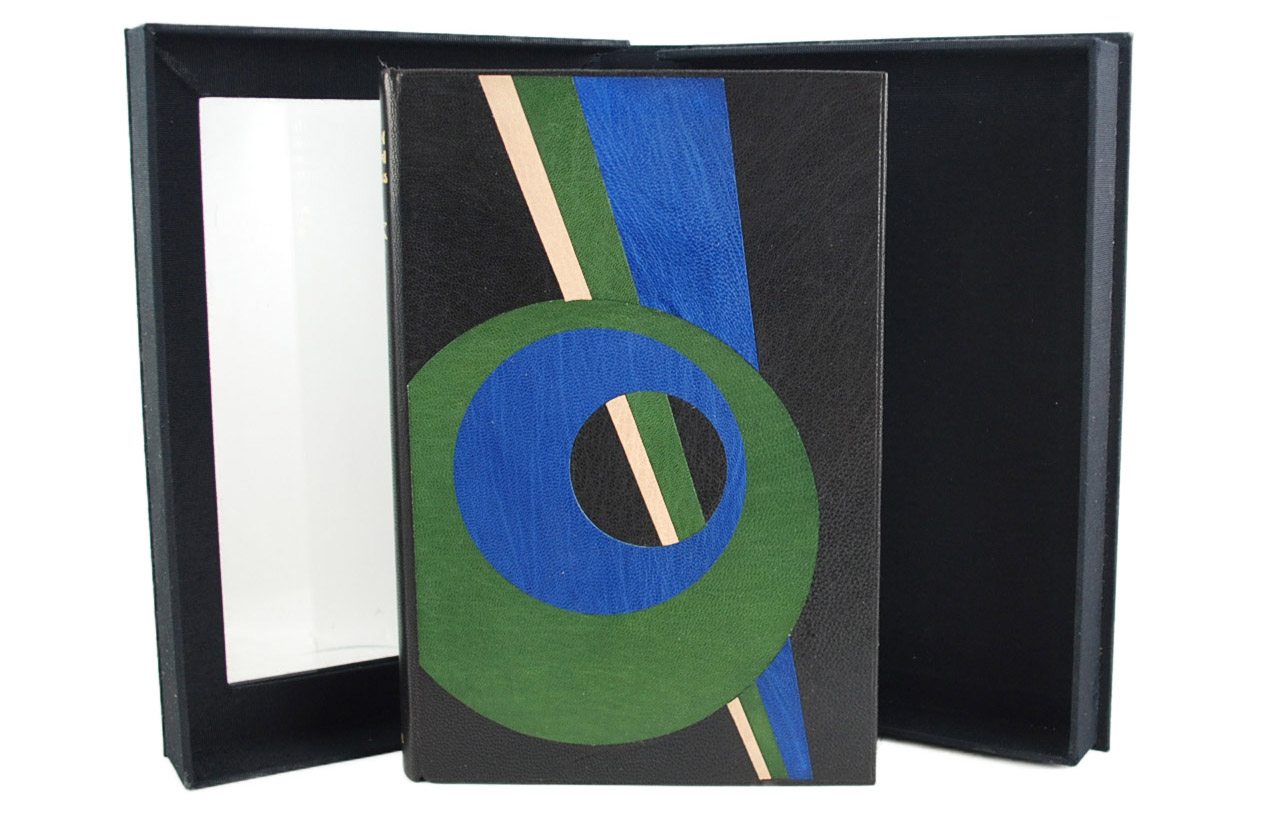 ABOUT

The Book of Counted Sorrows was originally a nonexistent book "quoted" in many of Dean Koontz's books. Koontz subsequently wrote a book of poetry by the same title.
Non-existent book
For many years Koontz fans everywhere searched for this elusive book. Many librarians were frustrated in their attempts to locate it, because it did not exist. This was confirmed by a librarian from Cedar Rapids Public Library who corresponded with Koontz regarding this mysterious book.[citation needed] Koontz himself stated that he received up to 3,000 letters per year inquiring about it.
In a letter dated August 10, 1992, Koontz stated:
"Actually, there is no such book. I made it up. The way you made up footnote sources for fabricated facts in high-school English reports. Oh, come on, yes, you did. Sometimes, when I need a bit of verse to convey some of the underlying themes of a section of a novel, I can't find anything applicable, so I write my own and attribute it to this imaginary tome. I figured readers would eventually realize THE BOOK OF COUNTED SORROWS was my own invention, and I never expected that one day librarians and booksellers would be writing from all over the country, asking for help in tracking down this rare and mysterious volume!"
Koontz went on to say that he would publish such a book in a few years, when he had enough verses to fill a volume. He included a history of the poems in the beginning of the book, followed by the poems, some having never been in any of his books. According to Shannon Presley of Harvest Books, "Koontz himself wrote the poems, attributed to a Stephen Crane..
Second non-existent book
In the beginning of a very few books (such as Odd Thomas), Koontz quotes from The Book of Counted Joys.[citation needed]
Actual book
In 2001, The Book of Counted Sorrows was published in an e-book format offered exclusively through Barnes & Noble; It was the first book published in Barnes & Noble's launch of its first-ever list of books from its newly formed electronic-publishing division, Barnes & Noble Digital, and "quickly became Barnesandnoble.com's best-selling e-books of the year." Barnes & Noble Digital's premier 2001 edition is no longer available.
Later that year, Charnel House published two limited editions of the book: a 1250-copy numbered edition and a 26-copy lettered edition. Both editions quickly sold out from the publisher. In the summer of 2009, Dogged Press issued a 3000-copy hardcover edition.

Wikipedia
About The Author
ABOUT DEAN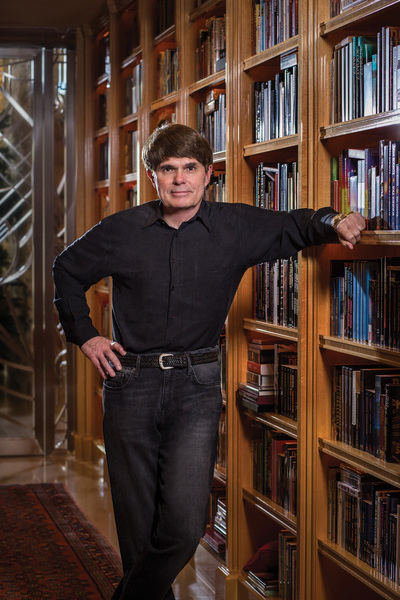 Dean and Gerda When he was a senior in college, Dean Koontz won an Atlantic Monthly fiction competition and has been writing ever since. His books are published in 38 languages and he has sold over 500 million copies to date.
Fourteen of his novels have risen to number one on the New York Times hardcover bestseller list (One Door Away From Heaven, From the Corner of His Eye, Midnight, Cold Fire, The Bad Place, Hideaway, Dragon Tears, Intensity, Sole Survivor, The Husband, Odd Hours, Relentless, What the Night Knows, and 77 Shadow Street), making him one of only a dozen writers ever to have achieved that milestone. Sixteen of his books have risen to the number one position in paperback. His books have also been major bestsellers in countries as diverse as Japan and Sweden.
The New York Times has called his writing "psychologically complex, masterly and satisfying." The New Orleans Times-Picayune said Koontz is, "at times lyrical without ever being naive or romantic. [He creates] a grotesque world, much like that of Flannery O'Conner or Walker Percy … scary, worthwhile reading." Rolling Stone has hailed him as "America's most popular suspense novelist."
Dean Koontz was born and raised in Pennsylvania. He graduated from Shippensburg State College (now Shippensburg University), and his first job after graduation was with the Appalachian Poverty Program, where he was expected to counsel and tutor underprivileged children on a one-to-one basis. His first day on the job, he discovered that the previous occupier of his position had been beaten up by the very kids he had been trying to help and had landed in the hospital for several weeks. The following year was filled with challenge but also tension, and Koontz was more highly motivated than ever to build a career as a writer. He wrote nights and weekends, which he continued to do after leaving the poverty program and going to work as an English teacher in a suburban school district outside Harrisburg. After a year and a half in that position, his wife, Gerda, made him an offer he couldn't refuse: "I'll support you for five years," she said, "and if you can't make it as a writer in that time, you'll never make it." By the end of those five years, Gerda had quit her job to run the business end of her husband's writing career.
Dean Koontz lives in Southern California with his wife, Gerda, their golden retriever, Elsa, and the enduring spirit of their goldens, Trixie and Anna.
REFERENCE - https://www.deankoontz.com/about-dean
VERY FINE GUARANTEED. Very Fine condition without any flaws. There are no markings, writings, or stampings. No attached bookplates or indication of any removed. A well cared for book, protected from any potential damage. Square and tight spine. Sharp corners that are not bumped. A wonderful bright clean copy.

Publisher:

Charnel House (2009)

Edition:

Signed Lettered Edition of only 26

Binding:

Full genuine leather

Illustrator:

N/A

Dimensions:

9.0" x 6.0" x 2.0"