Personally signed by Bob Dole
Easton Press, Norwalk, CT. Bob Dole "Great Political Wit". Signed First Edition. Personally signed by Bob Dole directly onto the limitation page. Limited to only 1,200 signed and numbered copies. Very Fine with COA. Sealed.
Bob Dole's political career may not have taken him to the White House, but he did pick up some great stories along the way. In this delightful collection, the longtime United States senator shares his favorite anecdotes, witticisms, and reminiscences.
From the campaign trail to the Oval Office, from smoke-filled rooms to the chambers of the Capitol, Bob Dole surveys a century of political wit. There are bon mots from Calvin Coolidge, Winston Churchill, Harry Truman, John F. Kennedy, and a host of other political figures. Bob Dole introduces each section with mirthful moments from his own experience, displaying the gift for wry humor that has made him a favorite guest on late-night talk shows. A jovial--and completely bipartisan--compendium, Great Political Wit is a connoisseur's selection of political repartee at its best.
Reviews
"This material would make any party merrier, political or otherwise."
-- Chattanooga Free Press
"Bottom Line: White House joke book gets our vote."
-- People
"Dole's collection of political humor is charming."
-- USA Today
About the Author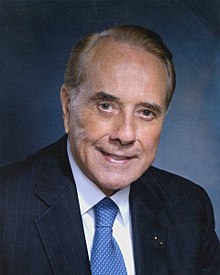 Senator Bob Dole was the longest-serving Republican leader in Senate history. In 1976, he was the Republican nominee for vice president, and then in 1996, he was Republican nominee for president. He is currently serving as the chairman of the World War II Memorial campaign and as chairman of the International Commission on Missing Persons in the Former Yugoslavia. Wounded in World War II, Senator Dole was awarded two Purple Hearts and a Bronze Star. He is married to Elizabeth Hanford Dole and lives in Washington, D.C.
Features
This item includes the classic Easton Press qualities:

* Premium Leather
* Silk Moire Endleaves
* Distinctive Cover Design
* Hubbed Spine, Accented in Real 22KT Gold
* Satin Ribbon Page Marker
* Gilded Page Edges
* Long-lasting, High Quality Acid-neutral Paper
* Smyth-sewn Pages for Strength and Durability
* Beautiful Illustrations


VERY FINE GUARANTEED. Sealed. A wonderful bright clean copy free of any markings, writings, or stamps. Sharp corners that have not been bumped. Unread book with square and tight binding. No bookplates attached or indication of any removed. Edges are free of any marks, spots, scratches, or blemishes.
Publisher:

Easton Press

Edition:

Signed First Edition

Binding:

Full Genuine Leather

Illustrator:

N/A

Dimensions:

9"x6"x1.5"

Signature Authenticity:

Lifetime Guarantee of Signature Authenticity. Personally signed by the author directly into the book. The autograph is not a facsimile, stamp, or auto-pen.