Personally signed by Bob Dole
Famous for his deadpan humor, New York Times bestselling author Senator Bob Dole here brings us his favorite witticisms and hilarious remarks of this country's commanders in chief. Great Presidential Wit collects the former senator's favorite funny stories and remarks by and about American presidents -- from George Washington to George W. Bush. Senator Dole tackles the assignment of ranking the presidents from the funniest (Abraham Lincoln) to the least funny (Millard Fillmore), and everyone in between. With chapters cleverly organized according to the senator's own opinions -- from "A Class by Themselves" (Lincoln, Reagan, the Roosevelts) and "Yankee Wits" (Coolidge, Kennedy) to "The Joke's on Them" (Taylor, Harding, Van Buren, Buchanan, the Harrisons, Pierce, Fillmore) -- Great Presidential Wit is the perfect antidote to the long political season and a patriotic reminder that our leaders are human and often witty and amusing.
Review
Chris Lehman, The Washington Post: Dole's lighthearted anthology brings us a timely reminder that the divide between comedy and statesmanship is blessedly narrow.
Larry King: Bob Dole has one of the most humorous minds, not only of any politician I've ever known, but of any person I have ever known.
Publishers Weekly: Dole sets out to show that the most respected, fondly remembered and effectual presidents have been endowed with a funny bone, debunking the notion of the necessarily solemn face of leadership.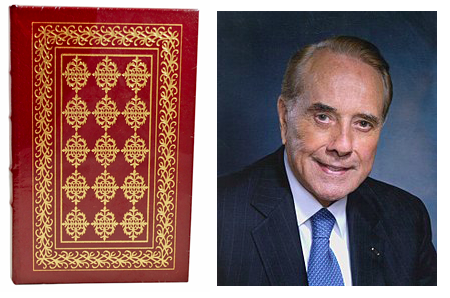 About the Author
Senator Bob Dole was the longest-serving Republican leader in Senate history. In 1976, he was the Republican nominee for vice president, and then in 1996, he was Republican nominee for president. He is currently serving as the chairman of the World War II Memorial campaign and as chairman of the International Commission on Missing Persons in the Former Yugoslavia. Wounded in World War II, Senator Dole was awarded two Purple Hearts and a Bronze Star. He is married to Elizabeth Hanford Dole and lives in Washington, D.C.
Features
This item includes the classic Easton Press qualities:

* Premium Leather
* Silk Moire Endleaves
* Distinctive Cover Design
* Hubbed Spine, Accented in Real 22KT Gold
* Satin Ribbon Page Marker
* Gilded Page Edges
* Long-lasting, High Quality Acid-neutral Paper
* Smyth-sewn Pages for Strength and Durability
* Beautiful Illustrations


VERY FINE GUARANTEED. Sealed. A wonderful bright clean copy free of any markings, writings, or stamps. Sharp corners that have not been bumped. Unread book with square and tight binding. No bookplates attached or indication of any removed. The gilded page edges are free of any marks, spots, scratches, or blemishes.
Publisher:

Easton Press

Edition:

Signed First Edition

Binding:

Full Genuine Leather

Illustrator:

N/A

Dimensions:

9"x6"x1.5"

Signature Authenticity:

Lifetime Guarantee of Signature Authenticity. Personally signed by the author directly into the book. The autograph is not a facsimile, stamp, or auto-pen.