Personally signed by Jack McDevitt on the special limitation page.
Easton Press, Norwalk, CT. 1996. Jack McDevitt."Ancient Shores". Full Genuine Leather. No Jacket as issued. This volume has been personally hand signed by Jack McDevitt. Signed limited first edition #427 of only 1,300 produced. As new without any flaws. This leather bound collector's edition is luxuriously bound in full genuine leather with 22kt gold accents and gilded page edges.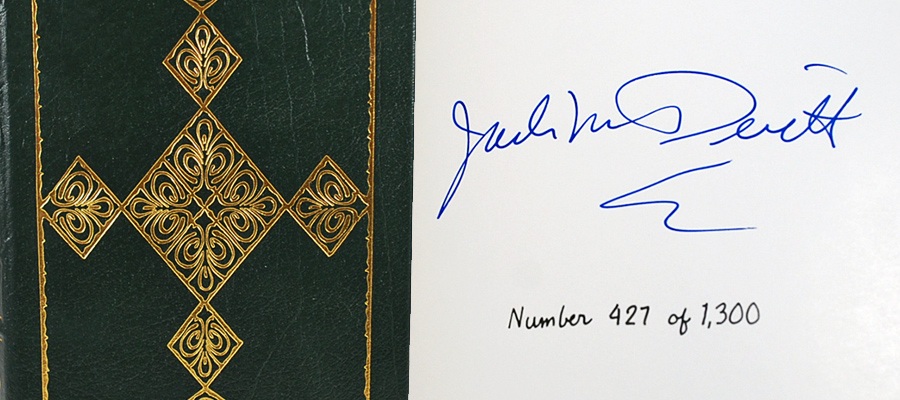 About
It turned up in a North Dakota wheat field: a triangle, like a shark's fin, sticking up from the black loam. Tom Lasker did what any farmer would have done. He dug it up. And discovered a boat, made of a fiberglass-like material with an utterly impossible atomic number. What it was doing buried under a dozen feet of prairie soil two thousand miles from any ocean, no one knew. True, Tom Lasker's wheat field had once been on the shoreline of a great inland sea, but that was a long time ago—ten thousand years ago.
A return to science fiction on a grand scale, reminiscent of the best of Heinlein, Simak, and Clarke, Ancient Shores is the most ambitious and exciting SF triumph of the decade, a bold speculative adventure that does not shrink from the big questions—and the big answers.
Features
Includes all the classic Easton Press qualities:

* Premium Leather
* Silk Moire Endleaves
* Distinctive Cover Design
* Hubbed Spine, Accented in Real 22KT Gold
* Satin Ribbon Page Marker
* Gilded Page Edges
* Long-lasting, High Quality Acid-neutral Paper
* Smyth-sewn Pages for Strength and Durability
* Beautiful Illustrations


About The Author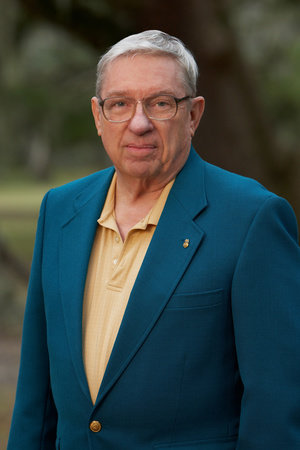 Jack McDevitt (born April 14, 1935)is an American science fiction author whose novels frequently deal with attempts to make contact with alien races, and with archaeology or xenoarchaeology. His two main series are the Alex Benedict series and the Priscilla Hutchins series.
McDevitt's first published story was "The Emerson Effect" in The Twilight Zone Magazine in 1981. Five years later, he published his first novel, The Hercules Text, about the discovery of an intelligently conceived signal whose repercussions threaten human civilization. This novel set the tone for many of McDevitt's following novels, which focused on making first contact. Frequently this theme is mixed with both trepidation before the unknown and a sense of wonder at the universe.
With The Engines of God (1994), McDevitt introduced the idea of a universe that was once teeming with intelligent life, but contains only their abandoned artifacts by the time humans arrive on the scene. Although it was initially written as a standalone novel,[citation needed] the main character of The Engines of God, pilot Priscilla Hutchins, has since appeared in seven more books, Deepsix (2001), Chindi (2002), Omega (2003), Odyssey (2006), Cauldron (2007), StarHawk (2013), and The Long Sunset (2018). The mystery surrounding the destructive "Omega Clouds" (which are introduced in The Engines of God) is left unexplored until Omega.
VERY FINE GUARANTEED. This volume is a wonderful bright clean copy free of any markings, writings, or stamps. Sharp corners that are not bumped. Tight and square spine. Unread book without any attached bookplates or indication of any removed.
Book Grading Definitions
Publisher:

The Easton Press

Edition:

Signed Limited First Edition

Binding:

Full genuine leather

Illustrator:

Pat Morrissey

Dimensions:

6.5" x 9.5" x 1.25"

Signature Authenticity:

Lifetime Guarantee of Signature Authenticity. Personally signed by the author directly into the book. The autograph is not a facsimile, stamp, or auto-pen.