The Novels and Short Stories of John Steinbeck - Limited Collector's Edition Matching 4-Volume Set.
Easton Press. Norwalk, CT. 1997. Limited Collector's Edition. A matching set that makes a monumental addition to the library of any serious collector. Bound in full genuine leather with elegant gold detailing. The "JS" series compilation; an attractive collection bound in rich blue and red leather with the "JS" on each spine. Each edition is illustrated with artworks. The Grapes of Wrath is illustrated with lithographs by Thomas Hart Benton.

This four volume collection from Easton Press includes:
East of Eden (Very Fine)
The Winter of Discontent (Very Near Fine+ with a minor mark to the corner of the gilded page edges).
Cannery Row (Very Fine)
The Grapes of Wrath (Very Fine)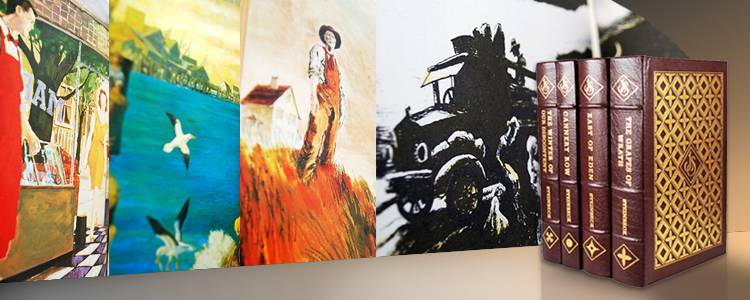 About

These are the works that earned John Steinbeck the Nobel Prize for Literature, as well as the National Book Award and the Pulitzer Prize for fiction. The represented works tell a number of stories, including that of two traveling ranch workers trying to work up enough money to buy their own farm/ranch, as well as of a family of sharecroppers who were driven from their land due to the dust storms of the Dust Bowl.

East of Eden is a novel by Nobel Prize winner John Steinbeck, published in September 1952. Often described as Steinbeck's most ambitious novel, East of Eden brings to life the intricate details of two families, the Trasks and the Hamiltons, and their interwoven stories. The novel was originally addressed to Steinbeck's young sons, Thom and John (then 6½ and 4½ years old, respectively). Steinbeck wanted to describe the Salinas Valley for them in detail: the sights, sounds, smells, and colors.


The Hamilton family in the novel is said to be based on the real-life family of Samuel Hamilton, Steinbeck's maternal grandfather. A young John Steinbeck also appears briefly in the novel as a minor character.
According to his third and last wife, Elaine, Steinbeck considered it his magnum opus. Steinbeck stated about East of Eden: "It has everything in it I have been able to learn about my craft or profession in all these years." He further claimed: "I think everything else I have written has been, in a sense, practice for this."
Cannery Row is a novel by American author John Steinbeck, published in 1945. It is set during the Great Depression in Monterey, California, on a street lined with sardine canneries that is known as Cannery Row. The story revolves around the people living there: Lee Chong, the local grocer; Doc, a marine biologist based on Steinbeck's friend Ed Ricketts; and Mack, the leader of a group of derelicts.
The actual location Steinbeck was writing about, Ocean View Avenue in Monterey, was later renamed "Cannery Row" in honor of the book. A film version was released in 1982 and a stage version was produced in 1995.
The Grapes of Wrath is an American realist novel written by John Steinbeck and published in 1939. The book won the National Book Award and Pulitzer Prize for fiction, and it was cited prominently when Steinbeck was awarded the Nobel Prize in 1962.
Set during the Great Depression, the novel focuses on the Joads, a poor family of tenant farmers driven from their Oklahoma home by drought, economic hardship, agricultural industry changes and bank foreclosures forcing tenant farmers out of work. Due to their nearly hopeless situation, and in part because they are trapped in the Dust Bowl, the Joads set out for California. Along with thousands of other "Okies", they seek jobs, land, dignity, and a future.
The Grapes of Wrath is frequently read in American high school and college literature classes due to its historical context and enduring legacy. A celebrated Hollywood film version, starring Henry Fonda and directed by John Ford, was made in 1940.
Features
Includes all the classic Easton Press qualities:

* Premium Leather
* Silk Moire Endleaves
* Distinctive Cover Design
* Hubbed Spine, Accented in Real 22KT Gold
* Satin Ribbon Page Marker
* Gilded Page Edges
* Long-lasting, High Quality Acid-neutral Paper
* Smyth-sewn Pages for Strength and Durability
* Beautiful Illustrations
About The Author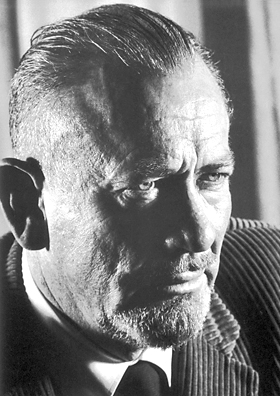 John Steinbeck (1902-1968), winner of the Nobel Prize in Literature, achieved popular success in 1935 when he published
Tortilla Flat
. He went on to write more than twenty-five novels, including
The Grapes of Wrath
and
Of Mice and Men
. As the author of twenty-seven books, including sixteen novels, six non-fiction books, and five collections of short stories, Steinbeck received the Nobel Prize for Literature in 1962.
John Ernst Steinbeck, Jr. (February 27, 1902 – December 20, 1968) was an American author of twenty-seven books, including sixteen novels, six non-fiction books, and five collections of short stories. He is widely known for the comic novels Tortilla Flat (1935) and Cannery Row (1945), the multi-generation epic East of Eden (1952), and the novellas Of Mice and Men (1937) and The Red Pony (1937). The Pulitzer Prize-winning The Grapes of Wrath (1939), widely attributed to be part of the American literary canon, is considered Steinbeck's masterpiece. In the first 75 years since it was published, it sold 14 million copies.
The winner of the 1962 Nobel Prize in Literature, he has been called "a giant of American letters". His works are widely read abroad and many of his works are considered classics of Western literature.
Most of Steinbeck's work is set in southern and central California, particularly in the Salinas Valley and the California Coast Ranges region. His works frequently explored the themes of fate and injustice, especially as applied to downtrodden or everyman protagonists.
Very Fine without any flaws for three volumes. Each book is unread, and a wonderful bright clean copy with tight binding. No bumped corners and free of any marks, writings or stamps. All photos of actual set. A beautiful set for the collector that would also make a unique gift idea. Read description for full details. Photos of actual collection.
Publisher:

Easton Press (1997)

Edition:

Limited Collector's Edition, Matching Set of the "JS" series

Binding:

Leather Bound Matching Set

Author:

John Steinbeck