A Four-Volume Leather Bound Limited Edition Collector's Set
---
Easton Press, Norwalk CT. January 2000. "The Writings of Pope John Paul II". Limited Edition collector's set in 4 leather bound volumes. Full genuine leather. Sealed in the original shrink-wrap from the publisher. As new and unread. Accented in 22kt gold. Printed on archival paper with gilded edges. The end-sheets are moire fabric with a silk ribbon page marker. The volumes are luxuriously bound in full leather with hubbed spines. Photos of actual collection.
Four volumes in one shipment.
1) Memory and Identity.
2) Prayers and Devotions.
3) Crossing the Threshold of Hope.
4) Go In Peace.
---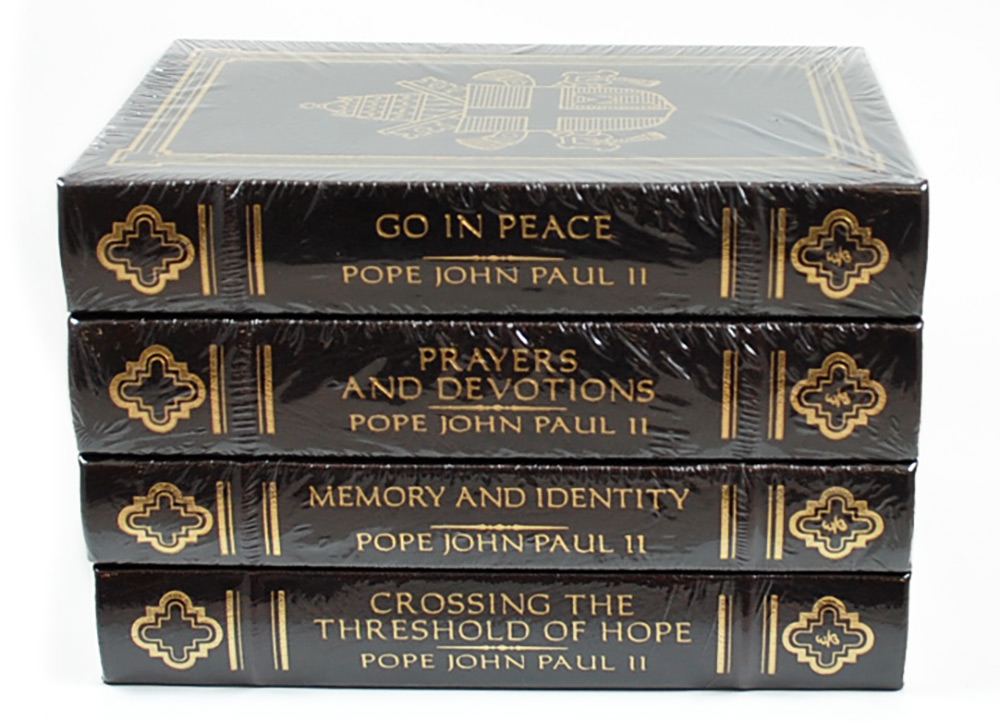 ---

Go In Peace: A Gift of Enduring Love
John Paul II speaks from the heart about what matters most to him-and to us . . . Why do we suffer? How can we live as believers in an unbelieving world? Who is Jesus? How can we pray? These are some of the questions John Paul II answers in this inspirational collection of his most intimate words and writings.
Revealing his pastoral heart, Fr. Karol Wojtyla speaks powerfully and with clarity about what it means to be a Christian in our modern world. In passages taken from three volumes of writings, the Holy Father discusses conscience, prayer, forgiveness, families, Jesus and the Holy Spirit, the Mass and the Eucharist, poverty and suffering, and creating a culture of peace.
Go in Peace is the essential wisdom of John Paul II-a living testament to his legacy of hope and peace. It is the definitive book for every seeker who wants to know John Paul II as a man, as a priest, and as a Pope.
Memory and Identity: Conversations at the Dawn of a Millennium
In conversations with two Polish philosophy professors, the Pope offers his views on recent history and politics, evil, freedom, democracy, the moral status of modern Europe, and related topics, including the attempt on his life.
Prayers And Devotions
This treasury of selected passages from the writings and addressees of the late Pope John Paul II offers a chance for the modern reader to spend a few moments contemplating the mystery and the example of Christ.
Within this audiobook you'll find the Pope's reflections on the church, humanity, the family, the lives of the saints, the meaning of holidays, and the place of faith in daily life. Through these passages of calm reflection, all will find a moment of peaceful repose from the occupations of life.
Crossing the Threshold of Hope
A great international bestseller, the book in which, on the eve of the millennium, Pope John Paul II brings to an accessible level the profoundest theological concerns of our lives. He goes to the heart of his personal beliefs and speaks with passion about the existence of God; about the dignity of man; about pain, suffering, and evil; about eternal life and the meaning of salvation; about hope; about the relationship of Christianity to other faits and that of Catholicism to other branches of the Christian faith.With the humility and generosity of spirit for which he is known, John Paul II speaks directly and forthrightly to all people. His message: Be not afraid!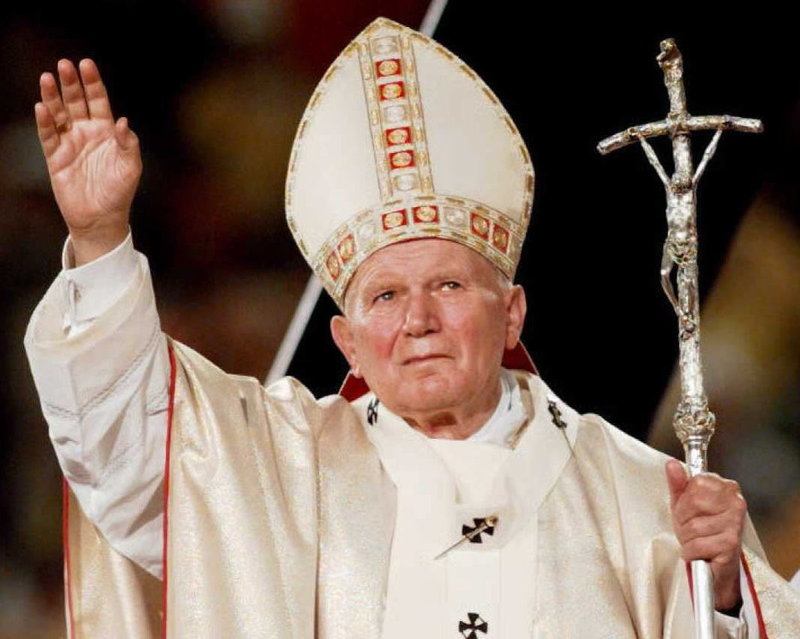 ABOUT Pope John Paul II
Pope John Paul II (18 May 1920 – 2 April 2005) was head of the Catholic Church and sovereign of the Vatican City State from 1978 to 2005.
He was elected pope by the second papal conclave of 1978, which was called after Pope John Paul I, who had been elected in August to succeed Pope Paul VI, died after 33 days. Cardinal Wojtyła was elected on the third day of the conclave and adopted the name of his predecessor in tribute to him.[7][8] John Paul II is recognised as helping to end Communist rule in his native Poland and eventually all of Europe.[9] John Paul II significantly improved the Catholic Church's relations with Judaism, Islam, and the Eastern Orthodox Church. He upheld the Church's teachings on such matters as the right to life, artificial contraception, the ordination of women, and a celibate clergy, and although he supported the reforms of the Second Vatican Council, he was seen as generally conservative in their interpretation.
He was one of the most travelled world leaders in history, visiting 129 countries during his pontificate. As part of his special emphasis on the universal call to holiness, he beatified 1,340 and canonised 483 people, more than the combined tally of his predecessors during the preceding five centuries. By the time of his death, he had named most of the College of Cardinals, consecrated or co-consecrated a large number of the world's bishops, and ordained many priests.
John Paul II was the second longest-serving pope in modern history after Pope Pius IX. Born in Poland, John Paul II was the first non-Italian pope since the 16th-century Pope Adrian VI. John Paul II's cause for canonisation commenced one month after his death with the traditional five-year waiting period waived. On 19 December 2009, John Paul II was proclaimed venerable by his successor, Benedict XVI, and was beatified on 1 May 2011 (Divine Mercy Sunday) after the Congregation for the Causes of Saints attributed one miracle to his intercession, the healing of a French nun from Parkinson's disease. A second miracle was approved on 2 July 2013, and confirmed by Pope Francis two days later. John Paul II was canonised on 27 April 2014 (again Divine Mercy Sunday), together with Pope John XXIII. On 11 September 2014, Pope Francis added these two optional memorials to the worldwide General Roman Calendar of saints. It is traditional to celebrate saints' feast days on the anniversary of their deaths, but that of John Paul II (22 October) is celebrated on the anniversary of his papal inauguration. Posthumously, he has been referred to by some Catholics as "St. John Paul the Great", although the title has no official recognition.
Wikipedia.
Features
Includes the classic Easton Press qualities:
* Premium Leather
* Silk Moire Endleaves
* Distinctive Cover Design
* Hubbed Spine, Accented in Real 22KT Gold
* Satin Ribbon Page Marker
* Gilded Page Edges
* Long-lasting, High Quality Acid-neutral Paper
* Smyth-sewn Pages for Strength and Durability
* Beautiful Illustrations
VERY FINE GUARANTEED. As New. Each volume is sealed as if normally shipped from the publisher. The condition is of the highest quality without any discernible flaws. Unread books with sharp corners.
Publisher:

Easton Press 2000

Edition:

Limited Edition 4-Vol, Collector's Set

Binding:

Full Genuine Leather

Illustrator:

see product description

Dimensions:

Each volume 9" x 6.5" x 1.5"