A Rare Limited Edition Leather Bound Collector's Set of "Outlaws Of The Old West"
Easton Press, Norwalk. CT "Outlaws of the Old West" Leather Bound limited edition. This matching 3-volume collector's series includes Jesse James, Butch Cassidy, and Billy the Kid. This is a rare, hard to find set of new, factory sealed books. A beautiful addition to your reading collection or as a unique gift. Luxuriously bound in full genuine leather. Sealed.
Three volumes set in one shipment:
"Jesse James - Last Rebel of the Civil War" by T.J. Stiles
"Butch Cassidy - A Biography " by Richard Patterson
"Billy the Kid - The Endless Ride" by Michael Wallis
---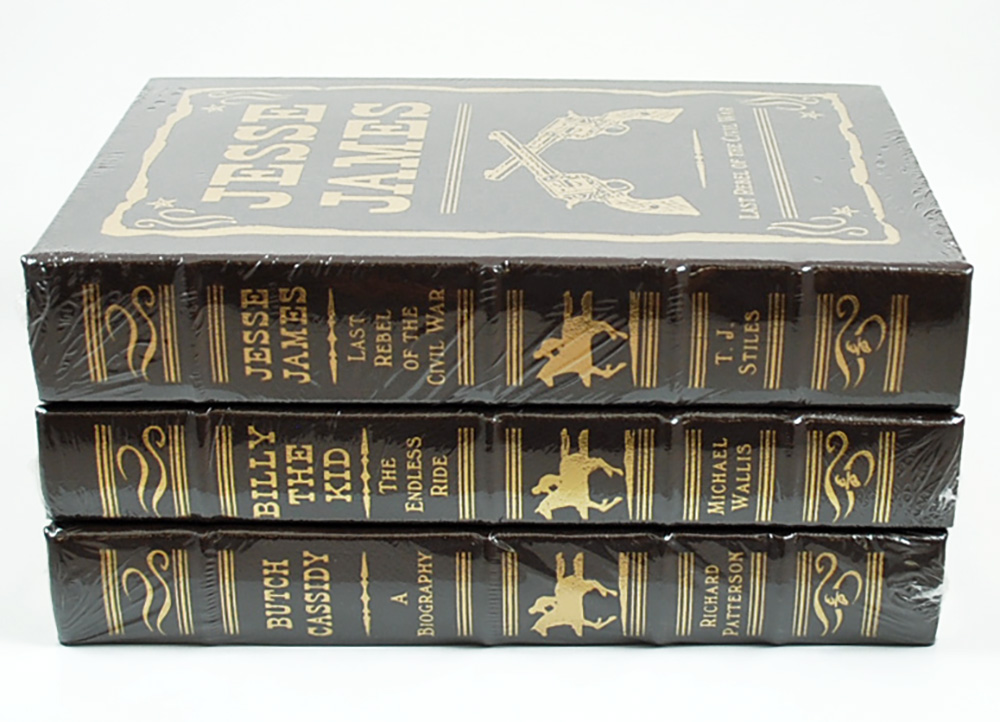 ---
About
"Jesse James - Last Rebel of the Civil War" by T.J. Stiles
In this brilliant biography T. J. Stiles offers a new understanding of the legendary outlaw Jesse James. Although he has often been portrayed as a Robin Hood of the old west, in this ground-breaking work Stiles places James within the context of the bloody conflicts of the Civil War to reveal a much more complicated and significant figure.
Raised in a fiercely pro-slavery household in bitterly divided Misssouri, at age sixteenJames became a bushwhacker, one of the savage Confederate guerrillas that terrorized the border states. After the end of the war, James continued his campaign of robbery and murder into the brutal era of reconstruction, when his reckless daring, his partisan pronouncements, and his alliance with the sympathetic editor John Newman Edwards placed him squarely at the forefront of the former Confederates' bid to recapture political power. With meticulous research and vivid accounts of the dramatic adventures of the famous gunman, T. J. Stiles shows how he resembles not the apolitical hero of legend, but rather a figure ready to use violence to command attention for a political cause - in many ways, a forerunner of the modern terrorist.
"Butch Cassidy - A Biography " by Richard Patterson
Separating mythology from actual events in the life of Butch Cassidy has been made extremely difficult by the many stories told about him by family members, acquaintances, and writers after his presumed death in a Bolivian village. In an exhaustive search of reminiscences, newspapers, and books, Richard Patterson has written the definitive biography of the outlaw whose legend is rivaled only by that of Billy the Kid. Born to a devout Mormon family in Utah, Robert Leroy Parker demonstrated early on the acquisitiveness and restlessness that would lead him into a criminal life. As a teenager, he was arrested for stealing a saddle. In this same period, he met Mike Cassidy, a cowhand skilled in using a running iron to change livestock brands. Eventually Parker drifted into Telluride, where he met Tom McCarty and Matt Warner. McCarty taught them how to rob banks and trains, laying out for Parker a career path that would lead him to a new name—Butch Cassidy —and eventually force him from the country.
Patterson has followed every lead to provide a vivid account of Cassidy's life and has scrutinized the stories of men who claimed to be Butch. Butch Cassidy brings together diverse anecdotes, providing both a wonderful tool for researchers and a lively read.
"Billy the Kid - The Endless Ride" by Michael Wallis
From the best-selling author of Route 66 comes this long-awaited biography of one of America's most legendary folk heroes. Award-winning historian Michael Wallis has spent several years re-creating the rich, anecdotal saga of Billy the Kid (1859-1881), a deeply mythologized young man who became a legend in his own time and yet remains an enigma to this day. With the Gilded Age in full swing and the Industrial Revolution reshaping the American landscape, "the Kid", who was gunned down by Sheriff Pat Garrett in the New Mexico Territory at the age of 21, became a new breed of celebrity outlaw. He arose amid the mystery and myth of the swiftly vanishing frontier and, sensationalized beyond recognition by the tabloids and dime-store romances of the day, emerged as one of the most enduring icons of the American West: not to mention one of Hollywood's most misrepresented characters.
This new biography separates myth from reality and presents an unforgettable portrait of this brief and violent life.
Features
Includes the classic Easton Press qualities:
* Premium Leather
* Silk Moire Endleaves
* Distinctive Cover Design
* Hubbed Spine, Accented in Real 22KT Gold
* Satin Ribbon Page Marker
* Gilded Page Edges
* Long-lasting, High Quality Acid-neutral Paper
* Smyth-sewn Pages for Strength and Durability
* Beautiful Illustrations
VERY FINE GUARANTEED. As New. Each volume is sealed as if normally shipped from the publisher. The condition is of the highest quality without any discernible flaws. Unread books with sharp corners.
Publisher:

Easton Press

Edition:

Limited Edition 3-Vol, Collector's Set

Binding:

Full Genuine Leather

Illustrator:

see product description

Dimensions:

Each volume 9" x 6.5" x 1.5"