Personally signed by Stephen E. Ambrose on the special title page.
Easton Press, Norwalk, CT. 1997. Stephen E. Ambrose."Citizen Soldiers: The US. Army from The Normandy Beaches to The Bulge to the Surrender of Germany". Signed Limited Edition with COA (certificate of authenticity). The COA is also signed and dated by the author along with a witness. This leather bound collector's edition is luxuriously bound in navy blue full genuine leather with 22kt gold accents and gilded page edges.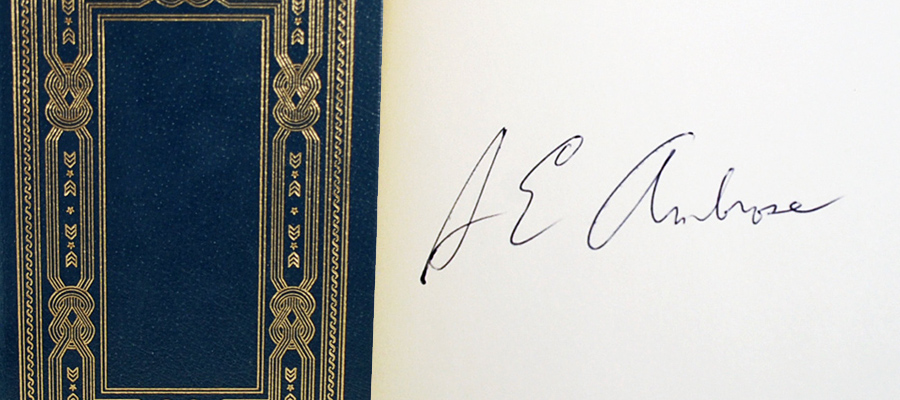 About
Citizen Soldiers is a biography of the U.S. Army in the European Theater of Operations, June 7, 1944, to May 7, 1945. Allied citizen soldiers overcame their fear and inexperience, the mistakes of the high command, and the enemy to win the war. Once again, Stephen E. Ambrose shows that free men fight better than slaves, that the sons of democracy proved to be better soldiers than the sons of Nazi Germany."
Features
Includes all the classic Easton Press qualities:

* Premium Leather
* Silk Moire Endleaves
* Distinctive Cover Design
* Hubbed Spine, Accented in Real 22KT Gold
* Satin Ribbon Page Marker
* Gilded Page Edges
* Long-lasting, High Quality Acid-neutral Paper
* Smyth-sewn Pages for Strength and Durability
* Beautiful Illustrations


About The Author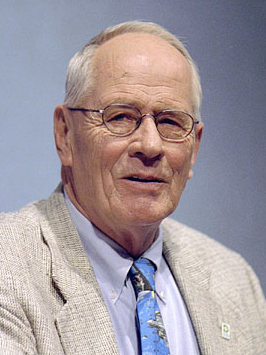 At the University of Wisconsin in the 1950s, Stephen Ambrose played football as a Badger for three years. He was a left guard on offense and a middle linebacker on defense, and had he been just 10 pounds heavier, he would have taken a shot at the pros. Instead, his life took an entirely different course.
Soon after completing both his undergraduate and graduate studies at the University of Wisconsin (which earned him a Ph.D. in history), Stephen Ambrose, a native of Illinois, had his first book published. A biography of Army General Henry W. Halleck, it was published by Louisiana State University Press in 1962 with a first printing of fewer than 1,000 copies. At least one copy must have been purchased, as he received a phone call from a fan, President Dwight D. Eisenhower. Eisenhower had read Halleck: Lincoln's Chief of Staff, and was impressed. The Supreme Commander of Allied Forces in Europe during World War II, and the two-term president of the United States offered Ambrose (then age twenty-eight) an opportunity to assist in the editing of his papers, and ultimately, to write an authorized biography of the president. Needless to say he accepted the assignment. It was this event that would shape his career as a writer.
Ambrose's first biography of President Eisenhower, The Supreme Commander: The War Years of General Dwight D. Eisenhower, appeared in 1970, the same year he became a full professor at the University of New Orleans. He would go on to write three more biographies of Eisenhower, all of which met with widespread acclaim.
After publishing the series of books on Eisenhower, the subject of his next series of biographies was suggested to Ambrose by his editor, Alice E. Mayhew. Ambrose did not have the same relationship with Richard Nixon as he did with Eisenhower, but he was challenged by the writing project Ms. Mayhew put before him. In 1987, Nixon, The Education of a Politician was published. Although he admits to never liking President Nixon, after writing two more books on this president, he grew to admire and respect him. In fact, Ambrose didn't even meet President Nixon until after the series was in print. This series of books, too, were celebrated with critical acclaim.
Ambrose's desire to write on Lewis and Clark began in the mid 1970s. In the summer of 1976, to celebrate the bicentennial of the United States, Stephen Ambrose, his wife and their five children, traveled the Lemhi Pass in the Rocky Mountains, where Meriwether Lewis was the first nonnative American to cross the Continental Divide in August 1805. On this trip, Stephen and his wife took turns reading to their children from the diaries of Lewis and Clark. Being so moved by this uniquely American experience, his family has repeated it every summer since -- visiting Montana, Idaho, Oregon, Kansas, or the Dakotas, and following some piece of the trail. The family has canoed more than 165 miles down the Missouri, backpacked and horse- backed along the Lolo Trail, and turned in at night at various Lewis and Clark campsites. After the publication of D-Day: June 6, 1944, Ambrose began to focus all of his attention of what would become Undaunted Courage: Meriwether Lewis, Thomas Jefferson, and the Opening of the American West. Stephen Ambrose, now a retired professor from the University of New Orleans, lives in the Old South community of Bay St. Louis, Mississippi, in his home, Merry Weather. He also maintains a home in Helena, Montana, along the trail of Lewis and Clark.
VERY FINE GUARANTEED. This volume is a wonderful bright clean copy free of any markings, writings, or stamps. Sharp corners that are not bumped. Tight and square spine. Unread book without any attached bookplates or indication of any removed.
Book Grading Definitions
Publisher:

The Easton Press

Edition:

Signed Limited Edition

Binding:

Full genuine leather

Illustrator:

N/A

Dimensions:

9" x 6" x 1.5"

Signature Authenticity:

Lifetime Guarantee of Signature Authenticity. This volume has been personally hand signed by the author Stephen Ambrose directly into the book. The autograph is not a facsimile, stamp, or auto-pen.