Personally signed by Stephen E. Ambrose
Easton Press leather bound collector's edition
Signed First Edition as stated
Sealed without any flaws
From Stephen E. Ambrose, bestselling author of Band of Brothers and D-Day, the inspiring story of the ordinary men of the U.S. army in northwest Europe from the day after D-Day until the end of the bitterest days of World War II.
In this riveting account, historian Stephen E. Ambrose continues where he left off in his Number 1 bestseller D-Day. Citizen Soldiers opens at 0001 hours, June 7, 1944, on the Normandy beaches, and ends at 0245 hours, May 7, 1945, with the allied victory. It is biography of the US Army in the European Theater of Operations, and Ambrose again follows the individual characters of this noble, brutal, and tragic war. From the high command down to the ordinary soldier, Ambrose draws on hundreds of interviews to re-create the war experience with startling clarity and immediacy. From the hedgerows of Normandy to the overrunning of Germany, Ambrose tells the real story of World War II from the perspective of the men and women who fought it.
Reviews
From Library Journal:
Military historian and author Ambrose offers a sequel to his best seller, D-Day, June 6, 1944: The Climactic Battle of World War II. A skillful blending of eyewitness accounts (gathered mostly from the oral history collection at the University of New Orleans's Eisenhower Center and from personal interviews) gives the reader an intimate feel of what war was like for infantrymen in the European theater of operations - from the beaches of France to victory at the Elbe River. Additional chapters on the air war, medics, and prisoners of war offer firsthand accounts on topics rarely described in traditional histories. This well-written oral history would also make an excellent general text. Highly recommended. -- Richard S. Nowicki, Emerson Vocational H.S., Buffalo, N.Y., Copyright 1997 Reed Business Information, Inc.
About the Author
Stephen Edward Ambrose (January 10, 1936 - October 13, 2002) was an American historian and biographer of U.S. Presidents Dwight D. Eisenhower and Richard Nixon. He was a longtime professor of history at the University of New Orleans and the author of many bestselling volumes of American popular history.
In 1964 Ambrose was commissioned to write the official biography of the former president and five-star general Dwight D. Eisenhower. This resulted in a book on Eisenhower's war years, The Supreme Commander (1970) and a two-volume full biography (published 1983 and 1984), which are considered "the standard" on the subject. Regarding the first volume, Gordon Harrison, writing for the New York Times, proclaimed, "It is Mr. Ambrose's special triumph that he has been able to fight through the memoranda, the directives, plans, reports, and official self-serving pieties of the World War II establishment to uncover the idiosyncratic people at its center." Ambrose also wrote a three-volume biography of Richard Nixon. Although Ambrose was a strong critic of Nixon, the biography was considered fair and just regarding Nixon's presidency.
A visit to a reunion of Easy Company veterans in 1988 prompted Ambrose to collect their stories, turning them into Band of Brothers, E Company, 506th Regiment, 101st Airborne: From Normandy to Hitler's Eagle's Nest (1992). D-Day (1994), built upon additional oral histories, presented the battle from the view points of individual soldiers and became his first best seller. A reviewer for the Journal of Military History commended D-Day as the "most comprehensive discussion" of the sea, air, and land operations that coalesced on that day. Christopher Lehmann-Haupt, writing for the New York Times, proclaimed that "Reading this history, you can understand why for so many of its participants, despite all the death surrounding them, life revealed itself in that moment at that place." Ambrose's Citizen Soldiers, which describes battles fought in northwest Europe from D-Day through the end of the war, utilized, again, extensive oral histories. Citizen Soldiers became a best seller, appearing on the New York Times best sellers lists for both hardcover and paperback editions in the same week.
Ambrose's most popular single work was Undaunted Courage: Meriwether Lewis, Thomas Jefferson, and the Opening of the American West (1996), which stayed on the New York Times best seller list for a combined, hardcover and paperback, 126 weeks. Ambrose consolidated research on the Corps of Discovery's expedition conducted in the previous thirty years and "synthesized it skillfully to enrich our understanding and appreciation of this grand epic," according to Alvin M. Josephy, Jr., who reviewed the book for the New York Times. Ken Burns, who produced and directed a PBS documentary on Lewis & Clark declared that Ambrose "takes one of the great, but also one of the most superficially considered, stories in American history and breathes fresh life into it."
In addition to twenty-seven self-authored books, Ambrose co-authored, edited, and contributed to many more and was a frequent contributor to magazines such as American Heritage He also reviewed the works of other historians in the Journal of Southern History, Military Affairs, American Historical Review, Journal of American History, and Foreign Affairs. He served as a contributing editor to MHQ: The Quarterly Journal of Military History.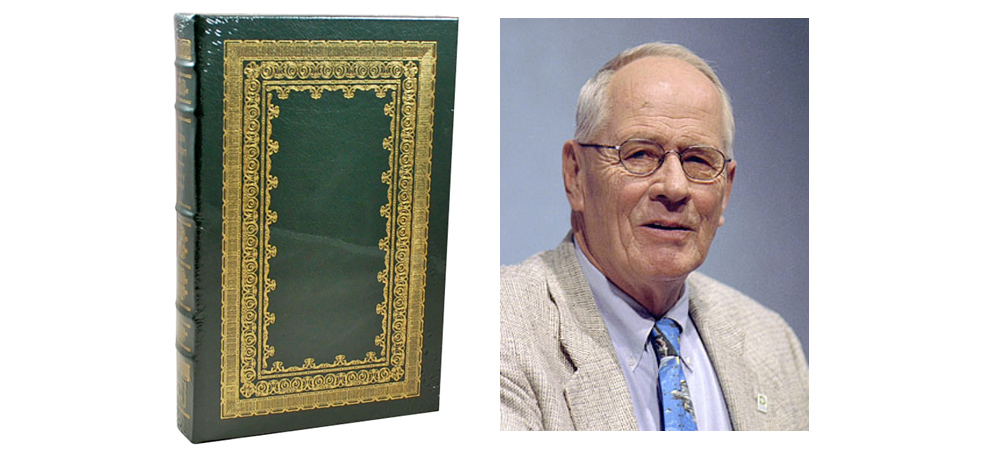 Features
This item includes the classic Easton Press qualities:

* Premium Leather
* Silk Moire Endleaves
* Distinctive Cover Design
* Hubbed Spine, Accented in Real 22KT Gold
* Satin Ribbon Page Marker
* Gilded Page Edges
* Long-lasting, High Quality Acid-neutral Paper
* Smyth-sewn Pages for Strength and Durability
* Beautiful Illustrations


VERY FINE GUARANTEED. Sealed. A wonderful bright clean copy free of any markings, writings, or stamps. Sharp corners that have not been bumped. Unread book with square and tight binding. No bookplates attached or indication of any removed. Edges are free of any marks, spots, scratches, or blemishes.
Publisher:

Easton Press 1997

Edition:

Signed First Edition

Binding:

Full Genuine Leather

Illustrator:

N/A

Dimensions:

9"x6"x1.5"

Signature Authenticity:

Lifetime Guarantee of Signature Authenticity. Personally signed by the author Stephen E. Ambrose directly into the book. The autograph is not a facsimile, stamp, or auto-pen.