Easton Press, Norwalk CT. 1994 Stephen Vincent Benet "John Brown's Body" Limited Edition. The Collector's Library of Famous Editions. Luxuriously bound in full genuine leather. A limited collector's edition with the original NOTES FROM THE ARCHIVES. Very Fine without any flaws.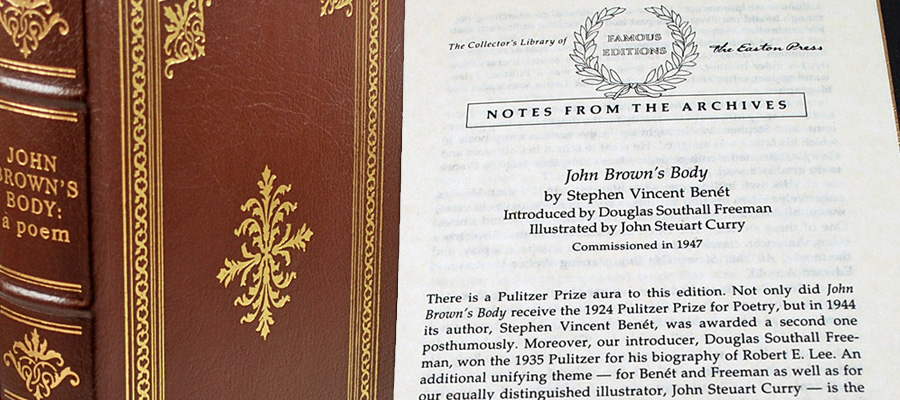 One of the most widely read poems of our time, John Brown's Body is Stephen Vincent Benet s masterful retelling of the Civil War. A book of great energy and sweep, it swings into view the entire course of that terrible and decisive war, lighting up the lives of soldiers, leaders, and civilians, North and South, amidst the conflict. Generations of readers have found the book a compelling and moving experience. "Magnificently readable." New Statesman. "It is not one of your tours de forces of intellect and technique, to be admired and then tucked away on the library shelf. It is a library of storytelling itself, a poem extraordinarily rich in action as well as actors, vivid, varied, and so expressive of many men and moods that prose could never have carried its electric burden." Saturday Review. "A remarkable piece of imaginative reporting; and one in which not only the forces which make history are embodied in the speech and action of very diverse men and women but the ideas also of which these forces were the driving power." London Times Literary Supplement."
Features
Includes all the classic Easton Press qualities:

* Premium Leather
* Silk Moire Endleaves
* Distinctive Cover Design
* Hubbed Spine, Accented in Real 22KT Gold
* Satin Ribbon Page Marker
* Gilded Page Edges
* Long-lasting, High Quality Acid-neutral Paper
* Smyth-sewn Pages for Strength and Durability
* Beautiful Illustrations


About The Author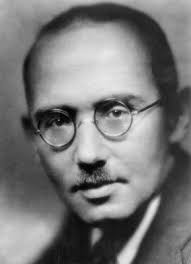 Stephen Vincent Benet was born July 22, 1898, in Bethlehem, Pennsylvania, into a military family. His father had a wide appreciation for literature, and Benet's siblings, William Rose and Laura, also became writers. Benet attended Yale University where he published two collections of poetry, Five Men and Pompey (1915), The Drug-Shop (1917). His studies were interrupted by a year of civilian military service; he worked as a cipher-clerk in the same department as James Thurber. He graduated from Yale in 1919, submitting his third volume of poems in place of a thesis. He published his first novel The Beginning of Wisdom in 1921. Benet then moved to France to continue his studies at the Sorbonne and returned to the United States in 1923 with his new wife, the writer Rosemary Carr.
VERY FINE GUARANTEED.
A wonderful bright clean copy free of any markings, writings, or stamps. Sharp corners that are not bumped. Tight and square spine. Unread book. No attached bookplates or indication of any removed.
Book Grading Definitions
Publisher:

Easton Press (1994)

Edition:

Limited Edition

Binding:

Leather Bound (Full genuine leather)

Illustrator:

John Steuart Curry

Dimensions:

7.25" x 10.75" x 1.5"