A Luxurious Leather Bound Masterpiece for Your Very Fine Library

Limited Edition - Collector's Edition. A great unique gift for yourself or for a loved one.
Part of prestigious
The Collector's Library of Famous Editions
published by Easton Press. Beautifully illustrated and bound in full genuine leather. A rare collector's edition that is hard to find, especially in this very fine condition. First edition 1964.
One of the most celebrated works of popular literature by a historical writer. A true classic for your home library or office. Includes extra unattached Ex-Libris bookplate for your own personalization. Includes original collector notes.
Condition
Very Fine. A wonderful bright clean copy. Free of markings, writings, or stamps. No attached bookplates or indication of any removed. Tight spine. Not even a single scratch to the gilded page edges. Unread book.
Includes the classic Easton Press qualities:
* Premium Leather
* Silk Moire Endleaves
* Distinctive Cover Design
* Hubbed Spine, Accented in Real 22KT Gold
* Satin Ribbon Page Marker
* Gilded Page Edges
* Long-lasting, High Quality Acid-neutral Paper
* Smyth-sewn Pages for Strength and Durability
* Beautiful Illustrations
PHOTOS OF ACTUAL VOLUME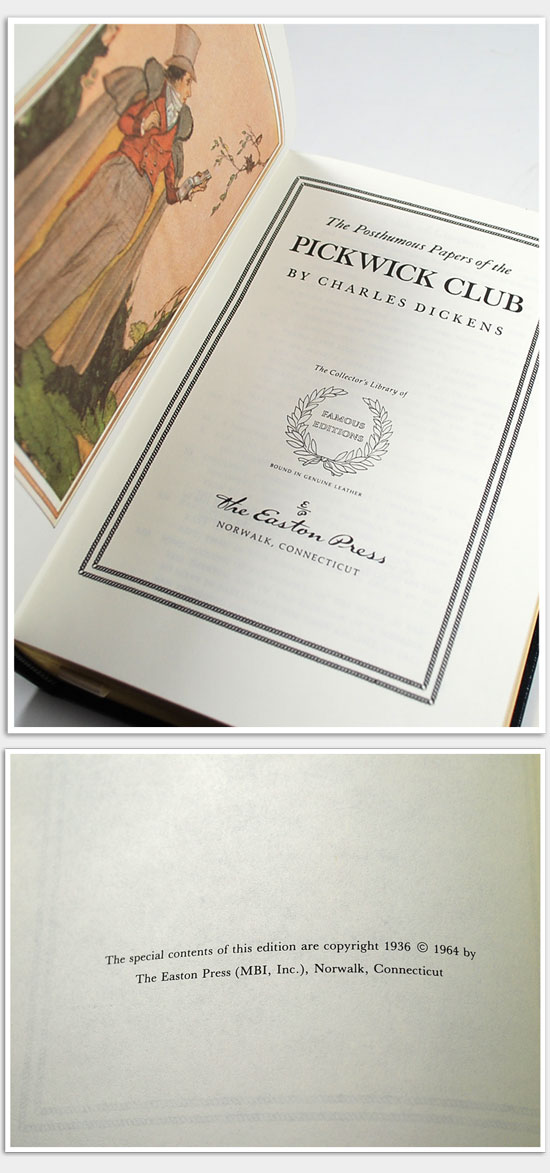 The Posthumous Papers of the Pickwick Club (commonly known as The Pickwick Papers) is the first novel by Charles Dickens. After the publication the widow of illustrator Robert Seymour claimed that the idea for the novel was originally her husband's; however, in his preface to the 1867 edition, Dickens strenuously denied any specific input, writing that "Mr Seymour never originated or suggested an incident, a phrase, or a word, to be found in the book."
Dickens was asked to contribute to the project as an up and coming writer following the success of Sketches by Boz, published in 1836 (most of Dickens' novels were issued in shilling installments before being published in the complete volume). Dickens increasingly took over the unsuccessful monthly publication after Seymour had committed suicide.
With the introduction of Sam Weller in chapter 10, the book became the first real publishing phenomenon, with bootleg copies, theatrical performances, Sam Weller joke books and other merchandise.
VERY FINE GUARANTEED
A wonderful bright clean copy free of any markings, writings, or stamps. Sharp corners that have not been bumped. Unread book with tight binding. No bookplates attached or indication of any removed. The gilded page edges are free of any marks, scratches, or blemishes.
Publisher:

Easton Press (1964)

Edition:

N/A

Binding:

Full Genuine Leather

Illustrator:

First Edition

Dimensions:

Very Fine