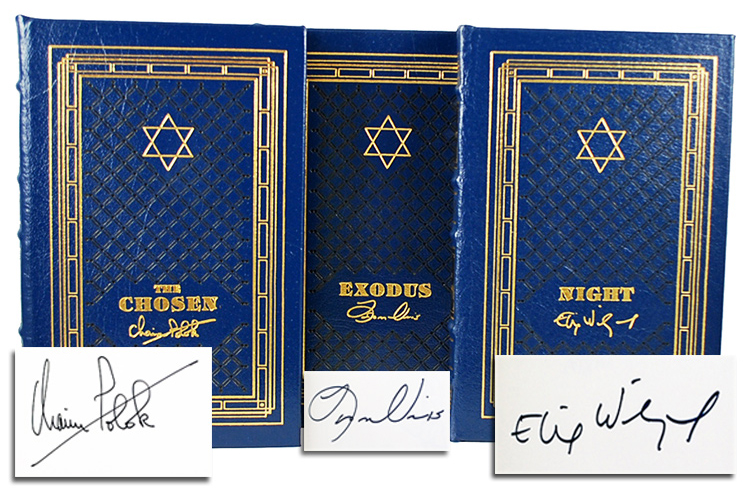 Easton Press, Norwalk CT. "Jewish Classics" Signed Limited Edition. Full genuine leather. A three volume complete and matching numbers set. "The Chosen" by Chaim Potok. "Night" by Elie Wiesel. "Exodus" by Leon Uris. Each edition is an heirloom that has been personally signed by the author directly on the special limitation page. A matching set, all volumes #251 of 3,500 printed in this edition. Each volume includes the original COA, signed and dated by each author along with a witness.
Three volume set in one shipment:
"Night" has been personally signed by Elie Wiesel (Signed Limited Edition #251 of 3,500)
"Exodus" has been personally signed by Leon Uris

(Signed Limited Edition #251 of 3,500)

"The Chosen" has been personally signed by Chaim Potok

(Signed Limited Edition #251 of 3,500)
About Night and Elie Wiesel
Eliezer "Elie" Wiesel KBE (born September 30, 1928) is a Jewish-American professor and political activist. He is the author of 57 books, including Night, a work based on his experiences as a prisoner in the Auschwitz, Buna, and Buchenwald concentration camps. Wiesel is also the Advisory Board chairman of the newspaper Algemeiner Journal.
When Wiesel was awarded the Nobel Peace Prize in 1986, the Norwegian Nobel Committee called him a "messenger to mankind," stating that through his struggle to come to terms with "his own personal experience of total humiliation and of the utter contempt for humanity shown in Hitler's death camps," as well as his "practical work in the cause of peace," Wiesel had delivered a powerful message "of peace, atonement and human dignity" to humanity. He studied French with a tutor.
Night is Elie Wiesel's masterpiece, a candid, horrific, and deeply poignant autobiographical account of his survival as a teenager in the Nazi death camps. This new translation by Marion Wiesel, Elie's wife and frequent translator, presents this seminal memoir in the language and spirit truest to the author's original intent. And in a substantive new preface, Elie reflects on the enduring importance of Night and his lifelong, passionate dedication to ensuring that the world never forgets man's capacity for inhumanity to man.
Night offers much more than a litany of the daily terrors, everyday perversions, and rampant sadism at Auschwitz and Buchenwald; it also eloquently addresses many of the philosophical as well as personal questions implicit in any serious consideration of what the Holocaust was, what it meant, and what its legacy is and will be.


About Exodus and Leon Uris

Exodus is an international publishing phenomenon--the towering novel of the twentieth century's most dramatic geopolitical event. Leon Uris magnificently portrays the birth of a new nation in the midst of enemies--the beginning of an earthshaking struggle for power. Here is the tale that swept the world with its fury: the story of an American nurse, an Israeli freedom fighter caught up in a glorious, heartbreaking, triumphant era. Here is Exodus --one of the great best-selling novels of all time.

Leon Uris (1924-2003) was an author of fiction, nonfiction, and screenplays whose works include numerous bestselling novels. His epic Exodus (1958) has been translated into over fifty languages. Uris's work is notable for its focus on dramatic moments in contemporary history, including World War II and its aftermath, the birth of modern Israel, and the Cold War. Through the massive success of his novels and his skill as a storyteller, Uris has had enormous influence on popular understanding of twentieth-century history.
About The Chosen and Chaim Potok
Chaim Potok (February 17, 1929 – July 23, 2002) was an American Jewish author and rabbi. Potok is most famous for his first book The Chosen, a 1967 novel which was listed on The New York Times' best seller list for 39 weeks and sold more than 3,400,000 copies.
"Anyone who finds it is finding a jewel. Its themes are profound and universal." THE WALL STREET JOURNAL
t is the now-classic story of two fathers and two sons and the pressures on all of them to pursue the religion they share in the way that is best suited to each. And as the boys grow into young men, they discover in the other a lost spiritual brother, and a link to an unexplored world that neither had ever considered before. In effect, they exchange places, and find the peace that neither will ever retreat from again....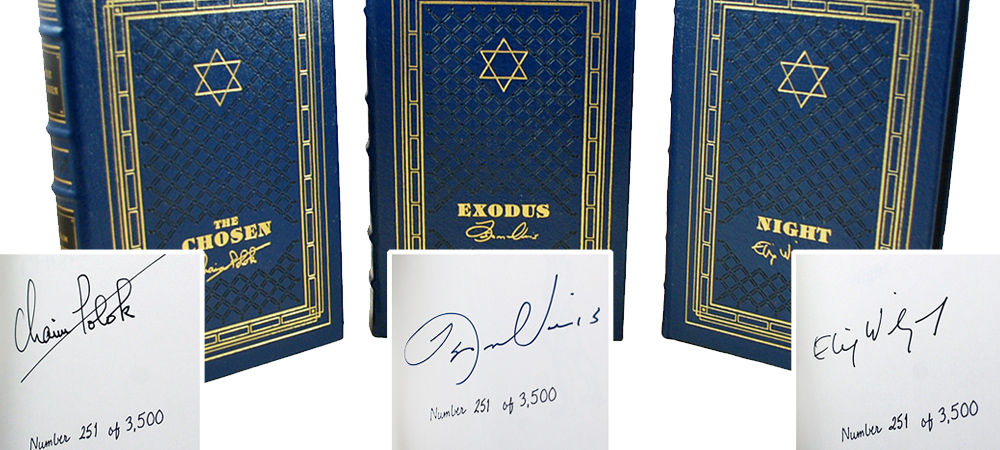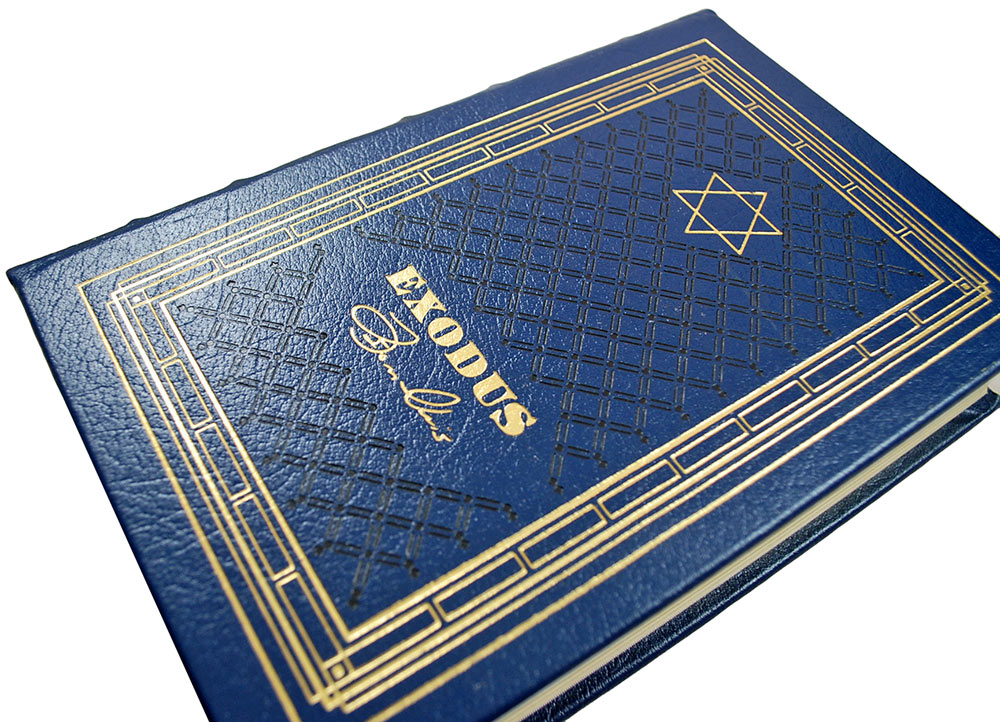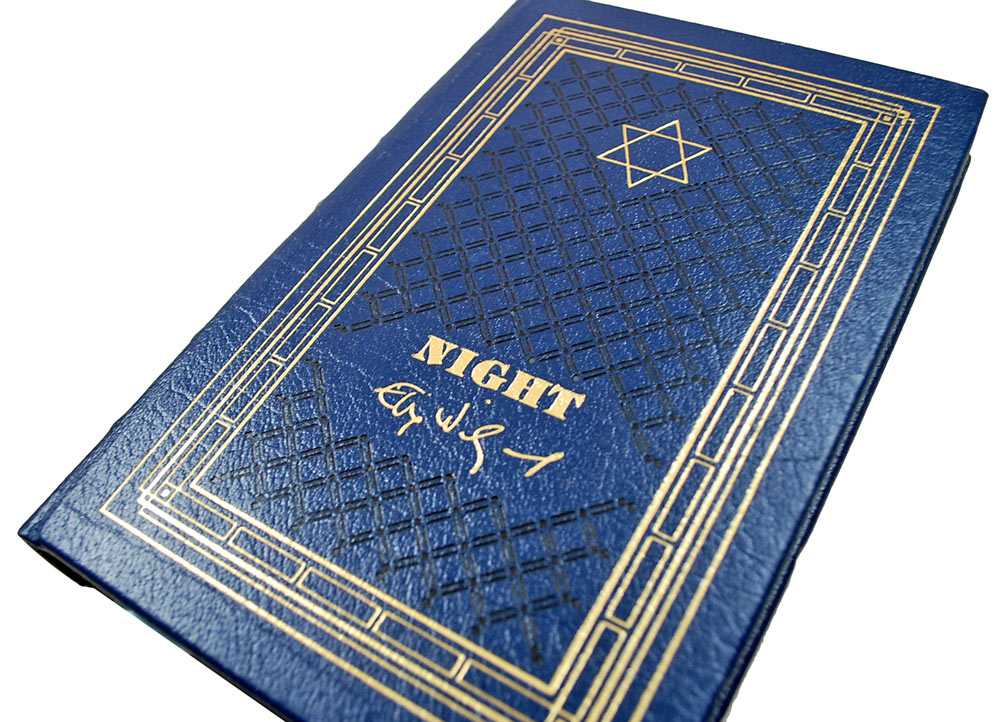 Features
Includes all the classic Easton Press qualities:

* Premium Leather
* Silk Moire Endleaves
* Distinctive Cover Design
* Hubbed Spine, Accented in Real 22KT Gold
* Satin Ribbon Page Marker
* Gilded Page Edges
* Long-lasting, High Quality Acid-neutral Paper
* Smyth-sewn Pages for Strength and Durability
* Beautiful Illustrations
The Chosen: Very Fine without any flaws. A wonderful bright clean copy with a square and tight spine. Sharp corners that are not bumped corners. No bookplates attached or indication of any removed and without any marks, writings or stamps. No scratches, marks, or blemishes to gilded page edges. Night: Near Fine+ with a couple of light marks to the gilded page edges, otherwise an unread book with square and tight spine. Exodus: Near Fine+ with a couple of light marks to the gilded page edges, otherwise an unread book with square and tight spine.
Publisher:

Easton Press

Edition:

Signed Limited Edition No. 521 of 3,500

Binding:

Full Genuine Leather

Illustrator:

see product description

Dimensions:

Each volume 9" x 6" x 1.5"