Easton Press, Norwalk. CT. 1997. "The History of America" by Page Smith. Full Genuine Leather. A Limited Edition set complete in 16 matching volumes.
List of titles:
Volumes I - IV: A New Age Now Begins: The American Revolution
Volumes V - VI: The Shaping of America: The Young Republic
Volumes VII-VIII: The Nation Comes of Age: The Ante-Bellum Years
Volumes Vol. IX - X: Trial by Fire: The Civil War and Reconstruction
Volumes XI - XII: The Rise of Industrial America: The Post-Reconstruction Era
Volumes XIII-XIV: America Enters the World: The Progressive Era and World War I
Volumes XV - XVI: Redeeming Time: The 1920's and The New Deal.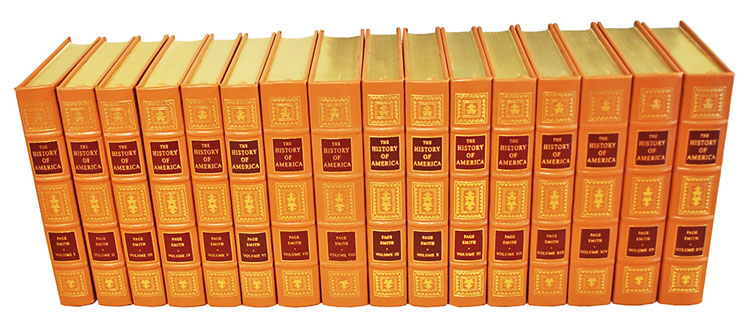 About the Author
Charles Page Smith (September 6, 1917 – August 28, 1995), who was known by his middle name, was a U.S. historian, professor, author, and newspaper columnist.
A native of Baltimore, Maryland, Smith graduated with a B.A. degree from Dartmouth College in 1940. He then worked at Camp William James, a center for youth leadership training opened in 1940 by Eugen Rosenstock-Huessy, a Dartmouth College professor, as part of the Civilian Conservation Corps. Smith was awarded a Purple Heart for his service as a company commander of the 10th Mountain Division of the United States Army during World War II.
After the war, he studied American history under Samuel Eliot Morison at Harvard College, receiving his M.A. degree in 1948, and Ph.D. degree in 1951.
After receiving his doctorate, Smith began work as a research associate at the Institute of Early American History and Culture in Williamsburg, Virginia in 1951. He then taught history at the College of William and Mary in Williamsburg. From 1953 to 1964, he was a professor of history at UCLA. In 1964, he became the founding provost of Cowell College, the first college of the University of California, Santa Cruz (UCSC). He taught history at UCSC until 1973 when he retired as a Professor Emeritus of History.
Both before and after retirement, Smith was intellectually active as a scholar, author, and columnist. He wrote more than 20 books, including a biography of John Adams that won the 1963 Bancroft Prize, and an eight-volume A People's History of the United States.
Smith also worked as a community activist for the homeless in Santa Cruz. He co-founded (with longtime colleague Paul Lee) the William James Association in Santa Cruz, which helped establish a homeless shelter as well as the Homeless Garden Project. He also co-founded the Penny University, which organizes free weekly lectures and discussions for the community, and the Prison Arts Project.
Page Smith's archives are housed at the University of California Los Angeles (UCLA) Special Collections but have yet to be cataloged.
In 1942, Smith married Eloise Pickard (1921–1995). They were married for fifty-three years. Eloise Pickard died of kidney cancer two days before Smith's own death from leukemia at their home in Santa Cruz. They had four children.
Features
Each volume Includes all the classic Easton Press qualities:

* Premium Leather
* Silk Moire Endleaves
* Distinctive Cover Design
* Hubbed Spine, Accented in Real 22KT Gold
* Satin Ribbon Page Marker
* Gilded Page Edges
* Long-lasting, High Quality Acid-neutral Paper
* Smyth-sewn Pages for Strength and Durability
* Beautiful Illustrations
Very Fine for 15 volumes. No attached bookplates or indication of any removed. No scratches, blemishes or marks to the gilded page edges. One volume is very near fine with a very small blemish to one corner. A beautiful complete set in 16 leather bound volumes. All books have square and tight spines and appear unread without any bumped corners.
Publisher:

Easton Press

Edition:

Easton Press

Binding:

Full Genuine Leather

Illustrator:

Matching 16 Vol. Set

Dimensions:

9" x 6" x 1.5"