This is the immortal adventures of the American frontier, complete in 5 leather bound volumes
.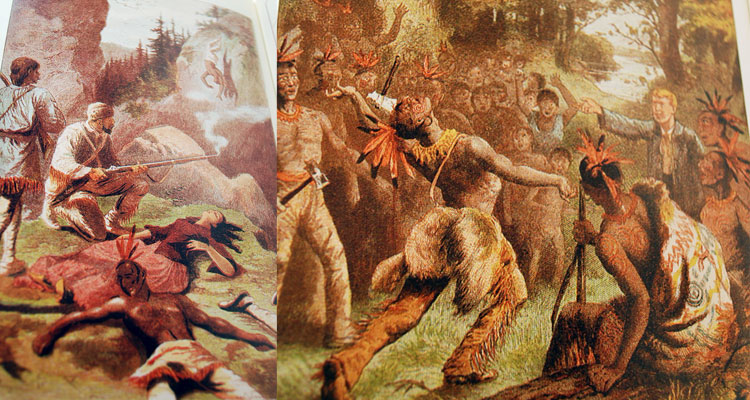 Easton Press, Norwalk CT. 2008. The Works of James Fenimore Cooper "Leatherstocking Tales". A complete and matching leather-bound heirloom collection in 5 volumes. Each volume is luxuriously bound in full genuine leather.
The set features a wealth of vintage illustrations from the classic 19th century collection. Each edition features uniform brown leather bindings with stamped picture on the front hardcover. Dimensions for each volume is 5.5" x 8.5"
Condition:
Sealed and Very Fine. Three volumes are sealed (see below). The condition is of the highest quality without any discernible flaws. Free of marks, scratches and/or blemishes to the gilded page edges. Sharp corners. No bookplates attached or indication of any removed. Unread books with tight spine. Plenty of bubble wrap for secure shipping. Photos of actual set.
Complete in 5 volumes:
1. "The Deerslayer" (very fine)
2. "The Last of the Mohicans" (very fine)
3. "The Pathfinder" (sealed)
4. "The Pioneers" (sealed)
5. "The Prairie" (sealed)
About the author.
James Fenimore Cooper (September 15, 1789 – September 14, 1851) was a prolific and popular American writer of the early 19th century. His historical romances of frontier and Indian life in the early American days created a unique form of American literature. He lived most of his life in Cooperstown, New York, which was established by his father William. Cooper was a lifelong member of the Episcopal Church and in his later years contributed generously to it. He attended Yale University for three years, where he was a member of the Linonian Society, but was expelled for misbehavior.
Before embarking on his career as a writer he served in the U.S. Navy as a Midshipman which greatly influenced many of his novels and other writings. He is best remembered as a novelist who wrote numerous sea-stories and the historical novels known as the Leatherstocking Tales. Among naval historians Cooper's works on the early U.S. Navy have been well received, but they were sometimes criticized by his contemporaries. Among his most famous works is the Romantic novel The Last of the Mohicans, often regarded as his masterpiece.
Features
Each volume includes all the classic Easton Press qualities:

* Premium Leather
* Silk Moire Endleaves
* Distinctive Cover Design
* Hubbed Spine, Accented in Real 22KT Gold
* Satin Ribbon Page Marker
* Gilded Page Edges
* Long-lasting, High Quality Acid-neutral Paper
* Smyth-sewn Pages for Strength and Durability
* Beautiful Illustrations
Condition: As New (Sealed) and Very Fine without any discernible flaws. Read description below. The collection is in stock and ready to ship.

Publisher:

Easton Press

Edition:

Easton Press (2008)

Binding:

Full Genuine Leather

Illustrator:

Limited Edition Complete 5 Vol. Set

Dimensions:

Sealed, Very Fine