The Ultimate Leather Bound Heirloom Collection for the Shakespeare Reader

Norwalk, CT. Easton Press 1992. "The Complete Works of William Shakespeare" William Shakespeare has been widely regarded as the greatest writer in the English language and the world's preeminent dramatist.
A limited edition collector's set. A luxurious matching collection of 39 volumes. Each volumes has been luxuriously bound in gorgeous maroon premium leather, gilt decorated, and printed in a large and easy to read type font, each with full page color plates by a different well known illustrator of the golden age of illustration.
Included in this set are the following titles:
1. King Lear
2. Titus Andronicus
3. Twelfth Night
4. The Taming of the Shrew [Sealed]
5. The Comedy of Errors
6. Much Ado About Nothing
7. Anthony and Cleopatra
8. The Tempest
9. Timon of Athens
10. Julius Caesar
11. Troilus and Cressida
12. As You Like It
13. Macbeth
14. All's Well That Ends Well
15. The Two Gentlemen of Verona
16. The Winter's Tale
17. Coriolanus
18. The Merchant of Venice
19. Pericles
20. Othello
21. Measure for Measure
22. King John
23. A Midsummer Nights Dream
24. Romeo and Juliet [Sealed]
25. The Poems of William Shakespeare I [Sealed]
26. The Poems of William Shakespeare II
27. Cymbeline
28. Hamlet
29. Love's Labour's Lost
30. The Merry Wives of Windsor [Sealed]
31. Henry the Fourth I [Sealed]
32. Henry the Fourth II
33. Henry the Fifth
34. Henry the Sixth I
35. Henry the Sixth II
36. Henry the Sixth III
37. Henry the Eighth
38. Richard the Second
39. Richard the Third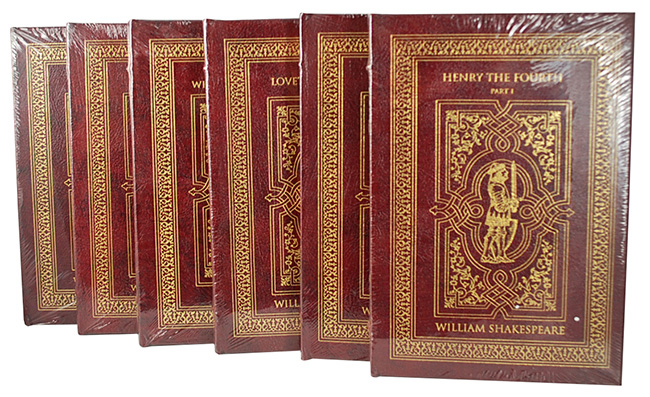 ABOUT THE AUTHOR
William Shakespeare was an English poet and playwright, widely regarded as the greatest writer in the English language and the world's preeminent dramatist. He is often called England's national poet and the "Bard of Avon". His surviving works, including some collaborations, consist of 38 plays, 154 sonnets, two long narrative poems, and several other poems. His plays have been translated into every major living language and are performed more often than those of any other playwright.
Shakespeare produced most of his known work between 1589 and 1613. His early plays were mainly comedies and histories, genres he raised to the peak of sophistication and artistry by the end of the sixteenth century. He then wrote mainly tragedies until about 1608, including Hamlet, King Lear, and Macbeth, considered some of the finest works in the English language. In his last phase, he wrote tragicomedies, also known as romances, and collaborated with other playwrights.
Many of his plays were published in editions of varying quality and accuracy during his lifetime. In 1623, two of his former theatrical colleagues published the First Folio, a collected edition of his dramatic works that included all but two of the plays now recognised as Shakespeare's.
Shakespeare was a respected poet and playwright in his own day, but his reputation did not rise to its present heights until the nineteenth century. The Romantics, in particular, acclaimed Shakespeare's genius, and the Victorians worshipped Shakespeare with a reverence that George Bernard Shaw called "bardolatry". In the twentieth century, his work was repeatedly adopted and rediscovered by new movements in scholarship and performance. His plays remain highly popular today and are constantly studied, performed and reinterpreted in diverse cultural and political contexts throughout the world.
Each volume contains all of the classic Easton Press trimmings:
* Premium Leather
* Silk Moire Endleaves
* Distinctive Cover Design
* Hubbed Spine, Acccented in Real 22KT Gold
* Satin Ribbon Page Marker
* Gilded Page Edges
* Long-lasting, High Quality Acid-neutral Paper
* Smyth-sewn Pages for Strength and Durability
* Beautiful Illustrations
VERY FINE GUARANTEED (some Sealed)

Each one of the 39 volumes is a wonderful bright clean copy free of any markings, writings, or stamps. Sharp corners that are not bumped. Tight and square spine. Unread book. No attached bookplates or indication of any removed. Some of the volumes are still sealed in the original shrink-wrap. Read description for full details.

DUE TO THE WEIGHT OF THIS ITEM, PLEASE ALLOW UP TO 2 WEEKS FOR DELIVERY.
Publisher:

Easton Press

Edition:

Easton Press

Binding:

Full Genuine Leather

Illustrator:

Limited Edition - 39 Vols Complete

Dimensions:

Size varies by volume