Personally signed by Ray Bradbury. Includes 2 signed prints.
Gauntlet Press. Colorado Springs 2003. Ray Bradbury "It Came From Outer Space". Signed lettered edition "J" of only 52 produced. Includes two signed prints. Enclosed in a special tray case which contains a special print also signed by Ray Bradbury mounted inside. This book prints for the first time Bradbury's original film story, treatments, and script. The book contains photographs, an interview on the film with Bradbury plus additional essays and historical information. A large oversized coffee table book reproducing Bradbury's original manuscripts at full size. Bound in full silver stamped cloth with a dust jacket illustrated with an original color painting of an alien painted by Bradbury. Enclosed in the publisher's matching slipcase also with Bradbury's painting on the front cover. Not all copies received this slipcase.
Gauntlet Press presents Ray Bradbury's four screen treatments for
It Came From Outer Space
.
Released in 1953,
It Came From Outer Space
was one of the first 3-D films made. Rumors about Bradbury's participation with the film have run rampant for years. Bradbury did not write the final screenplay - good news, actually, as Bradbury retained their rights - but he wrote four treatments and gets story credit. These screen treatments have never been published before.
Donn Albright edited
It Came From Outer Space
. He has done a fantastic job in pulling together the original Bradbury typed pages of the outlines and treatments, gathering more bonus material than ever imagined possible, and convincing Bradbury to allow the publisher to use never before published short stories in this book.
The Gauntlet edition of
It Came From Outer Space
is more than just a printing of the outlines and treatments which Bradbury wrote for the film. It is an in-depth study of the evolution of the film, filled with photos, original ads, marketing posters, reviews, letters, never before published Bradbury short stories, and insightful essays and introductions from Bradbury Scholars Jon Eller and Bill Touponce.
Review
From Publishers Weekly
Bradbury buffs who can afford the high ticket price will welcome this trove of materials, most previously unpublished, related to the classic 3-D film, It Came from Outer Space (1953). This hefty compendium includes four Bradbury screenplay treatments, scholarly essays, studio letters, posters, ads, reviews and more -- everything except the 3-D glasses. Readers will enjoy following the evolution of the script, which at first had a human spaceship visiting a distant planet rather than an alien ship crashing on Earth. Ironically, the final screenplay was written by Harry Essex, and Bradbury received credit only for the original story. The book's last item is a brief, unproduced screenplay Essex wrote based on Bradbury's story "The Chrysalis." Editor Albright deserves all due credit for thoroughness.
Copyright Reed Business Information, a division of Reed Elsevier Inc. All rights reserved.
About the Author
Ray Douglas Bradbury (August 22, 1920 - June 5, 2012) was an American fantasy, horror, science fiction, and mystery writer. Bradbury is credited with writing 27 novels and over 600 short stories. More than eight million copies of his works, published in over 36 languages, have been sold around the world.
Predominantly known for writing the iconic dystopian novel Fahrenheit 451 (1953), and his science-fiction and horror-story collections, The Martian Chronicles (1950), The Illustrated Man (1951), and I Sing the Body Electric (1969), Bradbury was one of the most celebrated 20th- and 21st-century American writers. While most of his best known work is in fantasy fiction, he also wrote in other genres, such as the coming-of-age novel Dandelion Wine (1957) and the fictionalized memoir Green Shadows, White Whale (1992).
Bradbury also wrote and consulted on screenplays and television scripts. He wrote the screen play for John Huston's classic film adaptation of Moby Dick, and was nominated for an Academy Award. He adapted sixty-five of his stories for television's The Ray Bradbury Theater, and won an Emmy for his teleplay of The Halloween Tree. He was the recipient of the 2000 National Book Foundation Medal for Distinguished Contribution to American Letters, the 2004 National Medal of Arts, and the 2007 Pulitzer Prize Special Citation, among many honors.
Upon his death in 2012, The New York Times called Bradbury "the writer most responsible for bringing modern science fiction into the literary mainstream." The Los Angeles Times credited Bradbury with the ability "to write lyrically and evocatively of lands an imagination away, worlds he anchored in the here and now with a sense of visual clarity and small-town familiarity." Bradbury's grandson, Danny Karapetian, said Bradbury's works had "influenced so many artists, writers, teachers, scientists, and it's always really touching and comforting to hear their stories". The Washington Post noted several modern day technologies that Bradbury had envisioned much earlier in his writing, such as the idea of banking ATMs and earbuds and Bluetooth headsets from Fahrenheit 451, and the concepts of artificial intelligence within I Sing the Body Electric.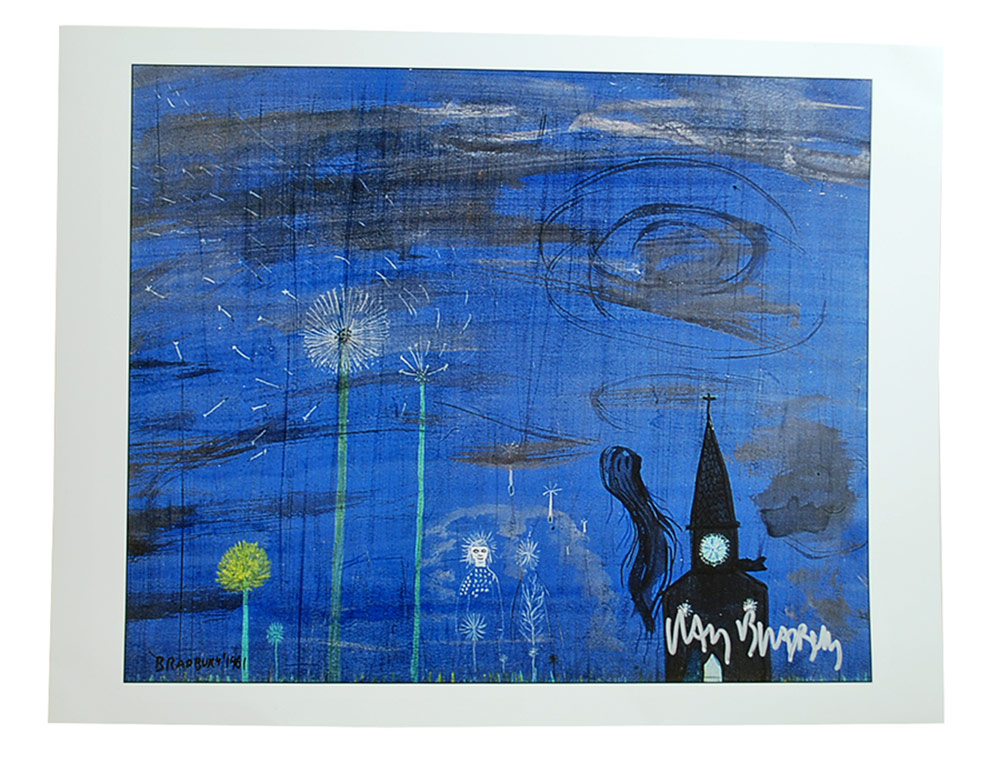 Features
Lettered signed limited edition, lettered "J" of 52 in slipcase.
VERY FINE GUARANTEED. A wonderful bright clean copy free of any markings, writings, or stamps. Sharp corners that have not been bumped. Unread book with square and tight binding. No bookplates attached or indication of any removed. Edges are free of any marks, spots, scratches, or blemishes.
Publisher:

Gauntlet Press 2003

Edition:

Signed Lettered Edition "J" of 52

Binding:

Bound in premium cloth in slipcase.

Illustrator:

see product description

Dimensions:

12"x9"x2.5"

Signature Authenticity:

Lifetime Guarantee of Signature Authenticity. Personally signed by Ray Bradbury directly into the book. The autograph is not a facsimile, stamp, or auto-pen. The two prints are also signed by Bradbury.

Author:

Ray Bradbury