Personally signed by Ray Bradbury and William F. Nolan
Gauntlet Press. Colorado Springs 2007. Ray Bradbury "Somewhere A Band Is Playing" Signed Lettered Edition. Limited to only 52 tray-cased copies. This is lettered "J". Personally signed by Ray Bradbury directly onto the special lettered page. This edition is also signed by William Nolan on a separate signature page. A leather bound edition. Very Fine without any flaws. Hardcover book with dust-jacket.
SOMEWHERE A BAND IS PLAYING is a novel by Ray Bradbury that he'd been toying with for 50 years, and is possibly Bradbury's best piece of long fiction since Fahrenheit 451 and Something Wicked This Way Comes.
Reporter James Cardiff is drawn to a town that wasn't on the map. There was a story to be told. Summerton was paradise - or pretty close to it. Delicious food and wine. Sweet air to breathe. Lush green beautiful lawns. And, good company. But something didn't sit right with Cardiff. There were no children to be seen. No baseball bats, no basketball hoops, and an abandoned school. There were no doctors and a most unusual cemetery, as well. And then there was Nef. Both beautiful and alluring, Nef knew things about Cardiff she simply couldn't. Yes, in Summerton there was the smell of mystery, some hidden secret in the air. But, if Cardiff sniffed out the story and, worse, wrote it for all to read, would the consequences be worth the telling of a good tale?
Edited by Donn Albright, the Gauntlet edition of SOMEWHERE A BAND IS PLAYING contains segments Bradbury wrote which he never finished, the beginnings of a script he never finished, plus the completed manuscript. Also, William F. Nolan writes an introduction for the book in addition to signing the Lettered edition.
The jacket art and design is by Harry O. Morris and Editor Donn Albright. The beautiful cover art is a Ray Bradbury oil painting.
TABLE OF CONTENTS
Introduction by William F. Nolan

(1) Novella
(2) Dandelion Wine: Sept. 1, 1950: Nice little early fragment
(3) Dandelion Wine; 2 page facsimile *just added*
(4) Nefertiti Ohio: This was the early title (1960's)
(5) The Beautiful One Is Here: Nice fragment. No date.
(6)"She was a beautiful woman" facsimile *just added*
(7) Follow The Sun: Another early title and beginning of the novel. No date.
(8) Mr Timkins: 3 early pages for beginning of the novel. No date.
(9) Untitled: Two fragments. No date.
(10) Somewhere A Band Is Playing: An outline for a teleplay. No date.
(11) Dandelion Wine: Description of the novel to come. No date.
(12) Band Novella – 7 pages; 1987; facsimile *just added*
(13) Somewhere A Band Is Playing: 22 pages of a screenplay. September 10, 1958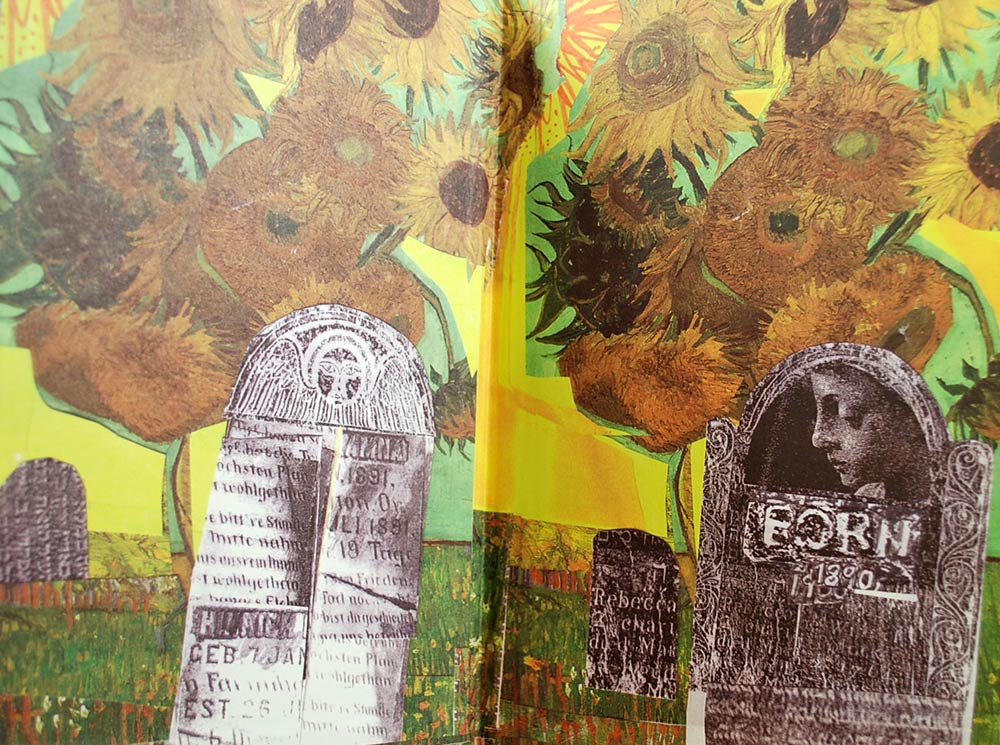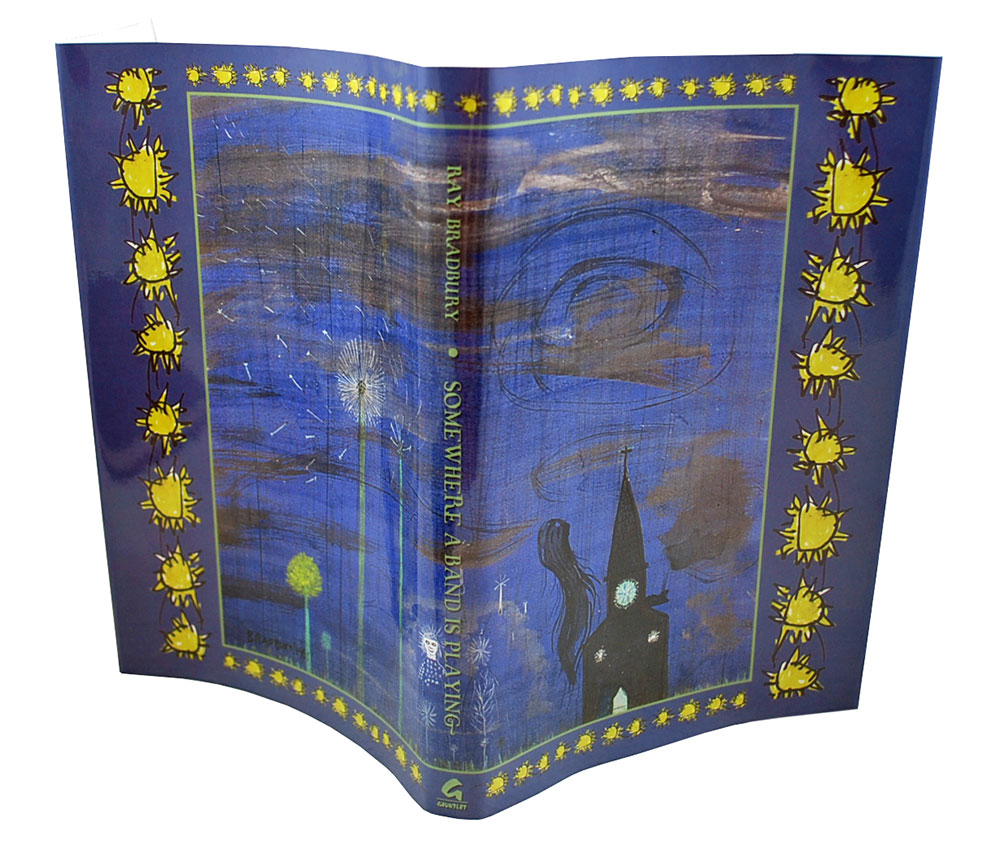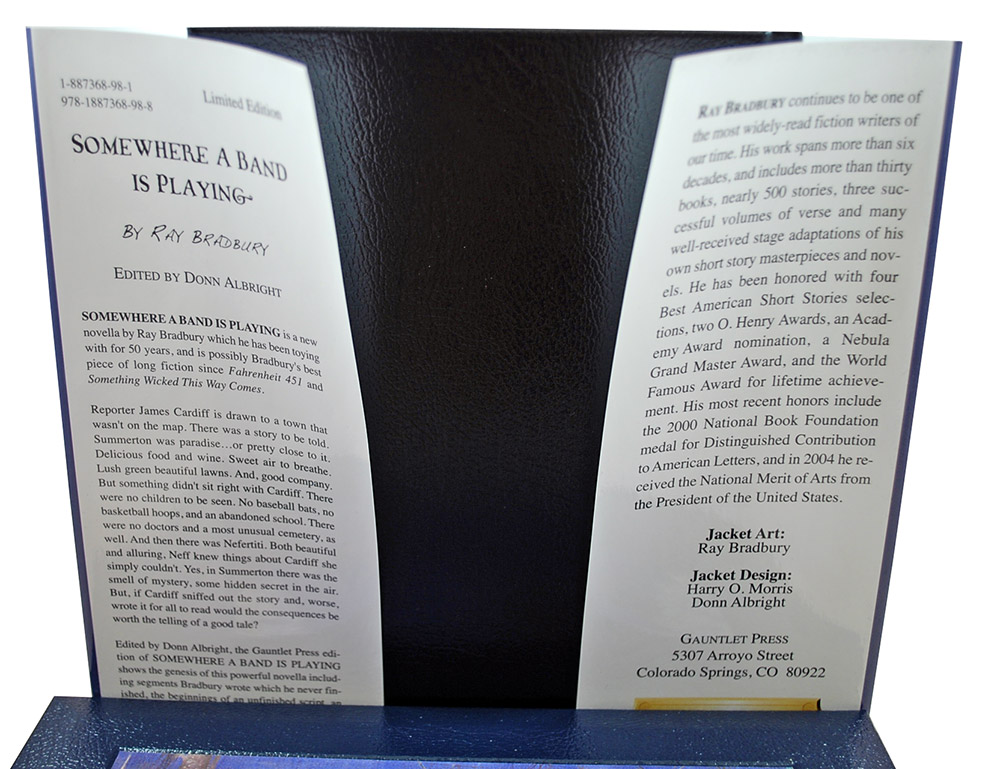 Review
Set in paradisiacal Summerton, Ariz., a small town not on any map where endless sunflowers blossom in front yards and every meal is like the "feasting of summer gods," this Bradbury novella tackles some weighty themes, namely the struggle to fully appreciate the human experience, grow old gracefully and embrace mortality. Chicago newspaper writer James Cardiff, guided by a poetic dream, travels to the middle of the Arizona desert. There he finds a town where everyone is idyllically happy. But as Cardiff delves deeper, he realizes that Summerton has no children, no doctors, no funeral parlors-and a cemetery full of empty graves. After meeting and falling in love with a mysterious woman named Nefertiti, Cardiff is forced to choose between transience and the opportunity to dance forever "in June and June and more June." Evocative and lyrically bittersweet, this novella, which Bradbury began crafting in the 1950s, will undoubtedly be compared to Dandelion Wine, one of his most personal works. Early drafts, story fragments and an unfinished screenplay, as well as cover art by the author himself, make this limited edition a treasure for Bradbury fans.
From Publishers Weekly
Copyright Reed Business Information, a division of Reed Elsevier Inc. All rights reserved.
Ray Bradbury has done something rare among writers: He worked on the same manuscript - on and off - for more than 50 years. It was worth the wait. SOMEWHERE A BAND IS PLAYING is an evocative, luminous story of reporter James Cardiff's discovery of a place called Summerton and one of its most beautiful residents, the elegant and lovely Nefertiti. Never mind that the town is not listed on any map, nor that the place didn't have any children. Cardiff suspects even stranger truths and senses that Neff can, if she chooses, reveal them to him. The story is riveting and the writing some of Bradbury's best. Accompanying the short novel are fragments of the book that he never finished and the start of script scrapped later, giving us a fascinating look at the process of creating fiction. William F. Nolan contributes a knowing and helpful introduction. This is among Bradbury's best work. Gauntlet Press should be congratulated for bringing it out. And Bradbury should be thanked for writing it.-- Ed Gorman, Bookgasm, 2007
About the Author
Ray Douglas Bradbury (August 22, 1920 - June 5, 2012) was an American fantasy, horror, science fiction, and mystery writer. Bradbury is credited with writing 27 novels and over 600 short stories. More than eight million copies of his works, published in over 36 languages, have been sold around the world.
Predominantly known for writing the iconic dystopian novel Fahrenheit 451 (1953), and his science-fiction and horror-story collections, The Martian Chronicles (1950), The Illustrated Man (1951), and I Sing the Body Electric (1969), Bradbury was one of the most celebrated 20th- and 21st-century American writers. While most of his best known work is in fantasy fiction, he also wrote in other genres, such as the coming-of-age novel Dandelion Wine (1957) and the fictionalized memoir Green Shadows, White Whale (1992).
Bradbury also wrote and consulted on screenplays and television scripts. He wrote the screen play for John Huston's classic film adaptation of Moby Dick, and was nominated for an Academy Award. He adapted sixty-five of his stories for television's The Ray Bradbury Theater, and won an Emmy for his teleplay of The Halloween Tree. He was the recipient of the 2000 National Book Foundation Medal for Distinguished Contribution to American Letters, the 2004 National Medal of Arts, and the 2007 Pulitzer Prize Special Citation, among many honors.
Upon his death in 2012, The New York Times called Bradbury "the writer most responsible for bringing modern science fiction into the literary mainstream." The Los Angeles Times credited Bradbury with the ability "to write lyrically and evocatively of lands an imagination away, worlds he anchored in the here and now with a sense of visual clarity and small-town familiarity." Bradbury's grandson, Danny Karapetian, said Bradbury's works had "influenced so many artists, writers, teachers, scientists, and it's always really touching and comforting to hear their stories". The Washington Post noted several modern day technologies that Bradbury had envisioned much earlier in his writing, such as the idea of banking ATMs and earbuds and Bluetooth headsets from Fahrenheit 451, and the concepts of artificial intelligence within I Sing the Body Electric.
Features
Lettered signed limited edition, leather bound, lettered "J" of 52 in tray-case.
VERY FINE GUARANTEED. A wonderful bright clean copy free of any markings, writings, or stamps. Sharp corners that have not been bumped. Unread book with square and tight binding. No bookplates attached or indication of any removed. Edges are free of any marks, spots, scratches, or blemishes.
Publisher:

Gauntlet Press

Edition:

Signed Limited Edition

Binding:

Leather bound in tray-case.

Illustrator:

read description

Dimensions:

9"x6"x1.5"