Personally signed by Anthony Quinn
Easton Press, Norwalk. CT. Anthony Quinn "One Man Tango" Signed First Edition. Personally signed by Anthony Quinn directly onto the limitation page of the book. Full genuine leather. Leather Bound collector's edition. Sealed.
Continuing the memoir that began in The Original Sin, Anthony Quinn describes his life from age twenty-five to the present, discussing his Hollywood career, celebrity friendships, and his son's death.
From Publishers Weekly
Quinn follows up his first book, The Original Sin, with this deeper, more contemplative memoir recalling his varied careers before and beyond acting. They include stints as one of Aimee Semple McPherson's street preachers working the East Los Angeles barrios, as a prelim fighter in local rings and as an acclaimed painter. Writing with freelancer Paisner, Quinn recalls his self-doubts concerning marriage to Cecil B. DeMille's daughter when he was a lowly Paramount contract player and his early struggles to overcome typecasting as an actor who could play only gangsters and Mexican bandits. With verve and wit he relates how he prepared his most famous roles: Gauguin in Lust for Life, Zampano in La Strada, Zorba in Zorba the Greek and others, and how he managed to put his own personal stamp on the role of Stanley Kowalski in the road company of A Streetcar Named Desire despite Brando's indelible characterization. The 80-year-old Quinn's life reads like a picaresque novel, its rogue hero of cinematic dimension. Photos.
Copyright 1995 Reed Business Information, Inc.
From Library Journal
Memoirs of a two-time Oscar(R) winner.
Copyright 1995 Reed Business Information, Inc.
From the Publisher
The long-awaited autobiography of one of the most colorful and flamboyant actors of all time, two-time Academy Award-winner Anthony Quinn.
About the Author
Manuel Antonio Rodolfo Quinn Oaxaca (April 21, 1915 – June 3, 2001), known professionally as Anthony Quinn, was a Mexican-American actor, painter, writer and film director. He was known for his portrayal of earthy, passionate characters "marked by a brutal and elemental virility" in numerous critically acclaimed movies both in Hollywood and abroad; including La Strada, The Guns of Navarone, Guns for San Sebastian, Lawrence of Arabia, The Shoes of the Fisherman, The Message, Lion of the Desert, and A Walk in the Clouds. His Oscar-nominated titular role in Zorba the Greek is considered one of the most iconic performances in cinematic history.
Quinn won the Academy Award for Best Supporting Actor twice: for Viva Zapata! in 1952 and Lust for Life in 1956. In addition, he received two Academy Award nominations in the Best Leading Actor category, along with five Golden Globe nominations and two BAFTA Award nominations. In 1987, he was presented with the Golden Globe Cecil B. DeMille Lifetime Achievement Award. Through both his artistic endeavours and civil rights activism, he remains a seminal figure of Latin-American representation in the media of the United States.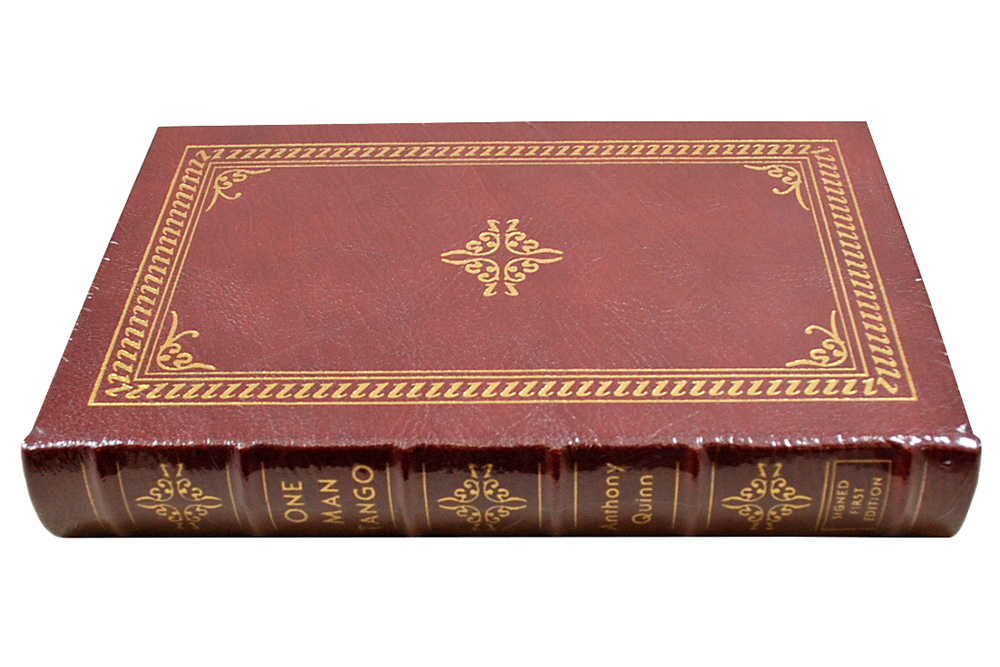 ---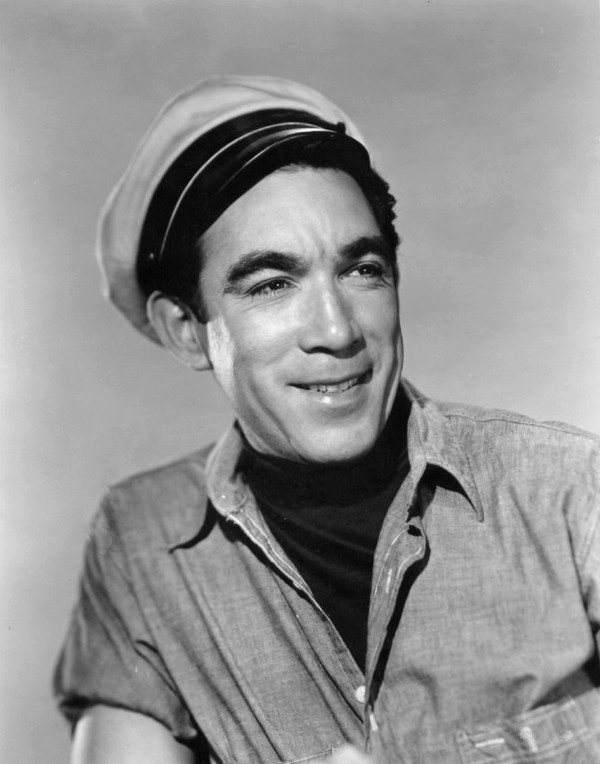 Features
This item includes the classic Easton Press qualities:

* Premium Leather
* Silk Moire Endleaves
* Distinctive Cover Design
* Hubbed Spine, Accented in Real 22KT Gold
* Satin Ribbon Page Marker
* Gilded Page Edges
* Long-lasting, High Quality Acid-neutral Paper
* Smyth-sewn Pages for Strength and Durability
* Beautiful Illustrations


VERY FINE GUARANTEED. A wonderful bright clean copy free of any markings, writings, or stamps. Sharp corners that have not been bumped. Unread book with square and tight binding. No bookplates attached or indication of any removed. Edges are free of any marks, spots, scratches, or blemishes.
Publisher:

Easton Press

Edition:

Signed First Edition

Binding:

Full Genuine Leather

Illustrator:

N/A

Dimensions:

9"x6"x1.5"

Signature Authenticity:

Lifetime Guarantee of Signature Authenticity. Personally signed by the author Anthony Quinn directly into the book. The autograph is not a facsimile, stamp, or auto-pen.