A Luxurious Leather Bound Limited Edition Trilogy for the Sherlock Holmes Fan

Easton Press, Norwalk, CT. "The Complete Sherlock Holmes" by Sir Arthur Conan Doyle. Limited Edition. Beautifully illustrated and bound in full genuine leather. One of the most celebrated works of literature by a historical writer. A gorgeous set of books for the discerning collector. Black leather hardcovers with decorative front boards and spines.
The Definitive Text, corrected by Edgar W. Smith. Illustrated with a selective collation of the original illustrations by Frederic Dorr Steele, Sidney Paget & Others.
This collection includes every Sherlock Holmes adventure, all 56 short stories and four novels. A definitive text, corrected and edited by Edgar W. Smith, with an introduction by Vincent Starrett, and illustrated with a selective collation of the original illustrations by Frederic Dorr Steele, Sidney Paget and others. 6-1/4 x 9", black cloth, raised bands, moire endpapers, ribbon markers, all edges gilt, 1777 pages, full color frontispieces each volume.
This is the complete three volume leather bound trilogy:
The Adventures of Sherlock Holmes
The Later Adventures of Sherlock Holmes
The Final Adventures of Sherlock Holmes
A true classical set for your home library or office. Includes unattached Ex-Libris bookplates for your own personalization.
---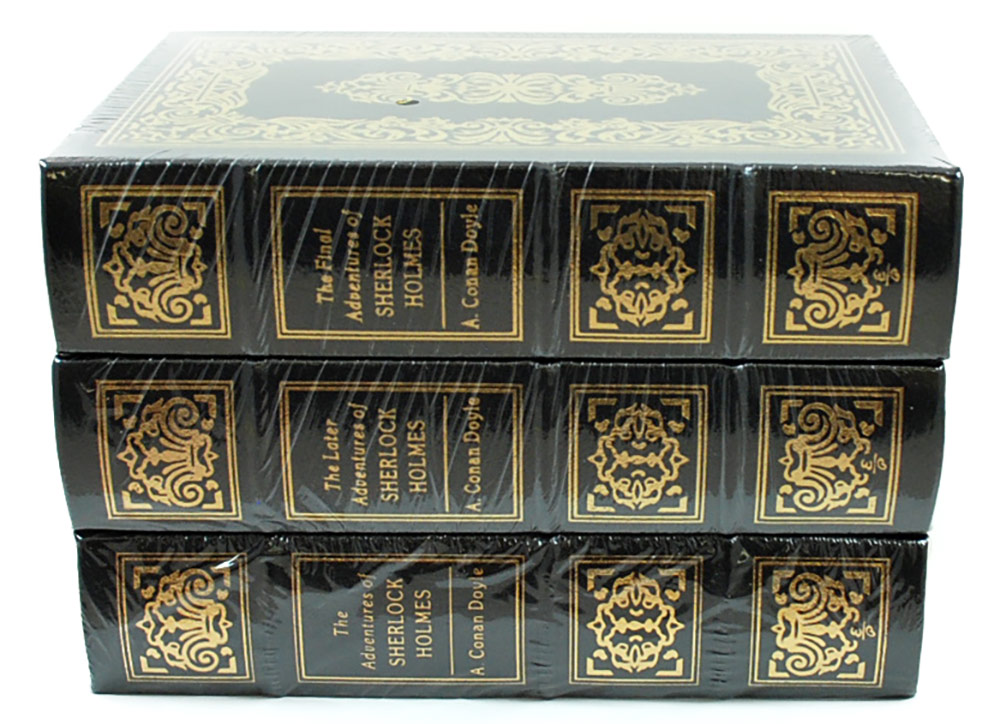 ---
Includes the classic Easton Press qualities:
* Premium Leather
* Silk Moire Endleaves
* Distinctive Cover Design
* Hubbed Spine, Accented in Real 22KT Gold
* Satin Ribbon Page Marker
* Gilded Page Edges
* Long-lasting, High Quality Acid-neutral Paper
* Smyth-sewn Pages for Strength and Durability
* Beautiful Illustrations
About Sherlock Holmes
Sherlock Holmes is a fictional character of the late nineteenth and early twentieth centuries who first appeared in publication in 1887. He is the creation of Scottish author and physician Sir Arthur Conan Doyle. A brilliant London-based "consulting detective", Holmes is famous for his intellectual prowess and is renowned for his skilful use of astute observation, deductive reasoning and forensic skills to solve difficult cases.
Conan Doyle wrote four novels and fifty-six short stories that feature Holmes. The first story, A Study in Scarlet, appeared in Beeton's Christmas Annual in 1887 and Lippincott's Monthly Magazine in 1890, respectively. The character grew tremendously in popularity with the beginning of the first series of short stories in The Strand Magazine in 1891; further series of short stories and two serialised novels appeared until 1927. The stories cover a period from around 1875 up to 1907, with a final case in 1914.
All but four stories are narrated by Holmes' friend and biographer, Dr. John H. Watson, two are narrated by Holmes himself and two others are written in the third person. In two stories ("The Musgrave Ritual" and "The Adventure of the Gloria Scott"), Holmes tells Watson the main story from his memories, whereas Watson becomes the narrator of the frame story.
Conan Doyle said that the character of Holmes was inspired by Dr. Joseph Bell, for whom Doyle had worked as a clerk at the Edinburgh Royal Infirmary. Like Holmes, Bell was noted for drawing large conclusions from the smallest observations.
VERY FINE GUARANTEED. Sealed without any flaws. The corners are sharp and not bumped. The condition is of the highest quality. Photos of actual collection
Publisher:

Easton Press

Edition:

Limited Edition

Binding:

Full genuine leather

Illustrator:

read description

Dimensions:

Each volume approx. 9"x6"x2"