Personally signed by Ray Bradbury directly onto the limitation page.
Subterranean Press 2009. Ray Bradbury "Where Everything Ends: The Mystery Novels of Ray Bradbury". First Edition as stated on the copyright page. As New without any flaws. This edition was offered from Subterranean Press in the following two states:
Trade: 500 clothbound hardcover copies
Lettered: 26 signed deluxe bound copies, housed in a custom traycase

This is Lettered "G", bound in a premium cloth and housed in a matching tray-case.

In 1949, a struggling writer - a man very much like the young Ray Bradbury - boards a late night trolley in Venice, California and hears a disembodied voice murmur the words: "Death is a lonely business." Shortly afterward, that same young man discovers a body trapped in a cage beneath the waters of the local canal. Convinced of a connection between these events, the narrator/hero - together with a wonderfully characterized detective named Elmo Crumley (named in a nod to noted mystery novelist James Crumley) - begins to investigate a series of suspicious deaths among the disenfranchised population of Venice.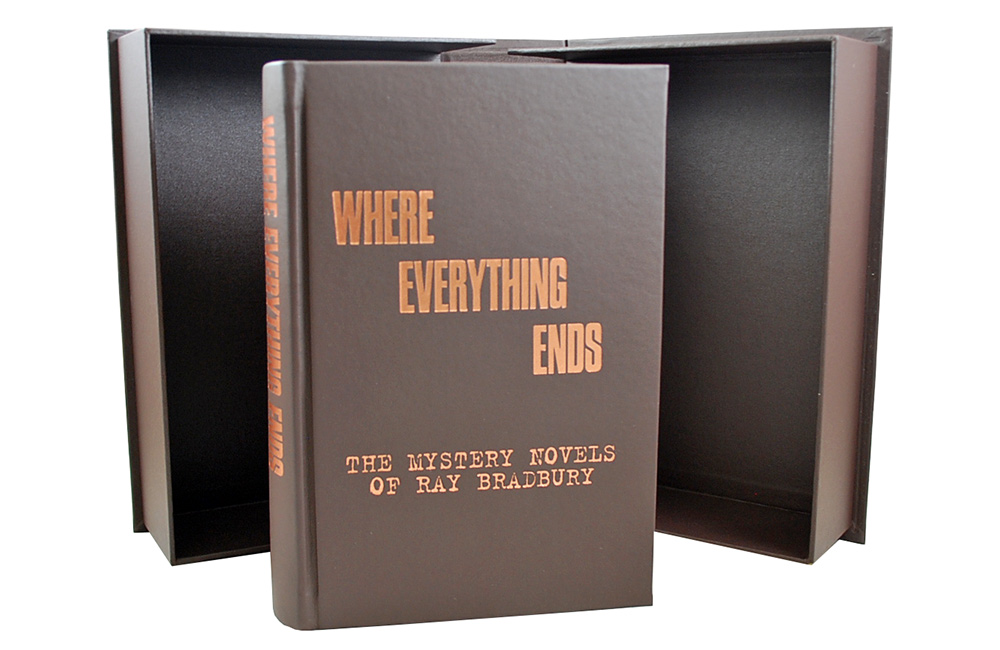 Death is a Lonely Business was Ray Bradbury's first book-length foray into classical detective fiction. Two others followed: A Graveyard for Lunatics, in which Crumley and our hero (now a gainfully employed scriptwriter) join forces with special effects wizard Ray Harryhausen, and Let's All Kill Constance, a tale of mystery and suspense set against the faded backdrop of Hollywood's Golden Age. All three, together with "Where Everything Ends," the never-before-published title story that preceded and inspired them, are now gathered together in a single generous volume that should prove indispensable to Bradbury's large and loyal readership.

Freely acknowledging the influence of the genre's masters (Hammett, Chandler, MacDonald, and Cain), all of these stories successfully transcend those influences, filtering them through their author's wholly unique sensibility. The result is a powerfully nostalgic evocation of time and place, and an unforgettable portrait of a writer in love with language, with movies, and with the transformative power of stories themselves.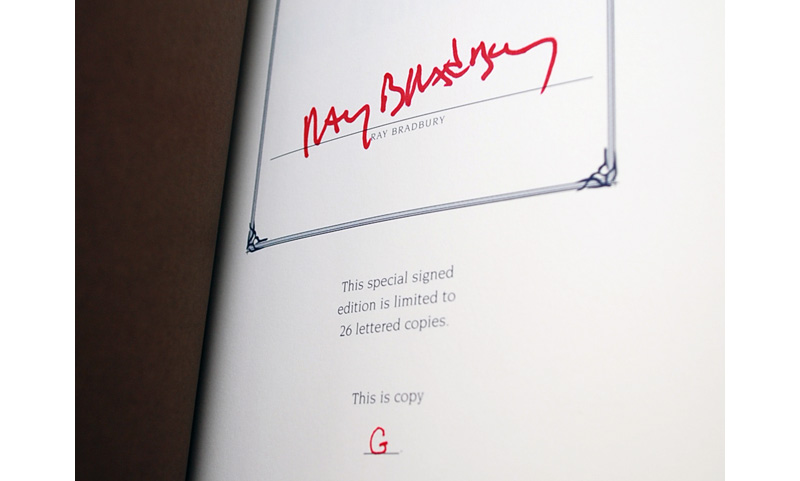 Review

From Publishers Weekly:
"Genre devotees will find contain elements comparable to Cornell Woolrich and Joel Townsley Rogers, are reprinted in this omnibus volume, along with a taut, previously unpublished short story. In the first novel, 1985's Death Is a Lonely Business, which is the strongest, a shadowy killer culls out the lost souls of Venice, Calif., while leaving few traces of foul play."

From Green Man Review:
"Where Everything Ends is a trio of fine detective novels (together with the short story that provided the starting point) from Bradbury in his inimitable style. He plays with the conventions, but since he so obviously loves the genre, this is easily forgiven - embraced, even - because the end results are, simply put, fine additions to the canon. This series is also dear to fans because it is likely the closest thing to an autobiography we will receive from this man who has brought so much joy to so many people for so many years."

About the Author

Ray Douglas Bradbury (August 22, 1920 - June 5, 2012) was an American fantasy, horror, science fiction, and mystery writer. Bradbury is credited with writing 27 novels and over 600 short stories. More than eight million copies of his works, published in over 36 languages, have been sold around the world.

Predominantly known for writing the iconic dystopian novel Fahrenheit 451 (1953), and his science-fiction and horror-story collections, The Martian Chronicles (1950), The Illustrated Man (1951), and I Sing the Body Electric (1969), Bradbury was one of the most celebrated 20th- and 21st-century American writers. While most of his best known work is in fantasy fiction, he also wrote in other genres, such as the coming-of-age novel Dandelion Wine (1957) and the fictionalized memoir Green Shadows, White Whale (1992).

Bradbury also wrote and consulted on screenplays and television scripts. He wrote the screen play for John Huston's classic film adaptation of Moby Dick, and was nominated for an Academy Award. He adapted sixty-five of his stories for television's The Ray Bradbury Theater, and won an Emmy for his teleplay of The Halloween Tree. He was the recipient of the 2000 National Book Foundation Medal for Distinguished Contribution to American Letters, the 2004 National Medal of Arts, and the 2007 Pulitzer Prize Special Citation, among many honors.

Upon his death in 2012, The New York Times called Bradbury "the writer most responsible for bringing modern science fiction into the literary mainstream." The Los Angeles Times credited Bradbury with the ability "to write lyrically and evocatively of lands an imagination away, worlds he anchored in the here and now with a sense of visual clarity and small-town familiarity." Bradbury's grandson, Danny Karapetian, said Bradbury's works had "influenced so many artists, writers, teachers, scientists, and it's always really touching and comforting to hear their stories". The Washington Post noted several modern day technologies that Bradbury had envisioned much earlier in his writing, such as the idea of banking ATMs and earbuds and Bluetooth headsets from Fahrenheit 451, and the concepts of artificial intelligence within I Sing the Body Electric.
Features
Lettered signed limited edition, lettered "U". Bound in a premium cloth and housed in a matching traycase.
VERY FINE GUARANTEED. A wonderful bright clean copy free of any markings, writings, or stamps. Sharp corners that have not been bumped. Unread book with square and tight binding. No bookplates attached or indication of any removed. Edges are free of any marks, spots, scratches, or blemishes.
Publisher:

Subterranean Press 2009

Edition:

Signed Limited Edition

Binding:

Specially bound edition with tray-case.

Illustrator:

N/A

Dimensions:

9"x6"x1.5"