Personally hand signed by Jim Davis, a
unique gift for the Garfield fan
Easton Press. Norwalk, CT. 1998. Jim Davis "Garfield's 20th Anniversary Collection: 20 Years and Still Kicking!" Signed First Edition. Leather Bound. A fun comic book for your library or office that would also make a great gift idea. Includes certificate of authenticity to guarantee the signature. Full of color illustrations by Jim Davis. 221 pages. Over-sized book measuring 9" x 10.5" x 1". Signed First Edition as stated on copyright page and spine of the book. A leather bound volume of heirloom quality.
From the publisher:
20 YEARS OF FABULOUS FELINE FUN!
Laugh along with Garfield and the gang in this timely tribute to the world's feistiest--and funniest--feline! Inside you'll find:
¸ Jim Davis' Top Twenty All-Time Favorite Strips!
¸ Foreword by Mike Peters!
¸ Exclusive 20th Anniversary Interview with Garfield!
¸ A Rare Glimpse Inside Jim Davis' Original Sketchbook!
¸ A Heaping Helping of Classic Garfield Strips!
¸ Doodles, Trivia, Anecdotes!
¸ Embarrassing Photos!
It's nothing less than a milestone for Garfield and a must-have collection for every fat cat fanatic!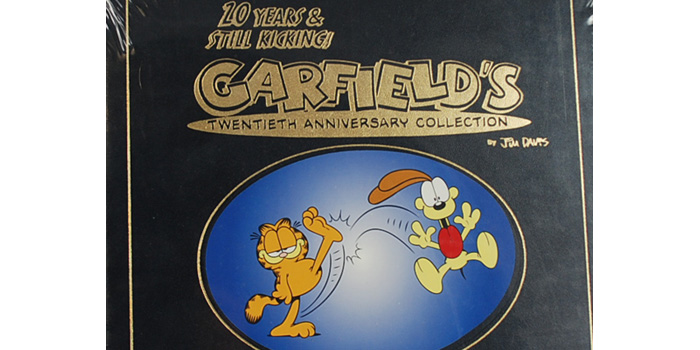 Includes all the classic Easton Press qualities:
* Premium Leather
* Silk Moire Endleaves
* Distinctive Cover Design
* Hubbed Spine, Accented in Real 22KT Gold
* Satin Ribbon Page Marker
* Gilded Page Edges
* Long-lasting, High Quality Acid-neutral Paper
* Smyth-sewn Pages for Strength and Durability
* Beautiful Illustrations
About the Author
James Robert "Jim" Davis (born July 28, 1945), is an American cartoonist who created the popular comic strip Garfield. Other comics that he has worked on include Tumbleweeds, Gnorm Gnat, U.S. Acres a.k.a. Orson's Farm, and a strip about Mr. Potato Head. He has written Emmy-award winning TV specials and was also one of the producers behind the Garfield & Friends TV show which aired on CBS from 1988 to 1995. In addition, he is currently the writer and co-producer of a trilogy of CGI-direct-to-video feature films about Garfield; the first one, Garfield Gets Real, was released in 2007.
Prior to creating Garfield, Davis worked for a local advertising agency and in 1969 began assisting Tom Ryan's comic strip, Tumbleweeds. He then created a comic strip, Gnorm Gnat, that ran for five years in The Pendleton Times, an Indiana newspaper. Davis tried to sell it to a national comic strip syndicate, but an editor told him, "Your art is good, your gags are great, but bugs — nobody can relate to bugs!"
On June 19, 1978, Garfield started syndication in 41 newspapers. Things were going well until the Chicago Sun-Times cancelled the strip, prompting an outcry from 1300 readers. Garfield was reinstated and the strip quickly became the fastest selling comic strip in the world. Today it is syndicated in 2400 newspapers and is read by approximately 200 million readers each day.
In the 1988-1994 cartoon series Garfield and Friends, one episode ("Mystic Manor") has a scene where Garfield slid down a fireman's pole in a haunted house, and Davis has a brief cameo as himself drawing a cartoon.
In the 1980s, Davis also created the barnyard-slapstick comic strip U.S. Acres, featuring Orson the Pig. Outside the U.S., the strip was known as Orson's Farm. Davis also created a 2000-2003 strip based on the toy Mr. Potato Head with Brett Koth.
In 2005, Davis appeared in the music video "Lazy Muncie", a parody of the Saturday Night Live video "Lazy Sunday".
Most recently, Jim Davis founded The Professor Garfield Foundation, to support children's literacy.
VERY FINE GUARANTEED
(SEALED)
As New, sealed in the original shrink-wrap. Mint condition without any flaws. A beautiful bright clean copy. Includes extra unattached bookplate for your own personalization. Photos of actual book. Only one in stock.
Publisher:

Easton Press

Edition:

Signed Limited Edition

Binding:

Full genuine leather

Illustrator:

Signed Limited First Edition

Dimensions:

9" x 10.5" x 1"